Recovering in Community: A critical part of the journey
By Debra Meyerson and Steve Zuckerman
In the August column, our colleague Flannery O'Neil wrote about the importance of building community into recovery. It was critical to her after she suffered a stroke when she was only 34. The importance of being "in a community with peers" is reinforced daily in her work with Stroke Onward — including leading several stroke support groups and partnering with the American Stroke Association to develop stroke support groups lesson modules.
At Stroke Onward, our work centers on the importance of the emotional journey in recovery. Rebuilding one's identity — a sense of who we are and who we want to be — is a critical part of that journey. Spending time in a supportive peer community is critical to rebuilding identity and an enjoyable, rewarding life.
An inspiring community: Chippewa Valley Aphasia Camp
Last month, we spent three days in an unbelievably inspiring and supportive community — in this case, one designed for people with aphasia. We were invited to attend the Chippewa Valley Aphasia Camp, held at the YMCA Camp Manitou in New Auburn, Wisconsin, about an hour's drive north of Eau Claire. The camp is a collaboration between faculty and staff at the University of Wisconsin-Eau Claire department of Communication Sciences and Disorders, along with Mayo Clinic Health System - Eau Claire and the Chippewa Valley YMCA.
Over dinner at one of the long wooden tables, we asked fellow campers — people with aphasia, carepartners, professionals supporting this community and speech therapy student volunteers — what they like most about Aphasia Camp and why they come back. One camper with aphasia said, "The powerful sense of community." Various versions of that answer dominated our informal survey throughout the weekend. Spending time with supportive people who understand — and in many cases share their struggles — helped many of the campers reconnect with who they are and what they enjoy.
Martha Smith, a physical therapist at Shirley Ryan Ability Lab in Chicago, has volunteered at the Aphasia Camp for years. She helps campers who have more significant physical disabilities access some of the activities. Among other things, she helped a woman in a wheelchair board a pontoon boat for a short fishing trip. She also leads adaptive yoga sessions for the campers.
"I especially love watching participants who arrive skeptical, withdrawn and even visibly unhappy, who, when immersed in this supportive community, truly blossom in just two days," Martha said.
In 2004, Mary Beth Clark, a speech-language pathologist at Mayo Clinic Health System in Eau Claire, and her since-retired colleague Tom Hintgen, along with Tom Sather and Jerry Hoepner, both speech-language pathologists and professors at the University of Wisconsin-Eau Claire, hosted the inaugural Chippewa Valley Aphasia Camp. They created the camp on the belief that if properly structured, the camp experience could not only give people with aphasia a fun weekend in the woods but would create opportunities for peer-to-peer learning and enhance personal growth. The success of the camp, and the consistent comments from campers, suggest they were right.
Educating the next generation of therapists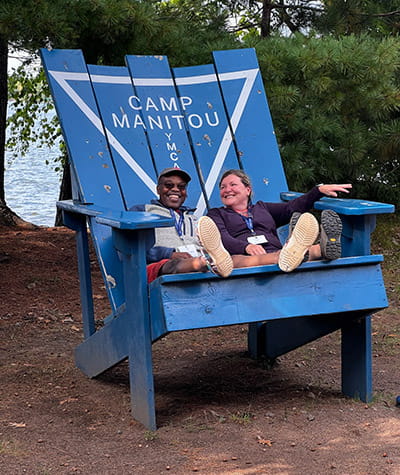 The day before camp, we had the pleasure of participating in the inaugural pre-camp symposium, a hybrid presentation (live and live streamed) to about 100 faculty, staff and primarily students of UW-Eau Claire and the Mayo Clinic Health System. It also included a few people with aphasia. The goal of the symposium is to bring new ideas to those who are, or soon will be, on the front lines of clinical care. We shared the "stage" with Ellen Bernstein-Ellis, director and clinical supervisor of the Aphasia Treatment Program at Cal State East Bay, and Elizabeth (Liz) Hoover, clinical professor of Speech, Language and Hearing Sciences at the Boston University Sargent College. They were instrumental in our development of an aphasia-friendly book group discussion guide for Identity Theft — through which survivors with communication challenges can learn how to navigate their emotional journey.
Liz Hoover shared results from the study conducted to evaluate the impact of this bibliotherapy, recently published in the Journal of Communication Disorders. This quantitative and qualitative research demonstrated positive outcomes for the participants and identified four key drivers for them: a mechanism for reflection; engaged learning; therapeutic environment; and the power of community. The substance of the book mattered, as did the framework created by the materials and facilitators. But equally important was being in a community with others "in the same boat," the social learning that enabled and the friendships that developed.
Ellen, who founded the Aphasia Tones in 2009, spoke about her work with aphasia choirs. In a qualitative study of the benefits of long-term participation in the choir, they also found four themes that drove impact. Like with book groups, three themes were related to the activity: ongoing therapeutic benefit; enriching activity; and engaging experiences that support personal growth. A fourth theme, which they called "Esprit de Corps," speaks to the benefit of community — a sense of oneness with others and the friendships that develop.
Recovering in community should be available to all
We are inspired in our work by innovators such as Mary Beth, Tom and Jerry, who developed and lead the Chippewa Valley Aphasia Camp, and others who lead similar camps. We are inspired by Ellen and Liz and many others who have created group experiences of different kinds that build community and provide a critical context for whole-person recovery. We are also inspired by the hundreds of people, and the organizations behind them, who create and lead support groups, or other group experiences that create similarly supportive environments. They understand the importance of the emotional journey in recovery, and the need to build communities that support that journey.
But these resources are just a drop in the bucket of need. As best we can calculate, efforts like these may serve just over 10,000 people. They are the people lucky to live near affordable offerings or have resources to travel and/or pay for expensive ones. About 9 million stroke survivors are living in the U.S. today. Approximately 800,000 new or recurrent strokes occur each year and 2 million or more people in the U.S. are living with aphasia. All survivors deserve access to programs offering the supportive environments necessary for effective recovery — one that enables rebuilding a strong sense of self, broad emotional health and a rewarding life in the face of what may be significant ongoing disabilities.
The problem is that these efforts are not part of the mainstream health care system. They are mostly privately or philanthropically funded "workarounds" — services that extremely dedicated people create because our health care system isn't meeting the peoples' needs. The stroke systems of care developed around the acute care needs of stroke survivors — emergency medical interventions, health stabilization and rehabilitation therapy — which are absolutely critical. We applaud all efforts to deepen and improve these aspects of the stroke systems of care. But we feel that the "system" largely fails to serve the chronic care needs the majority of stroke survivors have for the rest of their lives. Those needs include time in supportive environments that are critical to an emotional journey that is necessary to rebuild identities and rewarding lives.
To be clear, solving this problem is not going to be easy. It could involve:
Massively scaling programs that to date are small.
Re-thinking what services hospital systems provide to stroke survivors where, how and for how long.
What services get reimbursed by Medicare and private health insurance.
How the medical establishment defines "standards of care" for stroke survivors.
What the next generation of professional caregivers learn about what recovery means in the context of living well in the face of disabilities.
The list of possible changes is endless, and so are the barriers to change.
That is why we ask you to join our community. We hope to catalyze change that will lead to dramatically more resources that support the emotional journey of millions of stroke survivors. It will take decades. And it will take thousands of people working together to develop the right strategies for improving care and breaking down barriers to change. That is the journey we are on, and we hope you will join us.
That takes us back to the shores of Long Lake in New Auburn, Wisconsin, at the Chippewa Valley Aphasia Camp.
"I feel so lucky to be here," one stroke survivor beamed when we asked her about attending the camp. "It's just what my recovery needs. I wish everyone with aphasia had this."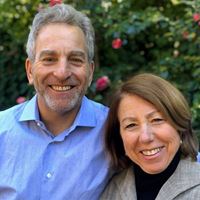 Stroke survivor Debra Meyerson and Steve Zuckerman, her husband and "carepartner" after stroke, founded the nonprofit Stroke Onward to help survivors, families and caregivers navigate the emotional journey to rebuild their identities and rewarding lives. As guest writers, they share their experiences and insights in their post-stroke journey.
---