Life Engagement: Happy, sad, and crucial to recovery
As we've rebuilt our lives since Debra's stroke 11 years ago, we've engaged more and more in life's many events and activities, and that's been a big part of our moving forward and having fun.
With Debra's ongoing disabilities, however, that engagement often includes challenges. She needs help in ways she doesn't like, everything takes longer, and some activities are out of reach. With her ongoing aphasia, conversation is difficult and often exhausting. Steve needs to be ready to help along the way. We usually enjoy the outing – the friends, the places we see and the things we do. Even so, shortly after we get home, Debra often feels a bit blue, frustrated that "it wasn't like it used to be."
Last month we engaged in a big way. Calvin, the oldest son of our close friends Russ and Monique Johnson, celebrated his wedding to his wife, Marcela. It was the third time they planned the celebration – canceled twice before due to the COVID-19 pandemic. Our oldest son, Danny, was in Calvin's wedding party, and we were able to really take advantage of the trip. We spent four days with Danny and his fiancé, Dhivya, before the wedding weekend. That was truly special.
At the wedding we spent some really nice time with close friends we've enjoyed for decades. We also met new friends, bonding quickly due to our common friendship with Russ and Monique. We danced more than we had in years. We danced with each other, our friends and Danny's friends – we got a charge from their youthful energy.
Cycles of grief
We relived all the fun the next day, and we also talked about some more difficult moments that evening. Steve described one "thought cycle" while watching the dance floor. It reflects the kind of thoughts he's had for 11 years but has only now started to talk about with Debra.
Steve's mind chatter went something like this: "We can't dance the way we used to. I have to be ready to help Deb to the bathroom as the walkway is uneven. My conversations get interrupted to help Deb with hers. I can't wander off to join Danny and some friends on the other side of the room, needing to stay nearby. It's really tiring to be 'on call' pretty much all the time. Life really has gotten harder and less fun."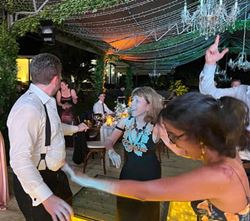 Fortunately, he looked around, remembered how lucky they are in so many ways, and also thought: "it's really great that Deb wants to do so much despite her challenges, so we can still live a full, fun life."
At some point in the evening, actually two or three points, Debra went through similar "cycles of grief." Of course, the changes to her experience are more substantial. Her pain is deeper. Her difficult emotions tend to linger longer. But each time she too was able to come back to thoughts of gratitude – that we're lucky to be able to do what we do.
We've written before about the six stages of grief – denial, anger, bargaining, depression, acceptance and meaning (Kübler Ross, 1969; Kessler, 2019). We've written about how they are not linear. People who are grieving – like stroke survivors and carepartners – may get through one stage for a while, only to fall back to it later.
This recent wedding experience, and conversations afterward, reminded us that these "cycles of grief" are probably here to stay. Engaging in life's enjoyable activities – critical to rebuilding a rewarding life – will actually trigger these cycles.
Ditch the ring
The conversation we had after the wedding, and writing about it for this column, was very difficult. In particular, Debra's hearing – and seeing in print – how "her" stroke makes Steve's life harder and less enjoyable in significant ways is tough. On several occasions over the past 11 years she has said "you'd be better off without me." And she has thought that many more times without saying it. Steve strongly disagrees and reminds her that "stroke is a family illness" – but guilt is a powerful emotion.
Would it be better for Steve not to share his feelings of loss? For us not to write a column about it? We don't think so. In our second Stroke Connection column (June, 2021) Steve described the Ring Theory of Support – Debra in the center, Steve in his role as primary supporter is in the second ring. Our kids and Debra's mom are in the third, and so on. The theory suggests that wherever you are in that ring, you support everyone closer to the center (everyone supporting Debra) and only complain to or ask for help from those in rings outside of yours.
In a recent session with a therapist we have seen together and separately, she suggested that, if we really want to rebuild our relationship as a partnership (which we do), it might be time to "ditch the ring." We must be open about what is difficult, support each other and move through the tough stuff together. That wasn't true for a good bit of time after the stroke, but now it feels like the only way for us to rebuild the life that we want together.
Managing grief, not avoiding it
We remembered a lecture we heard by a psychologist talking about post-traumatic stress disorder. He commented that the stress generally comes from a triggering event – something that reminds the person of the original trauma. Some people with PTSD try to avoid those triggering events to avoid the new stress they might cause. But the real goal is not to avoid them, but rather to learn how to manage the emotions they create, and therefore decrease – and eventually eliminate – the stress. That's the only way a person with PTSD can live a full life without fearing that next triggering event.
In much the same way, we don't want to avoid re-engaging in activities that can bring so much pleasure and fulfillment even though we know they will remind us of what we've lost and trigger renewed cycles of grief. Rather, we want to get better at staying focused on what we still have, or have gained, and not what we've lost. When we can do that, we enjoy our engagement in life, and these cycles of grief can become less frequent, less intense and shorter. But we'll probably never stop having them. We've lost a lot, especially Debra, and we'll never stop grieving that. But we think we can manage our grief, get past our loss even if we don't get over it, and successfully rebuild rewarding lives.
We'd love to hear from you. If you have thoughts about this column, experiences you'd like to share, ideas for us to explore further, or input of any kind, please email us at [email protected]. And please do take a look at our last column and check out www.strokeacrossamerica.org where you can get involved and follow our 4,300 mile bike ride from Oregon to Boston (May 19 – August 26, 2022) to raise awareness for stroke, aphasia, and the importance of the emotional journey in recovery.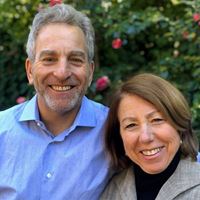 Stroke survivor Debra Meyerson and Steve Zuckerman, her husband of 33 years and "carepartner" after stroke, founded the nonprofit Stroke Onward to help survivors, families and caregivers navigate the emotional journey to rebuild their identities and rewarding lives. As guest writers, they share their experiences and insights in their post-stroke journey.
---