Heart-Check Foods
One Heart. Hundreds of Heart-Healthy Options.
The Heart-Check mark makes it easy to spot heart-healthy foods in the grocery store or when dining out.

A Small Check That Can Make a Big Difference
We all know the feeling of standing in a grocery store aisle, feeling frustrated and overwhelmed by all the choices available. Here at the American Heart Association, we take the health and wellness of all Americans to heart. That's why, more than 20 years ago, we established the Heart-Check mark.
Check for the Heart-Check Mark
The Heart-Check mark is a simple tool to help you Eat Smart. When you see it, you can be confident that a product aligns with the American Heart Association's recommendations for an overall healthy eating pattern.
1000+ products carry the Heart-Check mark. Look for the Heart-Check wherever you shop – it's in almost every aisle!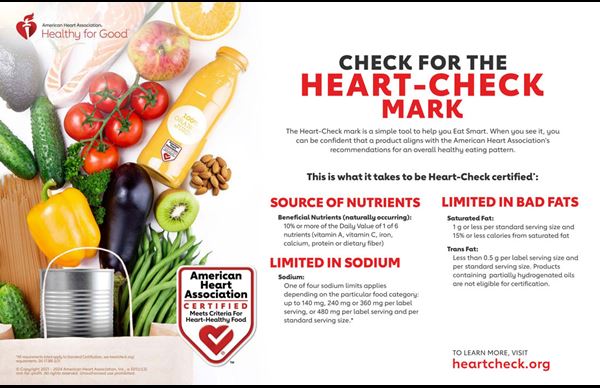 Certified Foods in the Grocery Store
The Heart-Check Certified Product List is updated twice a month and provided in PDF format. Use it when creating your shopping list to make smart, heart-healthy choices easier at the grocery store!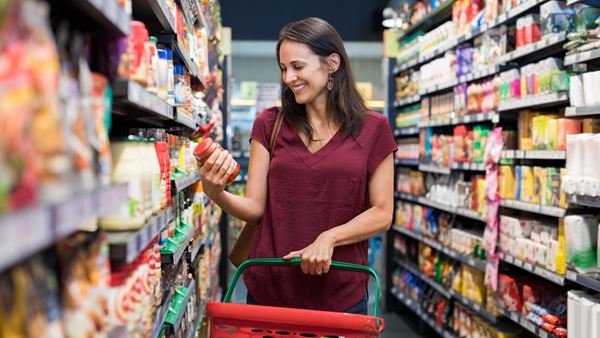 Featured Heart-Check Certified Recipes
Join Healthy for GoodTM for easy tips and tools to help build healthy habits for life.
You don't need a guilt trip. We know you know. You want to be Healthy for Good. And we're here to help.
We'll help keep you on track with tasty recipes, shareable tips, videos and hacks.
Science-based information
You-based motivation