Fun, Friends and Community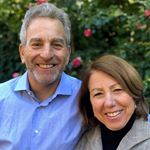 Stroke survivor Debra Meyerson is a former Stanford University professor who taught and wrote about gender, diversity and identity. She is also the author (with her son, Danny) of Identity Theft: Rediscovering Ourselves after Stroke. Debra Meyerson and Steve Zuckerman, her husband of 33 years and "carepartner" after stroke, founded the nonprofit Stroke Onward to help survivors, families and caregivers navigate the emotional journey to rebuild their identities and rewarding lives. In this periodic column, they share their experiences and insights, and those of others contributing to this important aspect of recovery.
Seven months after Debra's stroke, her friend Anne Payne invited her to a "girls" 50th birthday weekend.
There would be tennis, hiking, biking, meals together and more. Conversations would be loud and lively. At the time, Debra could barely walk without holding someone's arm, and her speech was very limited. Joining them would clearly be an exercise in frustration, so she said NO!
Another close friend pushed her. Kim Menninger said she would help with anything and everything – travel plans, walking, even putting in Debra's contact lenses if she didn't want to wear glasses.
Debra was nervous but decided to give it a shot. At first she was totally frustrated, needing help in the airport and hearing well-meaning friends finish her sentences when she couldn't find words. Watching all the activities she couldn't do was hard. She was angry that she wasn't the "old Deb".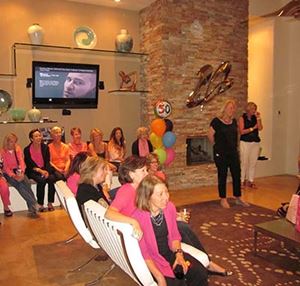 Kim helped Debra focus on ways she could enjoy herself. They took a really slow walk. A bunch of others joined them to just relax in the pool. She had a few one-on-one conversations – not the kind she used to have, but she was reconnecting. Friends were heeding her requests to give her more time to get words out.
Debra started to have fun. And the night of the actual birthday party, she danced! In a bar, with a funky disco ball and a DJ playing music from when she was 30. Affected leg planted. Affected arm dangling. She stopped caring about what it looked like and just had fun. And so did everyone else watching and dancing with her.
Our work at Stroke Onward focuses on the emotional journey in recovery, rebuilding identities and rewarding lives after a trauma like stroke, often in the face of significant disabilities. We talk a lot about the importance of finding ways to rebuild meaning and purpose into our lives even if it means doing so through very different activities than before.
For Debra, that meant figuring out that she could still create and share knowledge that would help people, no longer as a professor at Stanford but by writing Identity Theft: Rediscovering Ourselves After Stroke and through the work of Stroke Onward.
But on that birthday weekend, when she still could barely share her thoughts, Debra was reminded that fun, friends and community were essential to her.
They were before her stroke and she wanted them to be after it as well.
Many people, not just survivors, are just now re-engaging in social activities as the frustrating isolation of the COVID-19 pandemic is letting up. So, it seems a good time for survivors to be thinking about opportunities and choices for how to rebuild and reconnect along with everyone else. It's different for survivors and carepartners, of course, so here are a few thoughts that may help: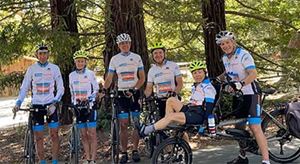 Fun: The biggest lesson we've learned is we have to remind ourselves that fun is really important, and to be deliberate about creating it. After the stroke, so much of what used to be fun was not available anymore. Of course, everyone's situation is different, but we have heard such powerful and motivating stories of survivors playing one-armed golf; taking cruises with Aphasia Recovery Connection; riding three-wheeled bicycles; having weekly coffee with a close friend who doesn't care that it takes a long time to have a conversation; doing puzzles; cooking; gardening … the list is endless.
One common theme of these stories is adaptation. Sometimes with the help of programs designed to help, but often in ways people just figure out. For us, a huge one was discovering the Bay Area Outreach & Recreation Program, commonly called BORP. This program features a great adaptive cycling program in Berkeley, California. BORP introduced us to a tandem bicycle we can ride comfortably for long distances, without Deb's ongoing spasticity causing her calf to cramp up.
Friends: It's a common reaction after a stroke, especially if you have aphasia, to become more isolated. It's natural. Everything is so much harder. Often you can't do what everyone else wants to do, at least not as fast. We feel fortunate that many of our friends have worked hard to make things work for us, both when we're together and for Debra alone. We've also found, and so many others have shared similar stories, that friends love it when you tell them what you need. So many friends don't know what to say or do to be supportive, and they withdraw. But often that's not what they want either.
One change for us was shrinking our circle of friends. We spend more time with our closest friends and less time with casual friends. We've spoken with some survivors who haven't been able to maintain pre-stroke friendships but have had great success building new friendships, often with other survivors and carepartners. And that brings us to ...
Community: For us, and research suggests that it's true for most people, being part of a community is a strong contributor to happiness. Yet stroke rips some survivors out of the communities they previously enjoyed. For those forced from their jobs, losing a work community can be really hard. Many survivors describe losing connection with old friends, but others share important success maintaining their friend communities. Some survivors and carepartners we have met have leaned heavily on faith-based communities, both new and old.
We've recently been experiencing the power of community in a different way. While Debra did receive important support from a few Pacific Stroke Association survivor groups she joined shortly after her stroke, she mostly sought support from friends. But our work with Stroke Onward, and the pandemic-induced growth of "virtual support groups," has given us much better perspective on the power such groups can have in building a supportive community.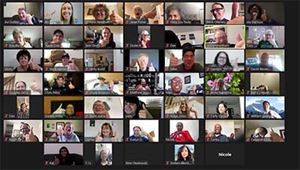 Debra and Flannery O'Neil, executive director of Stroke Onward and also a stroke survivor, are leading a survivor support group focused on "rebuilding identity" through a virtual program developed in response to pandemic isolation.
This free program, called Virtual Connections, has 2,300 members from 45 countries and hosts 20 or more virtual sessions each week. Steve and Flannery are hosting a similar session specifically for carepartners. We have also been joining support groups around the country, only possible because many groups that used to be in-person are now virtual.
We are seeing how these communities are helping survivors and carepartners in the process of rebuilding rewarding lives after stroke. If you'd like to join a survivor support group but don't know where to start, check out the American Stroke Association's Stroke Support Group Finder. It will be interesting to see how these groups evolve as we emerge from the pandemic.
At Stroke Onward, we have just launched aphasia-friendly book discussion materials intended for use by support groups to help personalize and deepen the experience of reading Identity Theft. We're also thinking about how we might help contribute to the growth of virtual support groups which can create more equitable access to such an important community for rebuilding rewarding lives after stroke.
We would love to hear how you are building fun, friends and community into your lives, or the challenges you are having in trying to do so. Please email us at [email protected]
---