During this minimally invasive procedure a new valve is inserted without removing the old, damaged valve. The new valve is placed inside the diseased valve. The surgery may be called a transcatheter aortic valve replacement (TAVR) or transcatheter aortic valve implantation (TAVI).
Valve-within-valve — How does it work?
Somewhat similar to placing a stent in an artery, the TAVR approach delivers a fully collapsible replacement valve to the valve site through a catheter.
Once the new valve is expanded, it pushes the old valve leaflets out of the way and the tissue in the replacement valve takes over the job of regulating blood flow.
How is TAVR or TAVI different from standard valve replacement?
This procedure is available for people with symptomatic severe aortic stenosis at low, intermediate or high risk for standard valve replacement surgery.
What is involved in a TAVR procedure?
Usually valve replacement requires an open-heart procedure with a "sternotomy", in which the chest is surgically separated (opened) for the procedure. The TAVR or TAVI procedures can be done through very small openings that leave all the chest bones in place.
While TAVR is not without risks, it provides beneficial treatment options to people who may not have been considered for valve replacement. A patient's experience with a TAVR procedure may be similar to a coronary angiogram in terms of recovery. You will likely spend less time in the hospital after TAVR compared to surgical valve replacement.
The TAVR procedure is performed using one of two approaches, allowing the cardiologist or surgeon to choose which one provides the best and safest way to access the valve:
Entering through the femoral artery (large artery in the groin), called the transfemoral approach, which does not require a surgical incision in the chest, or
Using a minimally invasive surgical approach with a small incision in the chest and entering through a large artery in the chest or through the tip of the left ventricle (the apex), which is known as the transapical approach.
Who's a good candidate for this type of valve surgery?
The procedure is available to patients in all risk categories.
TAVR can be an effective option to improve quality of life in patients who otherwise have limited choices for repair of their aortic valve.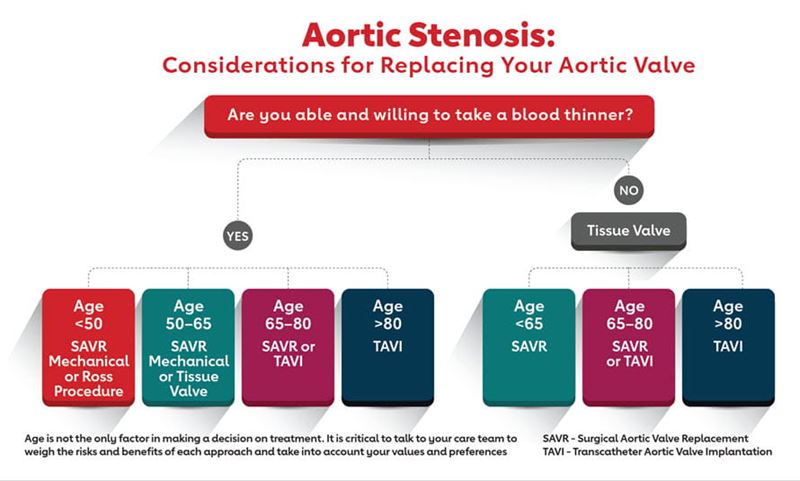 Download Aortic Stenosis: Considerations for Replacing Your Aortic Valve (PDF)
Is there financial assistance available for people in need of TAVR or TAVI valve replacement?
TAVR is approved and available for qualifying patients receiving Medicare and Medicaid. More information is available on the Centers for Medicare & Medicaid Services (CMS) website. Learn more about health care laws and government programs seeking to provide affordable coverage at the HealthCare.gov website(link opens in new window). The Heart Valve CareLine can help you navigate the insurance and medical world as it relates to your diagnosis.
Additional resources:
Support That Lifts You Up
Our online community of patients, survivors and caregivers is here to keep you going no matter the obstacles. We've been there, and we won't let you go it alone.
---