Heart Valve Surgery Recovery and Follow Up
What to expect after heart valve surgery
The normal recovery time is usually four to eight weeks, and may be shorter after minimally invasive surgeries.
Immediately after surgery
People are usually practicing very basic self-care and are encouraged to get up, to breathe deeply, and to resume eating, drinking and walking as soon as possible after surgery.
Days and weeks following surgery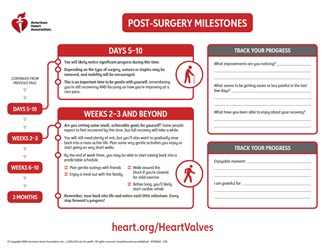 During this phase, people can expect to gradually regain energy and return to their normal activity level.
Download our Recovery Milestones checklist (PDF) and chart your progress toward wellness. This checklist is also available in Spanish (PDF).
---