Hope: The Stroke Recovery Guide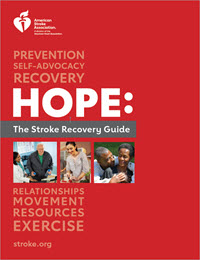 Published by: American Stroke Association

Product Code: 50-1757
Each person's stroke and recovery is unique. Hope: The Stroke Recovery Guide provides survivors and caregivers the valuable information they need to navigate their challenges—whatever they are. This comprehensive guide includes four main focus areas: post-stroke issues with suggestions on how to overcome them; tips for how to be an active participant in one's own recovery; lifesaving information to prevent another stroke; and illustrated exercise programs to help survivors regain strength and range of motion.
For Health Care Professionals
If you are interested in placing an order, receiving print samples or viewing online e-samples, visit our distributor, Krames. Registration is required to request samples and order online.
---