Serve this Asian-inspired dish with a colorful fruit salad and soba noodles.
Nutrition Facts
Chicken with Ginger and Snow Peas - Delicious Decisions

Calories
168 Per Serving
Protein
28g Per Serving
Fiber
1g Per Serving
Nutrition Facts
×
Calories
168
Total Fat
3.5 g
Saturated Fat
0.5 g
Trans Fat
0.0 g
Polyunsaturated Fat
1.0 g
Monounsaturated Fat
1.5 g
Cholesterol
66 mg
Sodium
157 mg
Total Carbohydrate
5 g
Dietary Fiber
1 g
Sugars
1 g
Protein
28 g
Dietary Exchanges
1 vegetable, 3 very lean meat
Ingredients
1 tablespoon cornstarch
1/2 cup fat-free,low-sodium chicken broth and 1-2 Tbsp fat-free, low-sodium chicken broth
1 tablespoon soy sauce (lowest sodium available)
1 teaspoon pepper
2 tsp canola or corn oil
1 1/4 pound chicken breast tenders (all visible fat discarded)
6 ounces snow peas (trimmed)
2 medium garlic cloves (minced)
1/2 teaspoon minced, peeled gingerroot
Directions
Put the cornstarch in a small bowl. Add 1/2 cup broth, the soy sauce, and pepper, whisking to dissolve the cornstarch. Set aside.
In a large, heavy skillet, heat the oil over high heat, swirling to coat the bottom. Cook the chicken for 4 minutes, stirring frequently.
Stir in the snow peas, garlic, and gingerroot. Cook for 3 minutes, stirring constantly.
Add the broth mixture. Cook for 2 to 3 minutes, or until the sauce thickens and the chicken is no longer pink in the center, stirring constantly. If the mixture begins to burn, remove from the heat for a moment or stir in the remaining 1 to 2 tablespoons broth.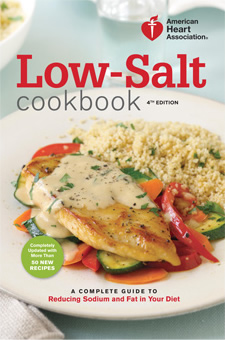 American Heart Association Low-Salt Cookbook, 4th Edition
In addition to the more than 200 mouthwatering, low-sodium recipes, the book has information on shopping and cooking smart, eating well, and living a healthy lifestyle. The cookbook also includes resources for identifying common high-sodium foods and good sources of potassium as well as a blank meal tracker to log your daily sodium consumption.
Sample Recipes:
Chicken with Ginger and Snow Peas
Purchase:
This recipe is reprinted with permission from American Heart Association Low-Salt Cookbook, Fourth Edition, Copyright © 2011 by the American Heart Association. Published by Clarkson Potter/Publishers, a division of Random House, Inc. Available from booksellers everywhere.