Just combine and shake to fix this quick, portable snack. The mix provides complex carbs and protein for both short- and long-term energy.
Nutrition Facts
Sweet and Crunchy Trail Mix - Delicious Decisions

Calories
140 Per Serving
Protein
5g Per Serving
Fiber
4g Per Serving
Nutrition Facts
×
Calories
140
Total Fat
5.5 g
Saturated Fat
0.5 g
Trans Fat
0.0 g
Polyunsaturated Fat
1.5 g
Monounsaturated Fat
3.5 g
Cholesterol
0 mg
Sodium
73 mg
Total Carbohydrate
19 g
Dietary Fiber
4 g
Sugars
9 g
Protein
5 g
Dietary Exchanges
1 1/2 starch, 1 fat
Ingredients
2 cup crunchy, high-protein cereal
1/4 cup dried, sweetened cranberries
1/2 cup slivered almonds (dry-roasted)
1 to 2 tsp. grated orange zest
Directions
In a large resealable plastic bag, combine the ingredients. Seal the bag tightly. Shake until well blended.
Tip: Serving size 1/2 cup trail mix


Tip: Have the kids measure everything, seal the bag, and shake it. Go one step further and have them fill snack-size resealable plastic bags with single portions to take to school or to have on hand so they can grab a quick snack during the week.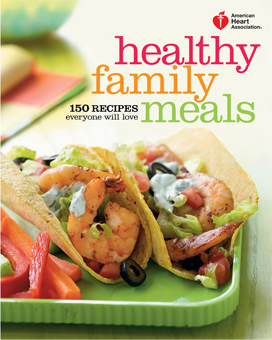 American Heart Association Healthy Family Meals Cookbook
Geared to the nutritional needs and tastes of all ages, American Heart Association Healthy Family Meals helps you create meals that will appeal to every member of the family — and are good for them, too. The 150 family-focused recipes are complemented by 80 color photographs.
Sample Recipes:
Purchase:
This recipe is reprinted with permission from American Heart Association Healthy Family Meals, Copyright © 2009 by the American Heart Association. Published by Clarkson Potter/Publishers, a division of Random House, Inc. Available from booksellers everywhere.