If you enjoy a good "concoction," which is what the Nahuatl (language of the Aztecs) word molli means, you'll enjoy this dish. Many traditional Mexican dishes use mole (MOH-lay), a rich, dark sauce that usually includes chocolate. To reduce the saturated fat, this recipe uses cocoa powder instead.
Nutrition Facts
Turkey Breast with Mole Sauce

Calories
177 Per Serving
Protein
29g Per Serving
Fiber
1g Per Serving
Nutrition Facts
×
Calories
177
Total Fat
4.5 g
Saturated Fat
0.5 g
Trans Fat
0.0 g
Polyunsaturated Fat
1.5 g
Monounsaturated Fat
1.5 g
Cholesterol
77 mg
Sodium
145 mg
Total Carbohydrate
4 g
Dietary Fiber
1 g
Sugars
2 g
Protein
29 g
Dietary Exchanges
3 lean meat
Ingredients
1 teaspoon canola or corn oil and 1 teaspoon canola or corn oil, divided use
2 pounds boneless, skinless turkey breast (all visible fat discarded)
1 cup water
1 medium chopped onion
1 garlic clove (minced)
1 cup fat-free, low-sodium chicken broth
2 tablespoons unsweetened cocoa powder
2 tablespoons shelled, unsalted sunflower seeds
2 tablespoons shelled, unsalted pumpkin seeds
1 tablespoon chili powder
1/2 teaspoon sugar
1/4 teaspoon ground cumin
1/4 teaspoon salt
1/4 teaspoon ground cinnamon
1/8 teaspoon ground cloves
Directions
In a large skillet, heat 1 teaspoon oil over medium heat, swirling to coat the bottom. Cook the turkey breast for 2 to 3 minutes on each side, or until browned. Pour in the water and bring to a boil. Reduce the heat and simmer, covered, for 1 hour, or until the turkey registers 165°F on an instant-read thermometer. Transfer the turkey to an ungreased 1-quart baking dish, discarding the cooking liquid. Set aside the turkey.
Preheat the oven to 350°F.
Meanwhile, in a small skillet, heat the remaining 1 teaspoon oil over medium-high heat, swirling to coat the bottom. Cook the onion and garlic for 3 minutes, or until the onion is soft, stirring occasionally.
In a food processor or blender, process the onion mixture and the remaining ingredients until smooth. Pour the mixture over the turkey. Bake for 30 minutes. Serve warm.
Cooking Tip:
Grinding Dried Chiles, Herbs, and Spices: If you enjoy grinding your own dried chiles, an electric coffee grinder is the best tool for the job. If you choose this method, you will want to dedicate the coffee grinder to grinding only chiles—otherwise, "hot coffee" could take on a whole new meaning! Electric coffee grinders are also great for perking up your dried herbs or spices.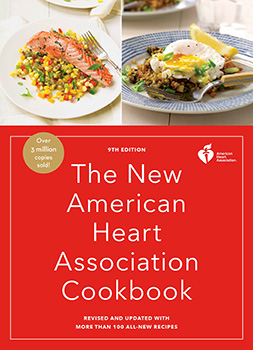 The New American Heart Association Cookbook, 9th Edition
The American Heart Association's flagship cookbook is back and better than ever. This latest edition, including 800 recipes from appetizers to desserts--and everything in between--is the ultimate cook's resource.
Sample Recipes:
Turkey Breast with Chicken Mole
Grilled Salmon with Cilantro Sauce
Purchase:
This recipe is reprinted with permission from The New American Heart Association Cookbook, 9th Edition. Copyright © 2017 by the American Heart Association. Published by Harmony Books, an imprint of Penguin Random House LLC. Available from booksellers everywhere.