Guacamole lovers won't be able to resist this creamy avocado dip with flavorful accents of basil and pine nuts. Enjoy with celery sticks, cucumber spears, carrots, and radishes. To evaluate the flavor even more, serve with roasted vegetables, such as broccoli florets and mini bell peppers.
Nutrition Facts
Velvety Avocado Pesto Dip

Calories
74 Per Serving
Protein
1g Per Serving
Fiber
2g Per Serving
Nutrition Facts
×
Calories
74
Total Fat
7.0 g
Saturated Fat
1.0 g
Trans Fat
0.0 g
Polyunsaturated Fat
1.0 g
Monounsaturated Fat
4.5 g
Cholesterol
0 mg
Sodium
38 mg
Total Carbohydrate
3 g
Dietary Fiber
2 g
Sugars
0 g
Protein
1 g
Dietary Exchanges
1 1/2 fat
Ingredients
2 medium ripe avocados, peeled, pitted, and cut into pieces
1 cup fresh basil leaves
1/4 cup unsalted pine nuts
3 tablespoons olive oil (extra virgin preferred)
1 tablespoon fresh lemon juice
3 medium garlic cloves
1/4 teaspoon salt
1/4 teaspoon cracked black pepper
Directions
In a food processor or blender, process all the ingredients for about 3 minutes, or until the mixture is fluffy and creamy.
Tip: Cover and refrigerate any leftover dip for up to five days.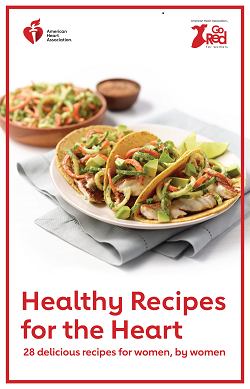 Healthy Recipes for the Heart
This digest-size recipe booklet contains 28 recipes, including Baked Flautas, Carne Asada with Chimichurri Sauce, Macaroni and Cheese with Spinach, Vegetable Migas, Jerk Tilapia Tacos with Zoodle Slaw, and Slow Cooker Thai Chicken Soup; blood pressure info and AHA recommended blood pressure levels; Blood Pressure Measurement Instruction infographic; an inspiring personal story shared by a GR Real Woman; full-color interior and photos; glossy cover; AHA dietary and lifestyle recommendations; Go Red Get Fit info; updated messaging and info about GRFW; and warning signs for heart attack and stroke.
Shop Heart