This tomato-based soup is an excellent way to use leftovers from roasted turkey or grilled chicken.
Nutrition Facts
Turkey Tortilla Soup

Calories
285 Per Serving
Protein
29g Per Serving
Fiber
6g Per Serving
Nutrition Facts
×
Calories
285
Total Fat
10.0 g
Saturated Fat
3.3 g
Trans Fat
0.0 g
Polyunsaturated Fat
1.6 g
Monounsaturated Fat
4.2 g
Cholesterol
70 mg
Sodium
295 mg
Total Carbohydrate
23 g
Dietary Fiber
6 g
Sugars
9 g
Protein
29 g
Dietary Exchanges
1/2 starch, 2 vegetable, 3 lean meat
Ingredients
1 teaspoon canola or corn oil
1/2 small onion (thinly sliced)
1 small garlic clove (halved)
1 14.5-ounce can no-salt-added whole tomatoes, undrained
1 6-inch corn tortilla, chopped
1 tablespoon tomato paste
1 tablespoon chopped, fresh jalapeño (seeds and ribs discarded)
1/4 teaspoon ground cumin
1 cup fat-free, no salt added chicken broth
1 cup chopped cooked skinless turkey breast or chicken breast, cooked without salt
1 ounce queso fresco, crumbled, or farmer cheese, shredded (about 1/4 cup)
2 tablespoons chopped avocado
Directions
In a medium saucepan, heat the oil over medium heat, swirling to coat the bottom. Cook the onion and garlic for 3 to 4 minutes or until soft, stirring occasionally. Stir in the tomatoes with liquid, tortilla, tomato paste, jalapeño, and cumin. Cook for 2 minutes, stirring constantly.
In a blender, process the mixture until smooth. Return to the saucepan. Stir in the broth and turkey. Bring to a boil over medium-high heat. Reduce the heat and simmer for 15 minutes. Ladle into bowls. Sprinkle with the queso fresco and avocado.
Tip: Queso fresco (KAY-soh FRAY-skoh) literally translates to "fresh cheese." It is a mild white Mexican cheese that crumbles nicely. You can use farmer cheese, another mild white cheese (similar to Monterey Jack), if queso fresco isn't available.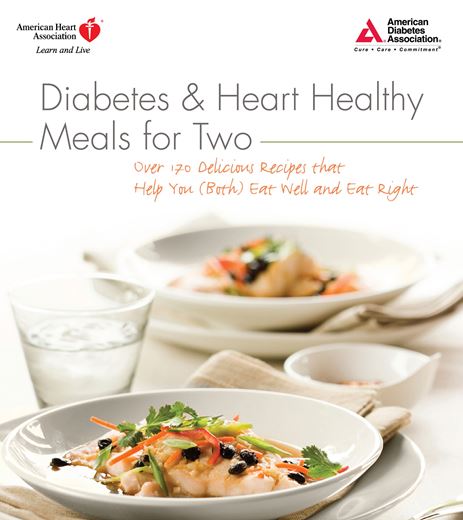 Diabetes and Heart Healthy Meals for Two
Each recipe was designed for two--perfect for adults without children in the house or for people living alone who want to keep leftovers to a minimum. With over 170 recipes, there are plenty of options to keep your heart at its healthiest and your blood glucose under control.
Purchase:
This recipe is reprinted with permission from Diabetes & Heart Healthy Meals For Two, Copyright © 2008 by the American Heart Association and the American Diabetes Association. Published by the American Diabetes Association. Available from booksellers everywhere.