Easy enough to pull off for a weeknight meal, the salmon layered onto the cauliflower rice is also impressive enough in looks and taste to serve for company. Better yet, the salmon is heart-healthy and the fluffy cauliflower soaks up the soy sauce.
Nutrition Facts
Teriyaki Salmon with Cauliflower Rice

Calories
311 Per Serving
Protein
38.2g Per Serving
Fiber
2.9g Per Serving
Nutrition Facts
×
Calories
311
Total Fat
13.0 g
Saturated Fat
2.1 g
Trans Fat
0.1 g
Polyunsaturated Fat
3.4 g
Monounsaturated Fat
4.6 g
Cholesterol
79.5 mg
Sodium
430 mg
Total Carbohydrate
9.0 g
Dietary Fiber
2.9 g
Sugars
4.4 g
Added Sugars
0.0 g
Protein
38.2 g
Dietary Exchanges
2 vegetable, 5 lean meat
Ingredients
2 tablespoon low-sodium soy sauce
1 tablespoon water
1 Tbsp. dry sherry or balsamic vinegar
1 tablespoon sesame oil
1 teaspoon white vinegar
1/2 teaspoon no-calorie sweetener (approx. 2 packets)
1 teaspoon fresh minced garlic (1 large clove)
1 teaspoon fresh, minced ginger (about a 2-inch piece)
4 (6-ounce) wild salmon fillets, skin removed
1 head cauliflower (roughly chopped)
1/2 white onion, peeled and roughly chopped
1 teaspoon canola oil
1/8 teaspoon salt
1 cup chopped, fresh cilantro leaves
1 teaspoon sesame seeds
2 scallions (finely chopped)
Directions
In a heatproof 8-inch by 8-inch baking pan, add the marinade ingredients: soy sauce, water, sherry, sesame oil, white vinegar, Splenda, garlic, and ginger. Use a fork to gently combine ingredients. Add salmon fillets on their side. Cover with foil and marinate in the refrigerator at least 1 hour and up to 24 hours.
When ready to cook the salmon, remove the fish from the fridge and preheat oven to 450 degrees F.
Meanwhile, trim and discard the leaves from the cauliflower. Roughly chop the cauliflower florets and the peeled onion. Add to the bowl of a food processor in batches, pulsing until the mixture resembles couscous. (The key to getting the correct consistency is to not overload the food processor.) Transfer mixture to a medium bowl until all the cauliflower rice has been made.
Place the baking pan with the salmon in the preheated oven and bake until salmon is almost fully cooked, about 10 to 12 minutes, depending on thickness. Increase the heat to broil (or turn on broiler) and broil the salmon another 2 to 4 minutes to brown. Fish is done when easily flaked with a fork.
Meanwhile, warm canola oil in a large nonstick pan over medium-high heat. Add cauliflower. Season with salt and, stirring frequently, cook until cauliflower mixture is tender, about 5 to 6 minutes. Remove from heat and stir in cilantro. Transfer cauliflower to a platter.
Use a spatula to transfer the salmon fillets onto cauliflower. Pour teriyaki sauce from the pan over the salmon. Garnish salmon with sesame seeds and scallions. Serve.
Cooking Tip: Using a Microplane is one of the quickest ways to take peeled garlic and ginger and grate it into a mince.
Keep it Healthy: Confused by the salmon choices at the seafood counter? Remember that wild salmon not only has less calories than farm-raised salmon but also has almost half the amount of saturated fat.
Tip: This teriyaki marinade can be used for other protein, like chicken breasts. Add marinade and 1 1/4 pounds thinly sliced skinless, boneless chicken breasts into a Ziploc bag. Marinate in the refrigerator for a few hours. Warm a large nonstick pan over medium-high heat, adding chicken, marinade, and 1/3 cup water. Saute chicken, turning frequently, until fully-cooked, about 6 to 7 minutes.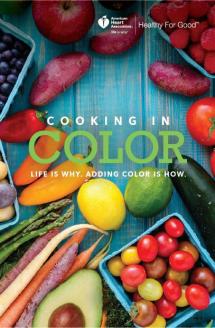 Cooking in Color
This digest-size recipe booklet includes 27 healthful recipes, all including fruits, vegetables, or both. Each recipe is accompanied by a vibrant photograph, and the recipes are organized by color. Also included is a fruit/veggie storage guide and a fruit/veggie equivalency guide.
Shop Heart
Copyright © 2018 American Heart Association, Healthy for Good™. Every purchase helps fund the work of the AHA/ASA.