This classic takeout Chinese dish is just as delicious as the restaurant version — but healthier.
Nutrition Facts
Sweet & Sour Pork

Calories
339 Per Serving
Protein
24g Per Serving
Fiber
5g Per Serving
Nutrition Facts
×
Calories
339
Total Fat
4.5 g
Saturated Fat
1.0 g
Trans Fat
0.0 g
Polyunsaturated Fat
1.0 g
Monounsaturated Fat
2.0 g
Cholesterol
61 mg
Sodium
183 mg
Total Carbohydrate
49 g
Dietary Fiber
5 g
Sugars
17 g
Added Sugars
0 g
Protein
24 g
Dietary Exchanges
2 starch, 1 fruit, 1 vegetable, 2 1/2 lean meat
Ingredients
1 1/4 pound pork tenderloin (cut into 1/2-inch pieces)
1 tablespoon cornstarch
2 tablespoon white vinegar
1 tablespoon ketchup
2 teaspoons low-sodium soy sauce
2 teaspoons freshly grated gingerroot

OR

1/2 teaspoon ground ginger
3 cups peeled, thinly sliced carrots
2 cups snow peas (ends trimmed)
1/2 tablespoon canola oil
1/4 cup sliced scallions
1 20-ounce can pineapple chunks in own juice
3 1/2 cups cooked brown rice (from 1 cup uncooked brown rice), to serve
Directions
Cut pork tenderloin into 1/2 inch pieces.
Add pork into a medium bowl or a large Ziploc bag along with cornstarch, vinegar, vinegar, ketchup, soy sauce, and ginger. Add all the pineapple juice from the can of pineapple chunks (about 1 cup) into the bowl/ Ziploc bag. (Reserve pineapple chunks for later use.) Mix together to combine and reserve until needed.
Thinly slice the carrots and trim the ends of the snow peas.
In a large skillet, warm oil over medium-high heat. Add carrots and stirring occasionally, cook about 5 minutes. Stir snow peas and pork into the mixture. Sauteeing and stirring constantly, cook until vegetables are soft and pork is fully-cooked, about 8 minutes.
Stir in reserved pineapple chunks and scallions. Cook 1 minute and remove from heat. Serve with brown rice.
Cooking Tip: To prepare the snow peas, use a knife to trim each end of the pea, which will allow you to easily remove (and discard) the string on the top of each snow pea.
Keep it Healthy: Tossing slices of raw meat and marinade with cornstarch, like in this recipe, is an easy and healthy way to turn a marinade into a thickened sauce once it cooks.
Tip: Sugar snap peas, a cross between garden peas and snow peas, can also be used in the recipe. Just note that they take a little longer to cook and to add a few minutes of sautéing time before incorporating the pork.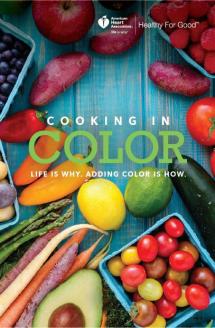 Cooking in Color
This digest-size recipe booklet includes 27 healthful recipes, all including fruits, vegetables, or both. Each recipe is accompanied by a vibrant photograph, and the recipes are organized by color. Also included is a fruit/veggie storage guide and a fruit/veggie equivalency guide.
Shop Heart
Copyright © 2018 American Heart Association, Healthy for Good™. Every purchase helps fund the work of the AHA/ASA.