This meatless soup is an easy weeknight meal for the whole family or as a vegetable side dish.
Nutrition Facts
Spinach Bean Soup

Calories
95 Per Serving
Protein
6g Per Serving
Fiber
4g Per Serving
Nutrition Facts
×
Calories
95
Total Fat
0.0 g
Saturated Fat
0.0 g
Trans Fat
0.0 g
Polyunsaturated Fat
0.0 g
Monounsaturated Fat
0.0 g
Cholesterol
0 mg
Sodium
45 mg
Total Carbohydrate
17 g
Dietary Fiber
4 g
Sugars
5 g
Protein
6 g
Dietary Exchanges
1 starch, 1/2 lean meat
Ingredients
Cooking spray
1 small onion (chopped)
2 Tbsp. jarred, minced garlic

OR

2 clove minced, fresh garlic
14.5 oz. canned, diced, no-salt-added tomatoes (undrained)
14.5 oz. canned, low-sodium chicken or vegetable broth
16 oz. canned, low-sodium navy, chickpeas or pinto beans (undrained)
1/4 tsp. pepper
1 tsp. cumin
4 cups fresh spinach, packed (tear or chop large leaves)
Directions
Spray a large pot with cooking spray, heat over medium-high heat.
Sautee onion and garlic 5 minutes or until onions become translucent.
Add tomatoes, chicken broth, beans, pepper and cumin and bring to a boil.
Reduce to medium heat, add spinach and cook 10-15 minutes more.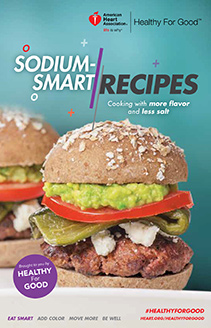 Sodium-Smart Recipes
This digest-sized booklet contains 28 recipes and photographs. It also contains information on how sodium affects overall health, a reference guide for sodium-free flavorings and provides American Heart Association's dietary recommendations.
Shop Heart