Smoky paprika, spicy cayenne, and tangy dry mustard add zippy heat to this lightened-up southern classic. Buttermilk keeps the chicken moist, while cornflake crumbs and cornmeal form a crunchy crust.
Nutrition Facts
Spicy Oven-Fried Chicken

Calories
195 Per Serving
Protein
28g Per Serving
Fiber
1g Per Serving
Nutrition Facts
×
Calories
195
Total Fat
1.5 g
Saturated Fat
0.5 g
Trans Fat
0.0 g
Polyunsaturated Fat
0.5 g
Monounsaturated Fat
0.5 g
Cholesterol
66 mg
Sodium
264 mg
Total Carbohydrate
16 g
Dietary Fiber
1 g
Sugars
1 g
Protein
28 g
Dietary Exchanges
1 starch, 3 very lean meat
Ingredients
Cooking spray
1/4 cup low-fat buttermilk
1/4 cup cornflakes crumbs
1/4 cup yellow cornmeal
2 tablespoons all-purpose flour
1 teaspoon salt-free extra-spicy seasoning blend
1 teaspoon garlic powder
1/2 teaspoon paprika
1/4 teaspoon cayenne
1/4 teaspoon salt
1/8 teaspoon dry mustard
4 boneless, skinless chicken breasts, (about 4 ounces each), all visible fat discarded
Directions
Preheat the oven to 375°F. Lightly spray an 8- or 9-inch square baking pan or a baking sheet with cooking spray.
Pour the buttermilk into a pie pan or shallow bowl.
In a shallow dish, stir together the remaining ingredients except the chicken.
Set the pie pan, dish, and baking pan in a row, assembly-line fashion. Dip the chicken in the buttermilk and then in the cornflake mixture, turning to coat at each step and gently shaking off any excess. Using your fingertips, gently press the coating so it adheres to the chicken. Place in the baking pan. Lightly spray the chicken with cooking spray. Bake for 30 minutes, or until the chicken is no longer pink in the center and the coating is crisp.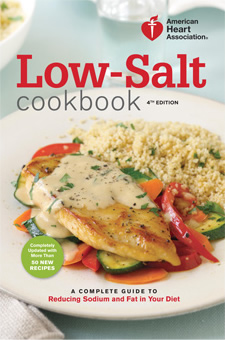 American Heart Association Low-Salt Cookbook, 4th Edition
In addition to the more than 200 mouthwatering, low-sodium recipes, the book has information on shopping and cooking smart, eating well, and living a healthy lifestyle. The cookbook also includes resources for identifying common high-sodium foods and good sources of potassium as well as a blank meal tracker to log your daily sodium consumption.
Sample Recipes:
Chicken with Ginger and Snow Peas
Purchase:
This recipe is reprinted with permission from American Heart Association Low-Salt Cookbook, Fourth Edition, Copyright © 2011 by the American Heart Association. Published by Clarkson Potter/Publishers, a division of Random House, Inc. Available from booksellers everywhere.