Wrap your hands around a bowl of this autumnal comfort food on a chilly evening. It has a hint of heat from chili powder and jalapeño and an earthiness from cumin and beans.
Nutrition Facts
Pork and Butternut Squash Chili

Calories
301 Per Serving
Protein
31g Per Serving
Fiber
9g Per Serving
Nutrition Facts
×
Calories
301
Total Fat
5.5 g
Saturated Fat
1.0 g
Trans Fat
0.0 g
Polyunsaturated Fat
1.0 g
Monounsaturated Fat
2.0 g
Cholesterol
74 mg
Sodium
148 mg
Total Carbohydrate
33 g
Dietary Fiber
9 g
Sugars
6 g
Added Sugars
0 g
Protein
31 g
Dietary Exchanges
2 starch, 1 vegetable, 3 1/2 lean meat
Ingredients
1 1/2 teaspoons canola or corn oil and 1 1/2 teaspoons canola or corn oil, divided use
2 pounds lean pork tenderloin, all visible fat discarded, cut into 1-inch pieces
4 medium ribs of celery, finely chopped
1 large onion, finely chopped
1 medium fresh jalapeño, seeds and ribs discarded, finely chopped (plus more for garnish, if desired)
2 tablespoons no-salt-added tomato paste
1 1/2 tablespoons chili powder
1 teaspoon ground cumin
1 teaspoon garlic powder
1/4 teaspoon ground pepper
3 cups water
1 14-5-ounce can no-salt-added diced tomatoes, drained
2 12-ounce packages frozen cooked winter squash puree, thawed

OR

2 15-ounce cans solid-pack pumpkin (not pie filling)
1 1 1/2-pound butternut squash, peeled, seeds removed, cut into 1-inch dice (about 2 cups)
2 14.5-ounce cans no-salt-added cannellini or white beans, rinsed and drained
1/2 cup chopped fresh cilantro (optional)
1/2 cup chopped green onions (optional)
Directions
In a Dutch oven, heat 1 1/2 teaspoons oil over medium-high heat, swirling to coat the bottom. Cook the pork for 7 to 8 minutes, or until golden-brown, stirring occasionally. Transfer the pork to a small bowl.
In the same pot, heat the remaining 1 1/2 teaspoons oil, swirling to coat the bottom. Cook the celery and onion for 5 minutes, or until slightly softened. Add the jalapeño, tomato paste, chili powder, cumin, garlic powder, and pepper. Cook for 1 minute, stirring constantly. Add the water and diced tomatoes, scraping the bottom of the pan to dislodge any browned bits.
Stir in the winter squash puree and pork. Increase the heat to high and bring the mixture to a boil. Reduce the heat and simmer, loosely covered, for 1 hour, or until the pork is tender.
Stir the butternut squash and beans into the pork mixture. Increase the heat to high and bring to a boil. Reduce the heat and simmer, loosely covered, for 30 minutes, or until the butternut squash is tender.
Ladle the chili into bowls. Garnish with the cilantro, green onions, and jalapeño.
Keep it Healthy: Keep frozen purees on hand. Thaw them and stir them into chilis and stews for an easy way to add servings of fruit and vegetables to meals.
Cooking Tip: To prepare the butternut squash, cut it in half vertically. Use a vegetable peeler or a knife to remove the peel. Scoop out the seeds with an ice cream scoop and discard them.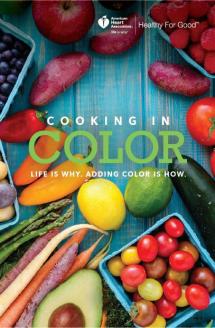 Cooking in Color
This digest-size recipe booklet includes 27 healthful recipes, all including fruits, vegetables, or both. Each recipe is accompanied by a vibrant photograph, and the recipes are organized by color. Also included is a fruit/veggie storage guide and a fruit/veggie equivalency guide.
Shop Heart
Copyright © 2018 American Heart Association, Healthy for Good™. Every purchase helps fund the work of the AHA/ASA.