This is a perfect breakfast for those busy weekday mornings. This meal is as fast to pull together as it is delicious and nutritious.
Nutrition Facts
Overnight No-Cook Banana Oatmeal

Calories
443 Per Serving
Protein
18g Per Serving
Fiber
10g Per Serving
Cost Per Serving
$1.88
Nutrition Facts
×
Calories
443
Total Fat
9.5 g
Saturated Fat
1.5 g
Trans Fat
0.0 g
Polyunsaturated Fat
3.0 g
Monounsaturated Fat
4.0 g
Cholesterol
3 mg
Sodium
68 mg
Total Carbohydrate
74 g
Dietary Fiber
10 g
Sugars
21 g
Protein
18 g
Dietary Exchanges
3 starch, 1 fruit, 1 fat-free milk
Ingredients
2 1/2 cups fat-free milk
1 tablespoon honey
1 teaspoon vanilla extract
3 1/2 cups uncooked oatmeal (not instant or quick-cooking)
2 medium bananas, peeled, halved lengthwise, and sliced crosswise
1/4 cup chopped unsalted pecans or walnuts
Directions
In a large, resealable container or bowl, stir together the milk, honey, and vanilla. Stir in the oatmeal. Cover and refrigerator overnight.
Remove the oatmeal from the refrigerator. Spoon it into bowls. Top each serving with the bananas and pecans.
Cooking Tip: Prefer oatmeal with a thick consistency? If so, add another heap of oatmeal. Prefer it looser? Add a few more splashes of milk.
Tip: To ripen green bananas, remove any plastic wrapping and store them at room temperature until ripe. Store ripe bananas in the refrigerator; their peel will darken, but the fruit will remain fresh. Peel and freeze overripe bananas to use in smoothies or baking.
Tip: Baking raw, dry oats for 1 hour at 250˚F will destroy any bacteria that may cause a foodborne illness.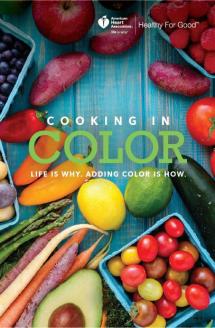 Cooking in Color
This digest-size recipe booklet includes 27 healthful recipes, all including fruits, vegetables, or both. Each recipe is accompanied by a vibrant photograph, and the recipes are organized by color. Also included is a fruit/veggie storage guide and a fruit/veggie equivalency guide.
Shop Heart
Copyright © 2018 American Heart Association, Healthy for Good™. Every purchase helps fund the work of the AHA/ASA.