A tiny dollop of yogurt gives a pleasant, unexpected creaminess to the piquant salsa that is drizzled over grilled shrimp in this attractive entrée.
Nutrition Facts
Grilled Shrimp with Mint Salsa Verde

Calories
150 Per Serving
Protein
14 g Per Serving
Fiber
1 g Per Serving
Added Sugars
g Per Serving
Nutrition Facts
×
Calories
150
Total Fat
9.0 g
Saturated Fat
1.3 g
Trans Fat
0.0 g
Polyunsaturated Fat
1.2 g
Monounsaturated Fat
6.4 g
Cholesterol
125 mg
Sodium
365 mg
Total Carbohydrate
3 g
Dietary Fiber
1 g
Sugars
1 g
Protein
14 g
Dietary Exchanges
2 lean meat, 1 1/2 fat
Ingredients
1/2 tablespoon plus 1 teaspoon and 1/2 tablespoon fresh lemon juice, divided use
1 teaspoon and 1 tablespoon olive oil, divided use
1 medium garlic clove (minced)
12 jumbo raw shrimp in shells (21 to 25 count), peeled, rinsed, and patted dry
2 medium green onions (chopped)
3 tablespoons chopped, fresh mint
1 tablespoon snipped, fresh cilantro
1/2 tablespoon drained capers
1/2 tablespoon minced fresh jalapeño, seeds and ribs discarded, or to taste
2 teaspoons fat-free, plain yogurt
1 teaspoon water
1/8 teaspoon salt
1/8 teaspoon pepper
Cooking spray
Directions
In a small glass baking dish, whisk together 1/2 tablespoon plus 1 teaspoon lemon juice, 1 teaspoon oil, and garlic. Add the shrimp, turning to coat. Cover and refrigerate for 10 minutes, turning once.
Meanwhile, in a mini food processor, process the green onions, mint, cilantro, capers, jalapeño, yogurt, water, salt, pepper, remaining 1/2 tablespoon lemon juice, and remaining 1 tablespoon oil for 30 seconds, or until smooth and creamy. Scrape the side once or twice during this process.
Preheat a grill pan on medium-high heat. Lightly spray with cooking spray. Remove the shrimp from the marinade. Discard the marinade. Grill the shrimp for 2 to 3 minutes on each side, or until pink and cooked through. Serve with the salsa verde drizzled on top.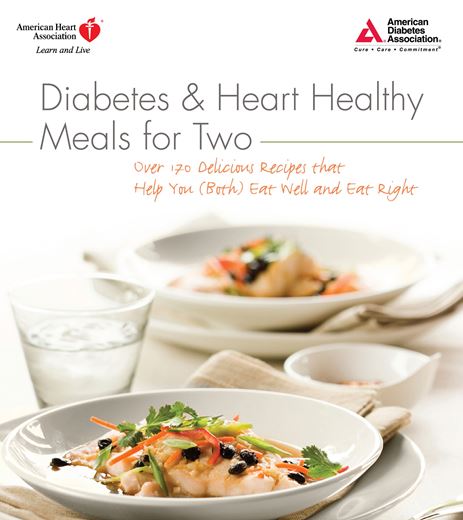 Diabetes and Heart Healthy Meals for Two
Each recipe was designed for two--perfect for adults without children in the house or for people living alone who want to keep leftovers to a minimum. With over 170 recipes, there are plenty of options to keep your heart at its healthiest and your blood glucose under control.
Purchase:
This recipe is reprinted with permission from Diabetes & Heart Healthy Meals For Two, Copyright © 2008 by the American Heart Association and the American Diabetes Association. Published by the American Diabetes Association. Available from booksellers everywhere.