Nutrition Facts
Grilled Salmon with Mango-Lime Cream Sauce - Delicious Decisions

Calories
168 Per Serving
Protein
26g Per Serving
Fiber
0g Per Serving
Nutrition Facts
×
Calories
168
Total Fat
4.5 g
Saturated Fat
0.5 g
Trans Fat
0.0 g
Polyunsaturated Fat
1.5 g
Monounsaturated Fat
1.0 g
Cholesterol
67 mg
Sodium
170 mg
Total Carbohydrate
5 g
Dietary Fiber
0 g
Sugars
3 g
Protein
26 g
Dietary Exchanges
3 lean meat, 1/2 other carbohydrate
Ingredients
Cooking spray
1/8 tsp. salt
1/8 tsp. pepper (white preferred)
4 salmon fillets (about 4 oz. each), rinsed, patted dry
1/3 chopped, bottled mango (1 Tbsp. juice preserved)
1/4 cup fat-free sour cream
1/2 tsp. grated lime zest
1 tsp. fresh lime juice
Directions
Lightly spray the grill rack with cooking spray. Preheat the grill on medium high.
Sprinkle the salt and pepper over one side of the salmon. Using your fingertips, gently press so they adhere to the fish.
Grill with the seasoned side down for 5 minutes. Turn over. Grill for 2 to 3 minutes, or to the desired doneness.
Meanwhile, in a small bowl, whisk together all the sauce ingredients. Serve at room temperature or cover and refrigerate until serving time. Spoon over the fish.
Cooking Tip: On Mangoes - Check the refrigerated area of the produce section for sliced mangoes in jars. They save on time and are less messy.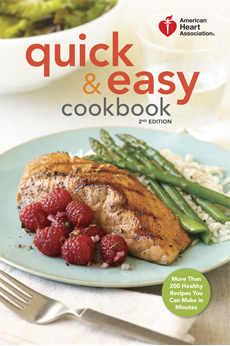 American Heart Association Quick & Easy Cookbook, 2nd edition
With more than 200 recipes, you can quickly and easily get dinner on the table every night of the week. No recipe takes longer than 20 minutes to prepare, and many recipes can be made in 30 minutes—from start to finish.
Sample Recipes:
Grilled Salmon with Mango-Lime Cream Sauce
Purchase:
This recipe is reprinted with permission from American Heart Association Quick & Easy Cookbook, Second Edition, Copyright © 2012 by the American Heart Association. Published by Clarkson Potter/Publishers, a division of Random House, Inc. Available from booksellers everywhere.