This autumnal side soup delivers on creaminess without the saturated fat of heavy cream. This pantry-friendly dish can be on your kitchen table in about 30 minutes any night of the week.
Nutrition Facts
Ginger Pumpkin Soup

Calories
138 Per Serving
Protein
6g Per Serving
Fiber
10g Per Serving
Nutrition Facts
×
Calories
138
Total Fat
2.5 g
Saturated Fat
0.0 g
Trans Fat
0.0 g
Polyunsaturated Fat
0.5 g
Monounsaturated Fat
1.0 g
Cholesterol
1 mg
Sodium
199 mg
Total Carbohydrate
27 g
Dietary Fiber
10 g
Sugars
14 g
Added Sugars
0 g
Protein
6 g
Dietary Exchanges
1 1/2 starch, 1 vegetable, 1/2 fat
Ingredients
1 1/2 teaspoons canola oil

OR

1 1/2 teaspoons corn oil
1 medium onion, finely minced
3/4 tablespoon minced peeled gingerroot

OR

1/2 teaspoon ground ginger
2 medium garlic cloves, minced

OR

1 teaspoon bottled minced garlic
1/2 teaspoon dried thyme, crumbled
1/4 teaspoon ground cinnamon
1/4 teaspoon pepper (freshly ground preferred)
1/8 teaspoon salt
1 tablespoon all-purpose flour
1 14.5-ounce can fat-free, low-sodium vegetable broth
1 cup water
2 15-ounce cans solid-pack pumpkin (not pie filling)
1 cup fat-free milk
1/4 cup fat-free sour cream (optional)
2 tablespoons chopped chives (optional)
Directions
In a large heavy pot, heat the oil over medium-high heat, swirling to coat the bottom. Cook the onion for 6 to 8 minutes, or until very soft, stirring occasionally.
Stir in the ginger, garlic, thyme, cinnamon, pepper, and salt. Cook for 1 minute, stirring constantly. Stir in the flour. Pour in the broth and water. Using a spatula, scrape the bottom of the pot to dislodge any browned bits. Stir in the pumpkin. Bring the mixture to a boil. Reduce the heat to low and simmer for 10 minutes.
Stir in the milk. Remove from the heat. Ladle the soup into bowls.
Garnish with the sour cream and chives.
Tip: If you prefer to dice or chop the onion rather than finely mince it, you can puree the soup with an immersion blender when it's finished cooking. Or you can process the soup in a food processor or blender (vent the blender lid) until smooth. Carefully return the soup to the pot.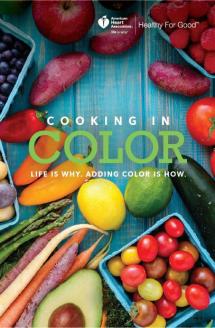 Cooking in Color
This digest-size recipe booklet includes 27 healthful recipes, all including fruits, vegetables, or both. Each recipe is accompanied by a vibrant photograph, and the recipes are organized by color. Also included is a fruit/veggie storage guide and a fruit/veggie equivalency guide.
Shop Heart
Copyright © 2018 American Heart Association, Healthy for Good™. Every purchase helps fund the work of the AHA/ASA.