Now you can have all the richness of Alfredo sauce with only a fraction of the usual sodium, saturated fat, and calories. The addition of lemon gives this dish a fresh twist.
Nutrition Facts
Fettuccine Alfredo - Delicious Decisions

Calories
235 Per Serving
Protein
11g Per Serving
Fiber
7g Per Serving
Nutrition Facts
×
Calories
235
Total Fat
2.0 g
Saturated Fat
1.0 g
Trans Fat
0.0 g
Polyunsaturated Fat
0.5 g
Monounsaturated Fat
0.5 g
Cholesterol
3 mg
Sodium
155 mg
Total Carbohydrate
47 g
Dietary Fiber
7 g
Sugars
4 g
Protein
11 g
Dietary Exchanges
3 starch, 1/2 very lean meat
Ingredients
16 oz. dried, whole-grain fettuccine
1/4 cup fat-free milk and 1 1/4 cups fat-free milk, divided use
2 Tbsp. all-purpose flour
1/4 cup grated or shredded Parmesan cheese and 1 1/2 Tbsp. grated or shredded Parmesan cheese, divided use
1 1/2 Tbsp. grated, shredded, or Parmesan cheese, divided use
2 tsp. fresh lemon juice
1/8 tsp. pepper (white preferred)
2 Tbsp. finely snipped, fresh parsley
1/4 tsp. salt
1 medium cut lemon (cut into 4 wedges, optional)
Directions
Prepare the pasta using the package directions, omitting the salt. Drain well in a colander. Cover to keep warm.
Meanwhile, in a small bowl, whisk together 1/4 cup milk and the flour until smooth. Heat a medium saucepan over medium heat. Pour the mixture into the saucepan.
Whisk in the remaining 1 1/4 cups milk. Bring to a boil. Cook for 15 minutes, or until thickened, stirring constantly with a flat spatula to keep the sauce from sticking to the bottom of the pan.
Stir in 1/4 cup Parmesan and the lemon juice and pepper.
Transfer the pasta to a platter. Pour the sauce over the pasta. Sprinkle with the parsley, salt, and remaining 1 1/2 tablespoons Parmesan. Garnish with the lemon wedges.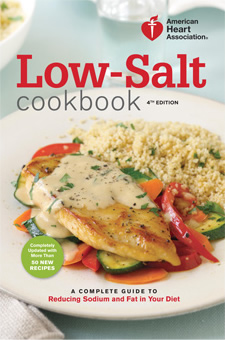 American Heart Association Low-Salt Cookbook, 4th Edition
In addition to the more than 200 mouthwatering, low-sodium recipes, the book has information on shopping and cooking smart, eating well, and living a healthy lifestyle. The cookbook also includes resources for identifying common high-sodium foods and good sources of potassium as well as a blank meal tracker to log your daily sodium consumption.
Sample Recipes:
Chicken with Ginger and Snow Peas
Purchase:
This recipe is reprinted with permission from American Heart Association Low-Salt Cookbook, Fourth Edition, Copyright © 2011 by the American Heart Association. Published by Clarkson Potter/Publishers, a division of Random House, Inc. Available from booksellers everywhere.