Here is a fantastic American/Southern, barbecue beef recipe that you can make a 'set-it-and-forget-it" feast of chicken tacos.
Nutrition Facts
Slow Cooker Pulled Orange Chicken Tacos with Pickled Vegetables

Calories
305 Per Serving
Protein
29g Per Serving
Fiber
5g Per Serving
Cost Per Serving
$5.29
Nutrition Facts
×
Calories
305
Total Fat
4.5 g
Saturated Fat
0.5 g
Trans Fat
0.0 g
Polyunsaturated Fat
0.5 g
Monounsaturated Fat
1.0 g
Cholesterol
76 mg
Sodium
323 mg
Total Carbohydrate
36 g
Dietary Fiber
5 g
Sugars
10 g
Added Sugars
0 g
Protein
29 g
Ingredients
For the Crock Pot Orange Chicken:
1 large halved orange (with peel on)
3/4 cup sugar-free, 100% orange juice
1 cup low-sodium chicken stock
14.5 ounces canned, no salt added, diced tomatoes
2 tablespoon apple cider vinegar
4 clove fresh garlic (minced)

OR

4 teaspoon jarred, minced garlic
2 medium onions (coarsely chopped)
1 medium bell pepper (any color) coarsely chopped
2 tablespoon dried, salt-free Italian seasoning
1 cup water
2 boneless, skinless chicken breast (about 2 pounds), all visible fat discarded
For the Pickled Vegetables:
1/3 cup carrots (about ½ a carrot) cut into bite-size strips
1/3 cup cucumber (cut into bite-size strips)
3/4 cup red onion (about half an onion) cut into thin strips
1/2 fresh, diced jalapeño (about 1 tablespoon, for spice) optional
1/2 cup apple cider vinegar
1 Tbsp sugar substitute/artificial sweetener
1/4 teaspoon salt
1/2 teaspoon peppercorns
1/2 teaspoon coriander seeds (optional)
1 bay leaf
For the Tacos:
3/4 cup purple cabbage (shredded)
1/3 cup fat-free sour cream
1/2 cup fresh cilantro leaves (small handful)
8 small corn tortillas
Directions
For the Crock Pot Orange Chicken:
Combine the orange, orange juice, chicken stock, tomatoes, 2 tablespoons apple cider vinegar, garlic, the 2 medium onions, Italian seasoning, bell pepper and water in crock-pot.
Add chicken and submerge under mixture. Cook on low for 4-6 hours.
Remove chicken, tomatoes, onions and pepper from crockpot using a slotted spoon and discard cooking liquid.
When cool enough to touch, shred meat by hand or with two forks. Set aside until assembly.
For the Pickled Vegetables:
In a medium bowl, combine carrots, cucumbers and red onion; set aside.
Combine jalapeno (optional), 1/2 cup vinegar, 1/2 cup water, sugar substitute, salt, peppercorns, coriander and bay leaf in small saucepot and bring to boil.
Remove from heat and pour over vegetables. Let marinate for 15-30 minutes.
For the Tacos:
Fill each tortilla with 2 oz. (1/2 cup) chicken, approx. ¼ cup pickled vegetables, 2 tsp. sour cream, cabbage and cilantro leaves for garnish
Tip: Keep the leftover shredded chicken to make a next-day salad with fresh vegetables or in tortilla soup.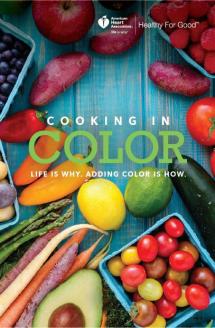 Cooking in Color
This digest-size recipe booklet includes 27 healthful recipes, all including fruits, vegetables, or both. Each recipe is accompanied by a vibrant photograph, and the recipes are organized by color. Also included is a fruit/veggie storage guide and a fruit/veggie equivalency guide.
Shop Heart
Copyright © 2018 American Heart Association, Healthy for Good™. Every purchase helps fund the work of the AHA/ASA.