Served with a sweet and tangy dipping sauce, this chicken entrée gets its crisp coating from Japanese-style bread crumbs called panko.
Nutrition Facts
Crisp Chicken with Raspberry Dipping Sauce

Calories
225 Per Serving
Protein
25 g Per Serving
Fiber
1 g Per Serving
Nutrition Facts
×
Calories
225
Total Fat
9.0 g
Saturated Fat
1.6 g
Trans Fat
0.0 g
Polyunsaturated Fat
1.2 g
Monounsaturated Fat
5.1 g
Cholesterol
65 mg
Sodium
310 mg
Total Carbohydrate
9 g
Dietary Fiber
1 g
Sugars
4 g
Protein
25 g
Dietary Exchanges
1/2 carbohydrate, 3 lean meat, 1 fat
Ingredients
3 tablespoons panko breadcrumbs
1 teaspoon garlic powder
1 teaspoon very finely snipped fresh parsley
1/2 teaspoon firmly packed, grated lemon zest
1/4 teaspoon dry mustard
1/4 teaspoon salt
1/4 teaspoon pepper
2 boneless, skinless chicken breast halves (about 4 ounces each), all visible fat discarded, pounded to 1/4-inch thickness
2 teaspoons and 1/2 teaspoon olive oil, divided use
2 teaspoons minced shallot
1/2 cup fat-free, low-sodium chicken broth
2 teaspoons raspberry vinegar
2 1/2 teaspoons all-fruit raspberry spread (seedless preferred)
Directions
In a shallow dish, combine the panko, garlic powder, parsley, lemon zest, mustard, salt, and pepper, lightly stirring together with a fork. Put one piece of chicken in the crumbs. Using your fingertips, firmly press the crumbs so they adhere to the chicken. Turn over and repeat. Repeat with the remaining chicken. Discard any crumb mixture remaining.
In a large nonstick skillet, heat 2 teaspoons oil over medium-high heat, swirling to coat the bottom. Cook the chicken for about 4 minutes on each side, or until it is cooked through and the crumbs are golden brown. Transfer to a plate. Cover to keep warm.
To make the sauce, put the remaining 1/2 teaspoon oil in the skillet, swirling to coat the bottom. Cook the shallot over medium heat for about 1 minute, stirring constantly and scraping to dislodge the browned bits (a wooden spoon or heatproof scraper works well). Slowly pour in the broth and vinegar. (The mixture will bubble vigorously.)
Increase the heat to medium high and cook for about 2 minutes, or until the sauce reduces slightly. Remove from the heat. Add the raspberry spread, stirring until melted.
Slice the chicken diagonally into strips. Serve with the sauce on the side.
Tip: Japanese bread crumbs, known as panko, make a delicious, crunchy coating. Panko is coarser than the usual dried bread crumbs and contains far less sodium. Look for panko near the other packaged bread crumbs or in the Asian section of the store.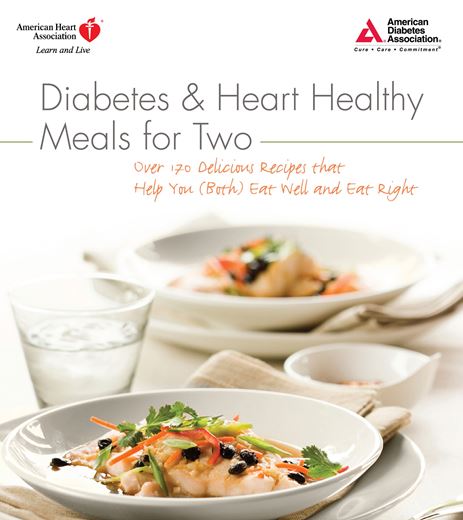 Diabetes and Heart Healthy Meals for Two
Each recipe was designed for two--perfect for adults without children in the house or for people living alone who want to keep leftovers to a minimum. With over 170 recipes, there are plenty of options to keep your heart at its healthiest and your blood glucose under control.
Purchase:
This recipe is reprinted with permission from Diabetes & Heart Healthy Meals For Two, Copyright © 2008 by the American Heart Association and the American Diabetes Association. Published by the American Diabetes Association. Available from booksellers everywhere.