Keeping the freezer stocked with frozen fruit and vegetables means making a smoothie is never far out of reach.
Nutrition Facts
Blue Smoothie

Calories
179 Per Serving
Protein
7g Per Serving
Fiber
7g Per Serving
Nutrition Facts
×
Calories
179
Total Fat
2.0 g
Saturated Fat
0.0 g
Trans Fat
0.0 g
Polyunsaturated Fat
1.0 g
Monounsaturated Fat
0.5 g
Cholesterol
3 mg
Sodium
76 mg
Total Carbohydrate
36 g
Dietary Fiber
7 g
Sugars
24 g
Protein
7 g
Dietary Exchanges
2 fruit, 1/2 fat-free milk
Ingredients
2 cups frozen unsweetened peach slices
2 cups tightly packed fresh spinach
1 cup frozen unsweetened blueberries
1 cup fat-free milk
1 teaspoon honey
Directions
In a food processor or blender, process all the ingredients until smooth, about 1 to 2 minutes, stopping to scrape down the mixture if necessary.
Pour into glasses.
Cooking Tip: You can substitute ½ cup frozen spinach for the fresh spinach. Just add a few more splashes of milk if necessary.
Tip: Using frozen fruit eliminates the need for ice in a smoothie. You can easily use fresh fruit, however, by using the same quantities of fruit and adding 1½ cups of ice cubes.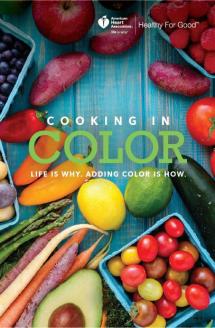 Cooking in Color
This digest-size recipe booklet includes 27 healthful recipes, all including fruits, vegetables, or both. Each recipe is accompanied by a vibrant photograph, and the recipes are organized by color. Also included is a fruit/veggie storage guide and a fruit/veggie equivalency guide.
Shop Heart
Copyright © 2018 American Heart Association, Healthy for Good™. Every purchase helps fund the work of the AHA/ASA.