Love a juicy burger but looking to eat less red meat? Try this moist meat-free burger that will satisfy even the meat-lovers in your family. Pair it with our vinaigrette-dressed side salad for a delicious meal.
Nutrition Facts
Black Bean Burgers with Mustard Potato Salad

Calories
374 Per Serving
Protein
10g Per Serving
Fiber
9g Per Serving
Cost Per Serving
$1.82
Nutrition Facts
×
Calories
374
Total Fat
10.5 g
Saturated Fat
1.0 g
Trans Fat
0.0 g
Polyunsaturated Fat
3.0 g
Monounsaturated Fat
6.0 g
Cholesterol
0 mg
Sodium
280 mg
Total Carbohydrate
61 g
Dietary Fiber
9 g
Sugars
7 g
Protein
10 g
Dietary Exchanges
4 starch, 2 fat, 1 lean meat
Ingredients
Black Bean Burgers
1 15.5-ounce can no-salt-added black beans, rinsed and drained
1 8.8-ounce pouch brown rice, cooked
1 15-ounce can sweet potatoes or yams in light syrup
1 large egg white
1/2 teaspoon ground cumin
1/4 teaspoon salt
1/4 teaspoon ground black pepper
1/2 cup whole-wheat or plain panko (Japanese-style bread crumbs)
1 tablespoon canola or corn oil and 1 tablespoon canola or corn oil, divided use
Mustard Potato Salad
1 1/2 pounds potatoes, such as new or red potatoes, cut into bite-size pieces
2 tablespoons canola or corn oil
1 1/2 tablespoons Dijon mustard (lowest sodium available)
1 tablespoon white vinegar
1/4 teaspoon ground black pepper
1/8 teaspoon salt
2 medium green onions, finely chopped
1 1/2 cups chopped fresh parsley
Directions
Black Bean Burgers
In medium bowl, stir together 1/2 cup beans and 1 cup rice. Set aside.
In a food processor or blender, process the remaining beans and remaining rice, sweet potatoes, egg white, cumin, salt, and pepper for 30 seconds to 1 minute.
Transfer the bean mixture to the bowl with the reserved beans and rice. Stir in the panko until well combined. Form into 6 patties.
In a medium nonstick skillet, heat 1 tablespoon oil over medium-high heat, swirling to coat the bottom. Cook half of the patties for 4 minutes on both sides, or until slightly browned. Repeat with the remaining 1 tablespoon oil and patties.
Mustard Potato Salad
Fill a medium heavy-duty pot three-fourths full with water. Add the potatoes.
Bring to a boil over high heat. Cook for 8 to 10 minutes, or until the potatoes are fork-tender. Drain in a colander. Run under cold water to cool. Drain well.
In a large bowl, whisk together the oil, mustard, vinegar, pepper, and salt. Gently stir in the potatoes, green onions, and parsley, tossing to coat. Serve with the burgers.
Cooking Tip: Before working with a wet food mixture that needs to be formed into patties or a loaf, such as burgers or a meatloaf, run your hands under cold water to prevent the mixture from sticking to your hands.
Keep it Healthy: Feeling creative? Experiment substituting different whole grains, such as couscous or quinoa, for the brown rice in these burgers. Also, try using other legumes, such as kidney beans or cannellini beans, to replace the black beans in this recipe.
Tip: Waxy potatoes, such as new potatoes or red potatoes, hold their shape best among the potato varieties, making them ideal for cold dishes like potato salad.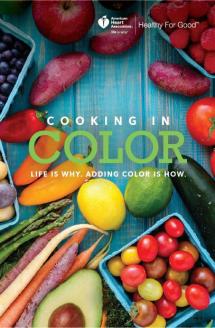 Cooking in Color
This digest-size recipe booklet includes 27 healthful recipes, all including fruits, vegetables, or both. Each recipe is accompanied by a vibrant photograph, and the recipes are organized by color. Also included is a fruit/veggie storage guide and a fruit/veggie equivalency guide.
Shop Heart
Copyright © 2018 American Heart Association, Healthy for Good™. Every purchase helps fund the work of the AHA/ASA.