Simple Cooking with Heart offers this tangy twist on a traditional chicken dish. This barbecue glaze is simple to make, and full of flavor. Paired with seasoned oven fries, it's a complete meal in about 45 minutes.
Nutrition Facts
Barbeque Glazed Chicken Tenders and Oven Fries

Calories
397 Per Serving
Protein
28g Per Serving
Fiber
3g Per Serving
Cost Per Serving
$2.17
Nutrition Facts
×
Calories
397
Total Fat
3.0 g
Saturated Fat
0.5 g
Trans Fat
0.0 g
Polyunsaturated Fat
0.5 g
Monounsaturated Fat
1.0 g
Cholesterol
73 mg
Sodium
360 mg
Total Carbohydrate
61 g
Dietary Fiber
3 g
Sugars
29 g
Protein
28 g
Dietary Exchanges
2 other carbohydrate, 3 lean meat, 2 starch
Ingredients
For the Barbecue Glazed Chicken:
1 pound boneless, skinless chicken tenderloins (all visible fat discarded)
1/8 teaspoon pepper
1/2 cup barbecue sauce (lowest sodium available)
1/2 cup sugar-free orange marmalade or grape jam/jelly
For the Oven Fries:
Cooking spray
3 medium baking potatoes
1/2 teaspoon garlic powder
1/2 teaspoon paprika
Directions
For the Barbecue Glazed Chicken:
Trim visible fat from chicken and pat dry.
Spray skillet or frying pan with cooking spray and turn to medium-high heat. Add chicken to skillet, cook 4 minutes, flip chicken and cook an additional 3-4 minutes until no longer pink.
In a small bowl mix barbeque sauce and marmalade/jam/jelly. Microwave covered at 60% power for 40 seconds. Use a spoon to spread sauce evenly over chicken tenders.
For the Oven Fries:
Preheat oven to 400 degrees F. Spray a nonstick cookie sheet with cooking spray.
Scrub potatoes (you can peel the potatoes if you don't like the skin) and cut into 1/8- to 1/4-inch strips. Arrange potatoes evenly in pan.
In a cup, combine garlic powder, paprika, and pepper. Sprinkle evenly over potatoes.
Bake for 25 minutes, or until potatoes are tender.
Cooking Tip: Cut the chicken into bit-size pieces and serve on whole-wheat tortillas for tangy chicken tacos!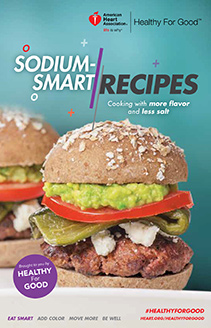 Sodium-Smart Recipes
This digest-sized booklet contains 28 recipes and photographs. It also contains information on how sodium affects overall health, a reference guide for sodium-free flavorings and provides American Heart Association's dietary recommendations.
Shop Heart