Cryptogenic Stroke Postcard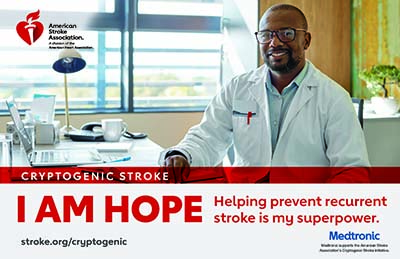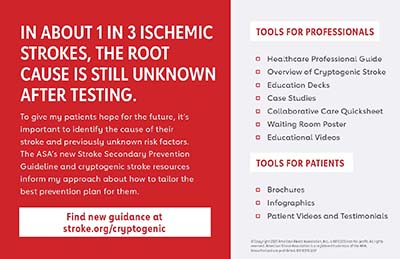 Download the Cryptogenic Stroke Postcard
Cryptogenic Stroke I am Hope Helping prevent recurrent stroke is my superpower
Stroke.org/cryptogenic
In About 1 in 3 Ischemic Strokes, the Root Cause is Still Unknown After Testing.
To give my patients hope for the future, it's important to identify the cause of their stroke and previously unknown risk factors. The ASA's new Stroke Secondary Prevention Guideline and cryptogenic stroke resources inform my approach about how to tailor the best prevention plan for them.
Tools for Professionals
Healthcare Professional Guide
Overview of Cryptogenic Stroke Education Decks
Case Studies
Collaborative Care Quicksheet
Waiting Room Poster
Educational Videos
Tools for Patients
Brochures
Infographics
Patient Videos and
Testimonials
© Copyright 2021 American Heart Association, Inc., a 501(c)(3) not-for-profit. All rights reserved. American Stroke Association is a registered trademark of the AHA.