---
Research, new experiences motivate incoming AHA president
By American Heart Association News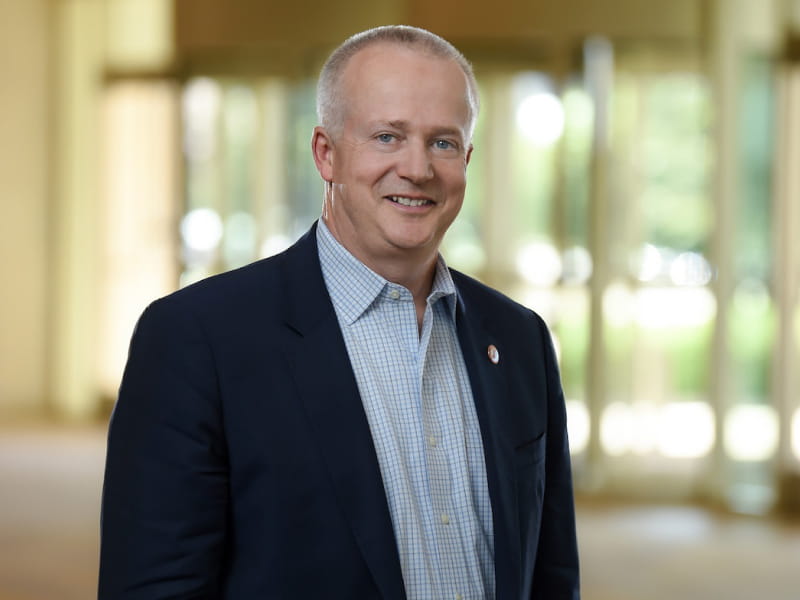 One summer day in Boston, Arthur Gatti showed up for a roofing job with four bundles of shingles, a ladder and his teenage grandson Robert Harrington.
Gatti tilted the ladder against the house, hoisted a bundle over each shoulder and began climbing.
"Grab the other two bundles," he told his grandson.
Sweat gushed down Harrington's face and not because of the heat. He questioned whether he was strong enough to lift those shingles and balanced enough to carry them to the roof.
Somehow, he made it. Then came the real work.
"Oh my God, this is hard," Harrington told Gatti.
"That's right, it is hard – don't forget that," Gatti said. "You don't want to do this."
Harrington often heard that message from Gramps. He constantly heard it from colleagues at his next job, in the meat-packing factory where his mom worked in HR.
He listened, too.
Fueled by a desire to pursue knowledge, Harrington now boasts a curriculum vitae filled with 81 pages of achievements and accolades. The most prominent is that he's starting his eighth year as chairman of the Department of Medicine at Stanford University School of Medicine. On July 1, he notches another impressive entry by beginning a yearlong term as volunteer president of the American Heart Association.
Between his credentials and his jovial personality, Harrington is a popular speaker about academic medicine, scientific research and technology. He's a prolific tweeter and podcaster, too.
But rarely has he told the story he's most qualified to tell – the one about the poor kid who grew up looking to make the most of his life.
***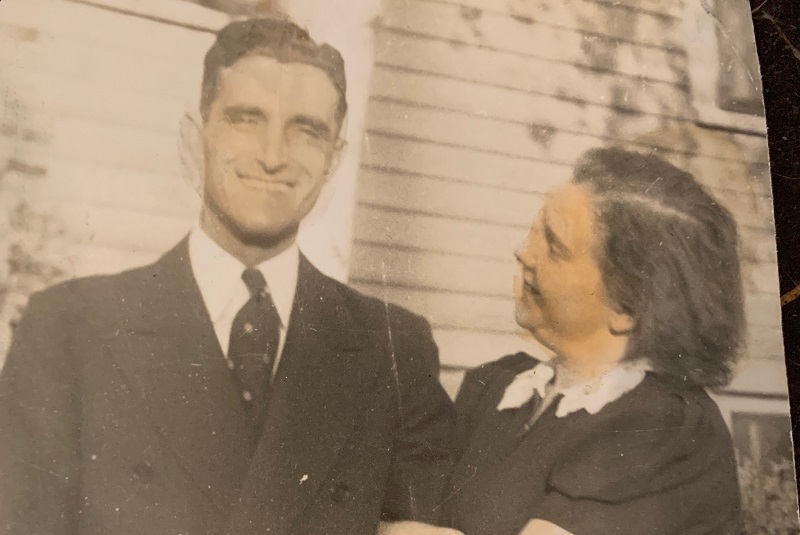 Robert was 6 when he became the man of his house.
His dad left, leaving the boy with his mother and his 2-year-old sister. Living in Somerville, a blue-collar crumbling city on the outskirts of Boston, they got plenty of help from their next-door neighbors, the Gattis.
Gramps was a carpenter and roofer. Nana was a maid at nearby Harvard University. Gramps finished work around 3 p.m., picked up Nana then they looked after the kids until their mother returned home from the meat-packing factory.
Gramps loved the Red Sox, so Harrington did too. They went to so many games together that, to this day, walking toward Fenway Park conjures the feeling of Gramps being by his side. Those games were another opportunity for Gramps to hammer home the message about education.
Gramps left school in about seventh grade. Nobody on either side of Harrington's family had gone to college. Harrington half-jokingly says nobody in his neighborhood had gone to college. Eager for young Robert to change that, his mother exposed him to the larger world, taking him to museums and the theater.
He became a top student in his high school. Influenced by his Catholic upbringing and wanting to be close to home, he attended College of the Holy Cross.
Seeing medical school in his future, he majored in chemistry – until he discovered he had no desire to be a chemist.
He called his mom unsure of what to do next.
"Robert, what do you love?" she said.
"I love reading," he said. "I love English. I love writing."
With that, the young man who would become one of the nation's leading scientists earned a bachelor's degree in English.
***
Early in his senior year, a priest walked into Harrington's classroom and summoned him back to his dorm. Several relatives were there with the news that his mom died of cardiac arrest.
She was 42. His sister found her on the bathroom floor. The 20-year-old Harrington was now the legal guardian of his 16-year-old sister.
He was prepared to drop out of college for a year. Other relatives stepped in, allowing him to finish the degree that meant so much to his mom.
Still, his grades suffered. An academic advisor realized Harrington needed help, so he introduced Harrington to Dr. Michael Collins, a Holy Cross grad who was an intern at a Boston hospital.
Collins let Harrington shadow him one night in the ER. They clicked right away. Collins, now the chancellor at UMass Medical School, "became like my big brother," Harrington said.
Harrington landed at Dartmouth, later transferring to Tufts University School of Medicine back in Boston.
***
Harrington gravitated to internal medicine. He especially enjoyed researching it. He was fascinated by learning about the science that determined why everything was done.
That revelation came while working in the lab of Dr. Jack Ansell at the University of Massachusetts Medical Center. He was a hematologist, so Harrington figured that's what he'd become.
Around this time, doctors in Spokane, Washington, published a seminal paper about thrombosis (blood clots) causing heart attacks, and a group in Canada reported that blood thinners could improve outcomes among certain patients with heart attacks. Ansell predicted the next advancement in hematology would come from cardiology. He encouraged Harrington to take that route.
In the mid-1980s, many people wanting to study cardiology and do research wanted to be at Duke University. Spots were tough to get. But Harrington was no longer just an English major who'd scraped into medical school.
With Collins, Ansell and others vouching for him, Harrington was headed to North Carolina.
***
About a month later, Harrington found himself working in a cardiac intensive care unit with Dr. Rob Califf.
Califf led the Duke Databank for Cardiovascular Diseases. He was taking it up a notch by launching clinical trials. He'd also been one of the people contacted by Harrington's mentors.
During a slow stretch in the CICU, Califf asked the question attending physicians typically ask first-year fellows: What specialty are you pursuing?
"I'm going to be a laboratory scientist in thrombosis and learn to be an interventional cardiologist," Harrington said.
"That's the dumbest thing I've ever heard," Califf said.
Califf's jab was another version of Gramps saying, "You don't want to do this."
Then Califf echoed Ansell by saying thrombosis was the hot thing in cardiology.
"We could use people who understand thrombosis in our research group," Califf told him.
Califf was about to start GUSTO-I, the largest international trial using clot-busting medicines to treat heart attacks. It proved to be game-changing for the field. Harrington wound up on the front lines.
***
That success prompted Duke leaders to essentially ask Califf to do for all medicine what he'd been doing for cardiology.
The databank was rebranded the Duke Clinical Research Institute. Califf was in charge and Harrington became a junior faculty member.
Everything about it fascinated him, from the process of running clinical research studies to the way the institute managed so many studies at once.
In 1999, he became head of the DCRI's cardiovascular section.
In 2006, he succeeded Califf as head of the DCRI. (Califf went on to become head of the Food and Drug Administration.)
When Harrington started at the databank, it had 50 people. DCRI had 800 employees when he took over. By 2012, it was up to 1,200 employees, a $180 million budget and carried the label of "largest academic research organization in the world."
What a rise for the organization and, of course, the guy in charge. Harrington was so content that when the dean of Stanford's medical school asked him to consider running the Department of Medicine, he initially said no thanks.
***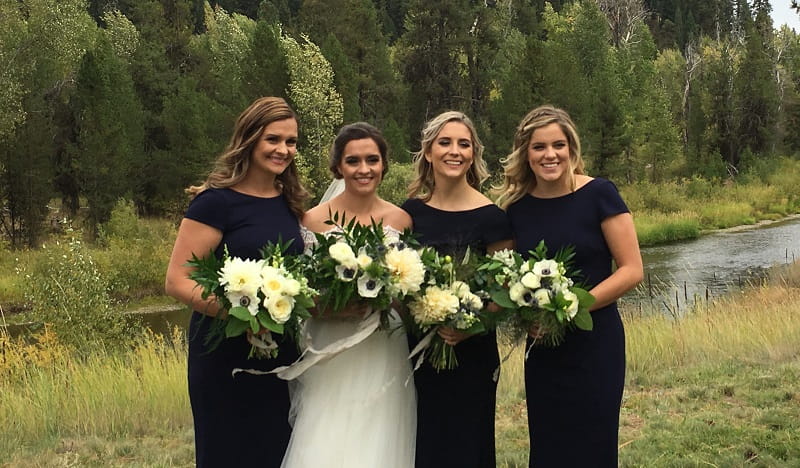 It all started with a cold call from the head of Stanford's search committee. Harrington went into the conversation thinking it was a reference check for someone else.
On the surface, their interest in him made no sense. Stanford did mostly laboratory research, not clinical.
But the surface was changing. Stanford wanted to expand its clinical work, making Harrington an interesting candidate.
Once the dean said he could continue doing and overseeing research while building the program, Harrington reconsidered the offer. Then 51, Harrington told his wife, "I'm young enough that there's some other things I'd like to do in academic medicine."
Harrington has grown his department from 240 faculty members to 610, making it the largest in the medical school. He also helped establish the Stanford Center for Clinical Research; it's led by his successor in the cardiovascular section of DCRI, Dr. Ken Mahaffey.
Meanwhile, Harrington's research has included creating the Stanford Center of Digital Health, the research group that led the Apple Heart Study, which looked at using the Apple Watch to detect irregular heartbeats. He also has taken on leadership roles within the National Institutes of Health, the FDA and the American College of Cardiology.
And, of course, the American Heart Association.
Harrington got involved during his time as a faculty member at DCRI, partly in appreciation of the AHA funding so many of the institute's projects.
Before the big career move to Stanford, he'd already committed to helping plan Scientific Sessions, the AHA's flagship scientific event. He stuck with it. After two years as the top planner, he joined the AHA's board of directors.
At the end of his second two-year term, he became president-elect. Soon he'll become the 83rd president, a key figure in deciding budgets, lobbying lawmakers and, his favorite part, "representing the organization as its primary science spokesperson."
***
Each president takes special interest in a particular area, usually the focus of their "day job."
It's no surprise Harrington wants to double down on research. The twist is that research is already the organization's hallmark. The $160 million invested last year by the AHA into cardiovascular research was second only to the federal government.
Harrington aims to boost that figure and diversify how it is spent. That goes beyond demographics and medical specialties. This Silicon Valley resident firmly believes data scientists, informaticians, mathematicians, economists and other scientists outside traditional cardiovascular fields can bring fresh ideas to the cardiovascular and stroke landscape. He's especially supportive of youth in the profession and he's keenly aware of the need for more women in cardiology.
A perfect example is One Brave Idea, a $75 million, five-year research project into new ways to detect coronary heart disease long before it begins. The AHA's $25 million investment is the largest in the organization's history.
The project was borne from a challenge Verily CEO Andy Conrad issued to AHA CEO Nancy Brown. Before answering, Brown turned to Harrington. "I'm one board member," he said, "but my vote would be yes."
Harrington was part of the selection committee that chose a cardiologist who stocked his team with data scientists, engineers and even a venture capitalist. Since then, Harrington has worked toward more AHA partnerships with leaders in health technology and big data.
"We've got to treat cardiology as a team sport," he said.
***
Harrington's office offers insights to his interests beyond medicine.
Red Sox memorabilia is everywhere. Whenever possible, a Red Sox game streams on his computer.
On a wall facing his desk is a framed Duke basketball jersey signed by coach Mike Krzyzewski.
There are many photos of his wife – Rhonda Larsen, co-director of the physician assistants master's degree program at Stanford – as well as their four daughters and three grandchildren.
And, amidst it all, is a bottle of wine from Vista Verde Vineyards, a private label made from grapes grown in the foothills of the Santa Cruz Mountains.
More specifically, at Harrington's home.
In 2013, Harrington and Larsen bought a 3.5-acre property only 8 miles from the Stanford campus. When folks said the land was perfect for growing grapes, he said, "People do that?"
Guided by a vineyard manager for a major producer, they've made pinot noir and a cabernet-merlot blend. Both were served at his daughter's recent wedding.
Harrington's new hobby is filled with symbolism.
Start with winemaking being a capstone on his rise from Somerville, from being the grandson of a maid at Harvard who didn't consider applying there – despite having the grades – because "kids like me, in those days, didn't go to Harvard."
It's important to see that arc in the proper light. That means understanding Vista Verde Vineyards is no vanity play. It's a passion, like cardiology, research and the AHA, like the Red Sox, tweeting and even wearing colorful socks.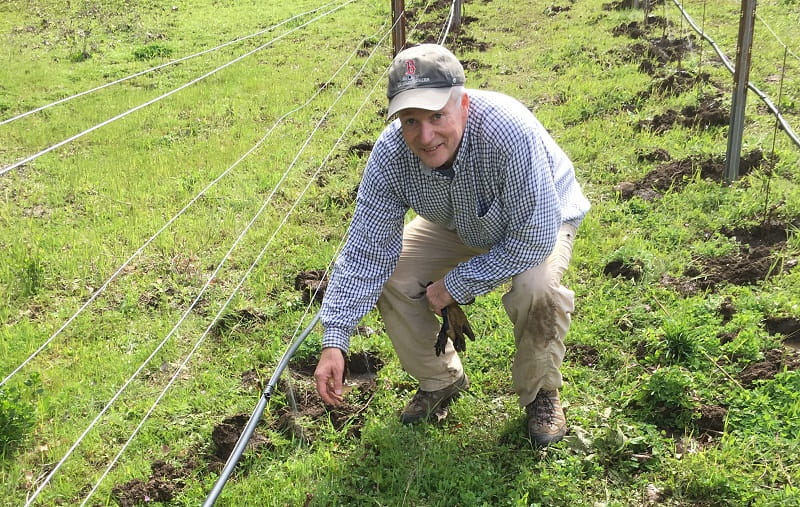 Harrington's commitment is evidenced by seeing him dig holes, plant trees and prune vines, the acts that are the next layer of this symbolism worth unpeeling. It's the irony of a guy who was told throughout his formative years to avoid a life of manual labor now finding a beloved escape from his professional world by doing grueling, sweaty work outdoors with his hands.
Best of all, though, is the parallel between his work and play, the link between cultivating research that turns into new ways of treating patients and cultivating grapes that turn into wine.
"It's the same curiosity," he said. "Every week, I'm learning something new."
If you have questions or comments about this story, please email [email protected].
---