Past Stroke Hero Award Recipients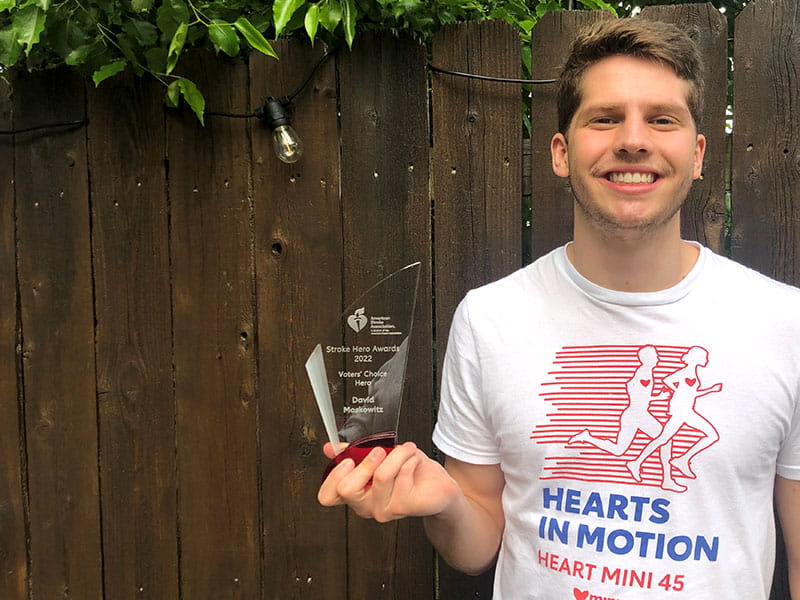 2023 Stroke Hero Awardees
Caregiver Hero - Justine Knight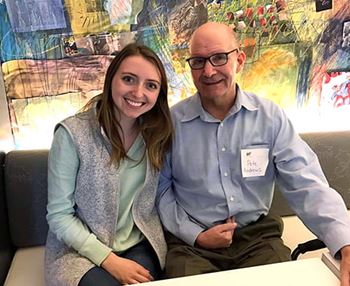 "Winning this award is an honor, and a reminder of my life mission. I am fortunate to have an able body and as long as I do, I'll use it to help others live the life they deserve." – Justine Knight
Justine Knight was a high school sophomore when her father, Peter, suffered a stroke in 2008.
But she didn't let her age deter her from becoming his biggest advocate.
After watching him struggle with aphasia, hemiparesis, isolation and depression, she encouraged him to attend a local stroke support group meeting. Like many in his situation, Peter hesitated. But Justine didn't take no for an answer.
Eventually, father and daughter attended their first meeting together and received a warm welcome, even though Justine, as a high school student, didn't fit the typical caregiver profile.
That meeting changed both their lives: Justine found purpose in caring for her father, and Peter found purpose in encouraging other stroke survivors.
Throughout Justine's years in high school and college, they continued to participate in stroke and aphasia groups in New England, then again when they moved to Raleigh, North Carolina.
Later, Peter's speech improved, and he developed meaningful friendships. Justine began educating her peers about aphasia, contributing to support group programming and raising money for the American Stroke Association.
Years of attending support groups and retreats with her father fueled Justine's passion for stroke survivors and people with aphasia. Inspired by the recovery journeys and the sense of community that had made Peter feel like he belonged, she began volunteering with Triangle Aphasia Project Unlimited (TAP), a nonprofit that supports people with aphasia and their families through groups and education. She dedicated her evenings to event planning and fundraising. When the COVID-19 pandemic impacted her running club's race plans, she organized a race for the group with TAP as the beneficiary.
In 2018, Justine and her husband, Jason, joined Tedy's Team for the Boston Marathon. As part of the team, they raised funds for the American Stroke Association while educating their friends and family about stroke. Peter cheered from the sidelines on Marathon Monday.
Later, when Justine became Peter's primary caregiver, she and Jason adapted their house and habits to accommodate his physical limitations when he moved in.
All the while, Justine sought a way to dedicate her professional career to stroke survivors. In 2021, she became TAP's executive director, ardently supporting people with aphasia and their families — and working to ensure that they don't experience isolation and depression as her father did in 2008.
Equity Hero - Dr. William "BJ" Hicks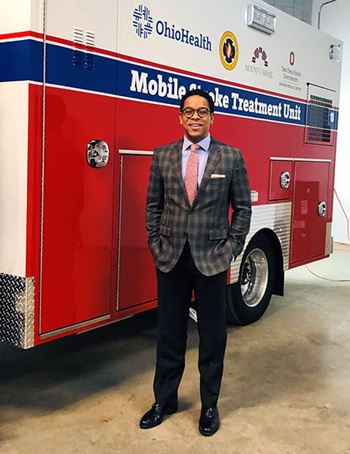 "Being awarded "Stroke Equity Hero" by the American Stroke Association was both shocking and moving. I am forever inspired and driven by my beloved patients, their families, local community advocates, and my OhioHealth and AHA/ASA colleagues. I went into stroke neurology because there was both a need and opportunity to prevent stroke and vastly improve patient outcomes. And since beginning my journey, I've found another source of joy: aiding in policies and strategies critical to stroke prevention. This award serves as a testament to what we have accomplished and further inspires us to continue the work to both enhance patient outcomes and achieve tangible health equity in the prevention and treatment of stroke." – Dr. William "BJ" Hicks
Black people in the U.S. are significantly more likely than others to have a stroke and become disabled or die as a result — in part because more than two-thirds have at least one stroke risk factor.
Dr. William "BJ" Hicks, a vascular neurologist at OhioHealth Riverside Methodist Hospital in Columbus, Ohio, is working tirelessly to reduce those disparities and ensure health equity for all in Central Ohio.
For years, Hicks has advocated for policies that address health equity, recently proposing an ordinance to ban the sale of flavored tobacco products from companies that have historically targeted Black and Hispanic people.
To further reduce health disparities related to stroke and other conditions, Hicks also urges local leaders to address issues such as the environment, housing instability, food deserts and the lack of diversity in medicine.
As an American Heart Association board member, Hicks was instrumental in 2018 in creating the Franklin County Hypertension Network, which consists of local health systems, primary care professionals, federally qualified health centers and other organizations such as the Mid-Ohio Food Collective, YMCA and Columbus Metropolitan Housing Authority.
The network has led efforts to make blood pressure control a priority in Central Ohio, especially for people with low socioeconomic status. It's also paved the way for several policy, system and environmental achievements.
During his tenure at OhioHealth, Dr. Hicks led a seven-year effort to create the Mobile Stroke Treatment Unit in Central Ohio. Since 2019, the unit has deployed for emergency calls whenever stroke is suspected. On board are stroke-specific team members with access to a CT scanner and point-of-care lab equipment, and stroke neurology experts are connected via telemedicine. By the time patients arrive at one of three comprehensive stroke centers, treatment is already well underway.
Dr. Hicks embodies an Equity Hero. His passion for educating and inspiring others about stroke and addressing health equity and the barriers people face to health care access and quality is unmatched.
Group Heroes - Stamp Out Stroke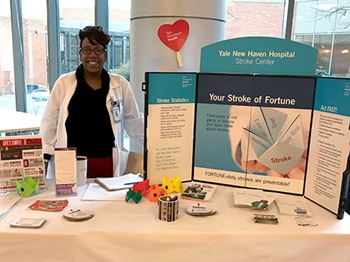 "We are immensely grateful for the AHA recognizing the efforts of Stamp Out Stroke. We hope that by sharing our group's story that others will be moved to act in their own communities to spread this critical and life-saving knowledge!" – Rachel Forman, MD
If Stamp Out Stroke (SOS) leaders have their way, Connecticut will one day become stroke-free.
A community outreach initiative of Yale School of Medicine and Yale New Haven Hospital, SOS was established in 2005 to spread awareness about stroke risk factors, warning signs and the importance of receiving prompt care.
Nearly two decades later, SOS provides more than 15 outreach events a year that focus mostly on people in under-resourced areas who don't primarily speak English. SOS analyzed patient demographic data, including age, race and ethnicity, to identify areas with gaps in stroke awareness.
SOS volunteers include nurses, nurse navigators, physicians, neuropsychologists, neurology residents, rehab professionals and students studying to become doctors, physician assistants and nurses. Some volunteers speak Spanish, facilitating work with organizations such as Junta for Progressive Action, New Haven's oldest Latino nonprofit.
The SOS board includes six medical students and two neurology residents who are leading volunteers to make a difference in New Haven and throughout Connecticut.
Among their activities, SOS volunteers:
Host engagement booths at health and wellness fairs, community festivals and sporting events.
Visit senior and community centers, service clubs, schools, places of worship and immigrant and refugee education programs.
Put on an annual Stroke Awareness Town Hall that more than 100 Yale employees and New Haven residents typically attend.
In summer 2022, the group hosted a one-week lecture series, Stroke Busters, for high school students at Yale's Pathways Summer Scholars science camp, which was highlighted at the American Stroke Association's 2023 International Stroke Conference. (Students watched a thrombectomy demonstration and stroke code simulation.)
In the past two years, SOS's 50-plus volunteers have reached more than 1,100 people in New Haven and surrounding communities and hosted over 40 events. To increase its reach, SOS collaborates with numerous local groups and agencies, including the New Haven Health Department, New Haven Police Department and Greater New Haven NAACP. And it has built relationships with stroke teams across the state to spread its message beyond the Yale campus.
Pediatric Hero - Mariah Fisher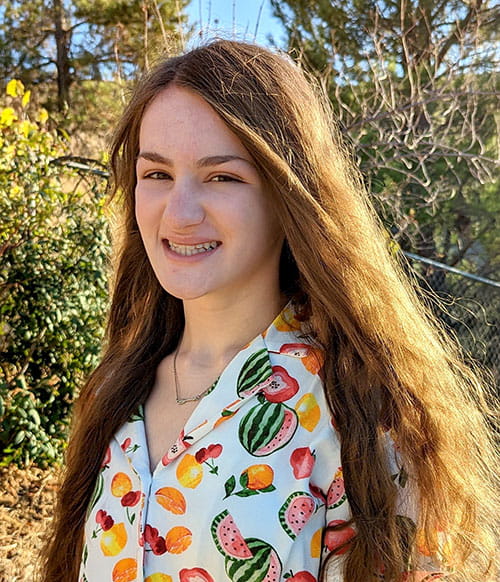 "I was so excited to hear the news that I had been chosen to receive the 2023 Pediatric Stroke Hero Award. I am hoping that my story can bring more awareness about strokes in children." – Mariah Fisher
In September 2018, 12-year-old Mariah Fisher suffered a massive stroke caused by an arteriovenous malformation (AVM) in her brain.
Before the stroke, she was an energetic, athletic seventh-grader.
After the stroke, she couldn't speak, walk or use her dominant hand.
Mariah's stroke happened just before a school volleyball game, when she noticed she was having trouble speaking. Her mother, Rebecca, rushed her to the hospital. Mariah became unconscious at the ER, and she had emergency surgery that day.
More surgery followed, along with intense physical, occupational, speech, music and recreational therapies. Mariah persevered, and less than seven weeks after her stroke, she walked out of the hospital under her own power.
Later, Mariah underwent CyberKnife radiation to treat her AVM, which occurs when a tangle of blood vessels in the brain bypasses normal brain tissue and directly diverts blood from the arteries to the veins. Mariah may need to have another brain surgery if the radiation didn't get all of the AVM.
Over time, Mariah relearned basic skills such as talking and walking and began writing and drawing with her left hand. She became so proficient with her nondominant hand that she won an award in the 2019 Rare Art Contest, which the EveryLife Foundation for Rare Diseases conducts each year. In a winner's reception in Washington, D.C., she spoke to about 200 people.
A budding inspirational speaker, Mariah has also spoken at a school assembly, her father's workplace, a San Jose City Council meeting and The Aneurysm and AVM Foundation (TAAF) Walk in San Francisco. She and her mother hope to write a book recounting her story in the near future.
Due to her stroke and rehabilitation, Mariah missed nearly all of the seventh and eighth grades. Yet, she's on track to graduate from high school a year early.
Mariah's mother marvels at her daughter's positive attitude: "I haven't heard her complain one time."
That attitude shines through in some of Mariah's T-shirts, including ones that read, "I've Survived More in One Day Than Most Do in a Lifetime" and "I had a stroke, what's your excuse?"
A quote from pastor Charles R. Swindoll that she used with a seventh-grade school project perhaps best describes Mariah's post-stroke journey: "Life is 10% what happens to you and 90% how you react to it."
Survivor Hero - Debra Meyerson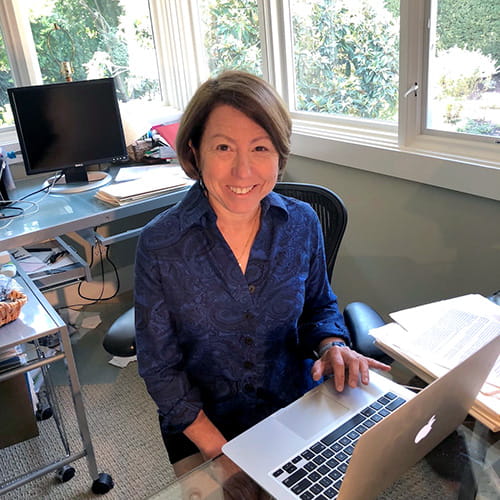 "I'm honored to win this award and want to share it with all the people who have supported me in my recovery. I only hope the work we're doing can make recovery easier, more complete and more rewarding for all stroke survivors in the future." – Debra Meyerson
Debra Meyerson was a tenured professor at Stanford University, a happily married mother of three and fiercely independent when a severe stroke in 2010 nearly killed her.
She was left with a paralyzed right side and no speech, and she had to rely on others for almost every need.
Meyerson and her husband, Steve Zuckerman, devoted the next three years to her recovery. She relearned how to walk (with a slight limp), speak (with great difficulty due to aphasia), drive and take care of herself.
But she couldn't return to teaching, mostly because of her speech, which felt like a second trauma.
Faced with an identity crisis, she began a journey of self-discovery that culminated in her 2019 book, "Identify Theft: Rediscovering Ourselves After Stroke." In it, Meyerson shares her story and that of dozens of other survivors, family, friends, colleagues, therapists and doctors. It provides a valuable look at the broad possibilities for successfully navigating the challenging physical recovery and equally difficult emotional journey toward rebuilding one's identity and a rewarding life after a trauma.
Meyerson's book revealed that the medical support system needs to offer survivors and their supporters more resources and guidance to address the emotional impact of stroke. To help fill this critical gap, Meyerson and Zuckerman founded the nonprofit Stroke Onward.
To bring attention to their cause, Meyerson and Zuckerman completed a 100-day, 4,548-mile bike trip across the U.S. in 2022. Along the way, they held 16 community events where they connected with more than 1,000 stroke survivors and advocates.
In addition to her work with Stroke Onward, Meyerson serves on the board of the Pacific Stroke Association, Bay Area Outreach & Recreation Program and Boston University Sargent School Constituent Advisory Board.
She and Zuckerman also write and speak widely on stroke, including in collaborations with the American Stroke Association, Aphasia Access and the National Aphasia Association.
In "Identity Theft," Meyerson wrote that "our trauma can be an opportunity for sensemaking and can inspire us to be more deliberate in choosing how to live a fulfilled life."
She has seized that opportunity — encouraging countless stroke survivors along the way.
Voters' Choice Hero - ProMedica Stroke Network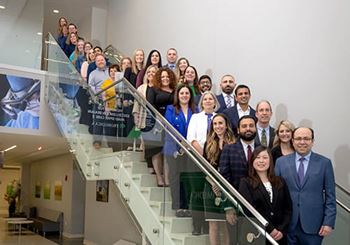 "We are extremely honored and grateful to accept this award from the American Stroke Association. The ProMedica Toledo Hospital Stroke Team is dedicated to providing high quality, evidence-based, compassionate care to our patients and to improving stroke care for future generations through research and legislative initiatives. This award is a great testament to our work and I cannot wait to see how this team continues to positively impact stroke care for years to come!" – Julie Shawver, PA-C
Some Stroke Heroes provide care and support to patients. Others raise awareness of stroke symptoms and treatment. And others advocate for policies that improve stroke care.
The ProMedica Stroke Network does all these things — and more — making an impact across Ohio and around the globe.
Locally, the team's BE FAST 5K Run/Walk raises awareness and money for the Stroke Patients' Assistance Fund. Thanks to the support of ProMedica Toledo Hospital, 100% of event proceeds go toward the cost of medications, health equipment, health supplies, medical transportation, rent and utilities for stroke patients with limited financial means.
The team also led the implementation of a countywide program to train emergency medical service personnel on the Rapid Arterial Occlusion Evaluation (RACE) Score, an assessment tool that speeds up identifying and transferring patients with moderate to severe stroke symptoms. Implemented in 2015, the protocol reduced median emergency line activation to mechanical thrombectomy time by more than 90 minutes, according to a study published in the Journal of Neurointerventional Surgery.
Dr. Mouhammad Jumaa then participated with several colleagues from Ohio in the Get Ahead of Stroke campaign and successfully advocated for a state law that requires EMS organizations across Ohio to establish similar protocols and requires the state's board of emergency medical, fire and transportation services to adopt guidelines for the assessment, triage and transport of stroke patients. The law took effect in 2021.
Recently, another ProMedica Toledo neurologist, Dr. Syed Zaidi, testified in favor of legislation that will require all Ohio Department of Health-recognized comprehensive, thrombectomy-capable and primary stroke centers to provide sample data regarding patients from the time they have a stroke until they're discharged from the hospital.
Dr. Zaidi also recently proctored interventionalists at the National Institute of Cardiovascular Diseases in Karachi, Pakistan, on performing neuroendovascular procedures. The institute performed its first thrombectomy in November 2021, a step toward improving stroke care in the city of 20 million.
Caregiver Hero – Justine Knight

Equity Hero – Dr. William "BJ" Hicks

Group Heroes – Stamp Out Stroke

Pediatric Hero – Mariah Fisher

Survivor Hero – Debra Meyerson

Voters' Choice Hero – ProMedica Stroke Network
2022 Stroke Hero Awardees
Caregiver Hero - Elyse Newland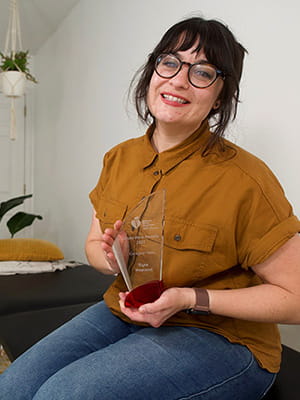 "I'm incredibly grateful and honored to receive this award. This recognition gives me hope that the stroke recovery content we create at Post Stroke will continue to empower survivors in their recovery journey!" – Elyse Newland
Elyse Newland changed her career path after her grandmother had a warning stroke called a transient ischemic attack (TIA) in 2019.
While in rehabilitation, Elyse's Nanny didn't receive high-quality, stroke-specific therapy. And no one explained to the family the cause or impact the TIA would have on her life.
As a health care professional in Chattanooga, Tennessee, Elyse found the incident highlighted the lack of resources and fractured continuation of care for patients after rehab. She also discovered it wasn't an isolated incident. So she set out to change things.
Shortly after the attack, Elyse studied to become a Certified Stroke Rehabilitation Specialist. She then started a public education campaign aimed at improving the lives of survivors, families and caregivers via YouTube, Facebook, Instagram and TikTok. And her blog at elysenewland.com has a free eBook titled, "The Stroke Recovery Pocket Guide," that can be downloaded as a PDF or moved to smartphones, tablets and Kindle.
Her simplified content breaks down evidence-based therapies for stroke survivors in videos and writings at no cost to recipients. The response has been strong. In just a year, her YouTube channel, which contains 58 videos to date and is updated weekly, has more than 5,000 subscribers and more than 345,000 views. Her Instagram also is growing with more than 900 followers for her 240 posts.
Elyse also has expanded her practice beyond her state's borders. She is licensed and has a teletherapy private practice in Tennessee, Georgia, North Carolina, Oregon and California. And just this year, to reach even more people, Elyse has started a nonprofit, Post Stroke.
Equity Hero - Andrew Suggs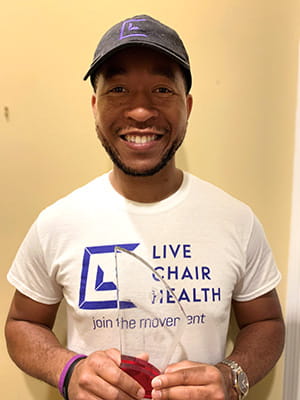 "We are honored to receive this award on behalf of our partnered barbers and stylists who work daily to make a positive difference in their clients' lives. We are continually encouraged by their dedication to our mission of improving minority health outcomes, like stroke, and we look forward to spreading that mission to as many communities as possible." – Andrew Suggs, CEO of Live Chair Health
Like many Black people, Andrew Suggs got knowledge and support in a barbershop while growing up on the South Side of Chicago.
Trusted pillars in the community, many barbers and hairdressers are positioned to educate Black men and women about health. That's important because distrust and discrimination are two of the most common reasons why Black people are less likely to go to the doctor.
After graduating from college and working for a Fortune 100 firm, Andrew learned his father had a heart attack and congestive heart failure. This led Andrew to discover more about health inequity among Black people, who have higher rates of stroke and deaths from stroke than any group in the U.S.
In 2017, Andrew launched Live Chair Health, an organization based in Columbia, Maryland that equips barbers and hairdressers with blood pressure monitors and health information for their clients to lower their risk of stroke and other conditions. Live Chair Health shops are mostly in Maryland, but some are as far away as New York, California, Pennsylvania and Georgia.
The organization regularly holds events with free health screenings and its online program encourages participants to track their blood pressure, weight and physical activity.
Live Chair Health also spreads the word about the importance of regular primary care visits and has compiled a directory of trusted, culturally sensitive health care professionals. Enrollees in the online program earn credit toward free haircuts at participating shops, which earn cash for enrolling their clients.
Group Heroes - International Alliance for Pediatric Stroke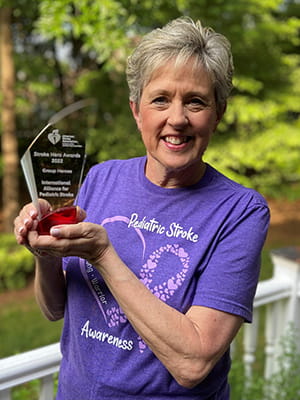 "On behalf of pediatric stroke families worldwide and the board of IAPS, we are honored to accept the Group Heroes award! We are grateful for the recognition this brings to the babies, children, and teens impacted by stroke. These warriors and their families are the true heroes!" – Mary Kay Ballasiotes, International Alliance for Pediatric Stroke, Executive Director
Many people, including some health care professionals, don't realize that children can have strokes. Yet, stroke is one of the top 10 causes of death among children in the U.S., according to the American Heart Association. Early diagnosis is critical and can dramatically affect outcomes.
That's why the International Alliance for Pediatric Stroke, led by parents of affected children, has for the past decade raised awareness and provided support for families shocked by a life-altering diagnosis.
Under the leadership of Mary Kay Ballasiotes, the organization advocates for pediatric stroke to professional societies and state and federal governments.
For families, the IAPS has created and distributed educational materials, including a pediatric stroke fact sheet, video series and a Pediatric Stroke Family Tool Kit with a Spanish translation.
The organization's website allows families to share their stories and gain inspiration.
The IAPS also organizes an annual online Pediatric Stroke Awareness Campaign in May, reaching more than 60,000 people on Facebook and Twitter.
Pediatric Hero - Kyler Lewis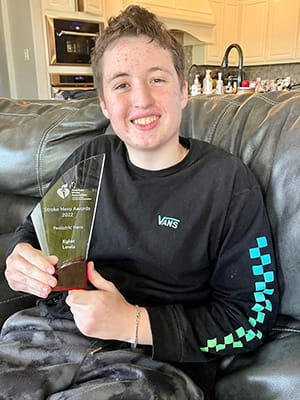 "I am truly honored and very grateful to receive this award; it means so much to me. I will do my best to continue to promote awareness to all that a kid can have a stroke too. Pediatric stroke survivors, be brave and know you are not alone, we are here for each other, for real. With love, support, determination and hard work, we can all be heroes of our own story." – Kyler Lewis
In 2020, William Kyler Lewis, 15, was riding in the car with his mom in College Station, Texas, when he suddenly turned to her confused.
His head hurt, he was sick to his stomach and his vision was blurred. Soon, he couldn't remember anything for more than a few seconds.
After his mom rushed him to the pediatrician, he got a shot and was told to go home. Instead, his mom drove 1½ hours to a children's hospital in Houston. Nurses there thought Kyler had taken drugs, but his mom insisted no, he was not that type of kid, and something was very wrong. A CT scan revealed Kyler had an acute spontaneous intracranial hemorrhage from a brain arteriovenous malformation (AVM) that he unknowingly had when he was born. A brain AVM is a condition that is not inherited. AVMs are a random occurrence due to a gene malfunction in utero where a mass of arteries connect directly to veins.
Kyler received lifesaving external ventricular drain (EVD) surgery to control the fluid build-up in his brain. After the stroke, memory and neuro fatigue became a big problem. Kyler has undergone radiation and chemotherapy and takes medication for epilepsy, headaches, dizziness, weakness and tremors.
Yet, Kyler is inspiring many. He uses local news, community functions and social media to educate the public that a child can have a stroke, too. He also organizes walks to highlight the importance of recognizing the symptoms of a pediatric stroke.
Kyler's Facebook group, "A Cure for Kyler," his CaringBridge page and YouTube channel educate and inspire pediatric stroke survivors by documenting his recovery.
His video, "Being You after an Aneurysm/AVM Rupture," and his family's Facebook page, "AVM Alliance: A Cure for Kyler and Friends," share stories of other hemorrhagic stroke survivors and educate people about symptoms and conditions.
Survivor Hero - Deb Shaw
"I am humbled and grateful to be honored with the 2022 Survivor Hero Award. This has been a pivotal point in my life to dedicate my focus, first-hand experience, and commitment to helping the challenges of stroke worldwide." – Deb Shaw
The root cause of Deb Shaw's three strokes in 2016 and 2019 was never discovered, but they fueled a new purpose for her life. For her recovery journey, Deb employed a myriad of methods in addition to occupational and physical therapy. They included neuro acupuncture and acupressure, aquatic therapy, hyperbaric oxygen therapy, health care virtual reality and balance classes.
She combined her therapy experiences and passion, becoming an advocate for stroke survivors. Deb decided sharing what she had discovered could be very helpful for stroke survivors. She founded and is the CEO of Champion the Challenges, a California nonprofit in which she motivates people to pursue her 3 Ps of a successful recovery: Patience, Positivity and Practice.
Deb also mentors dozens of stroke survivors via calls and video conferences. And she's an inspirational speaker for stroke support groups, hospitals and rehabilitation centers.
Last year, Deb was the co-chair and master of ceremony for the Golf 4 Life Event with the Pacific Stroke Association. She organized a panel of three stroke survivors to speak with the group of more than 175 attendees.
Deb also volunteers with several public and private companies, and leading universities innovating technology for stroke survivors. She has helped with hands-on practical applications, hardware and software testing, along with packaging and survivor usage guides.
Deb believes everything in life happens for a reason, and her life purpose is to help stroke survivors champion the challenges that accompany having a stroke.
Voters' Choice Hero - David Moskowitz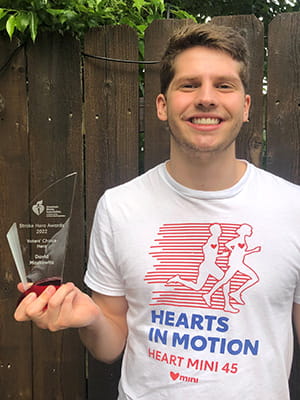 "This Stroke Hero Award provides an opportunity to share my pediatric stroke story to a larger audience. As a survivor, I feel a responsibility to share my story to as many people as possible to raise awareness for pediatric strokes. The more people my story reaches, the more parents, grandparents, siblings, teachers, coaches, and medical professionals will remember that seemingly healthy kids and teens have strokes." – David Moskowitz
David Moskowitz was playing lacrosse at school when he noticed that the right side of his face was tingling. David and his teammates jokingly questioned if he could be having a stroke, but they didn't believe it. David was a healthy, active 17-year-old. But it was no joke.
In the emergency department, David easily passed various medical examinations. His parents questioned if David was having a stroke, but they were told it was very unlikely and he was sent home. David's symptoms worsened, and during an MRI the next day, doctors realized he was experiencing a stroke caused by a brain bleed.
David was admitted to the pediatric intensive care unit (PICU) at Cincinnati Children's Hospital where he stayed for nearly a month fighting for his life. He lost complete mobility of the right side of his body; his left side was severely weakened and his vision was compromised. David was diagnosed with an inoperable arteriovenous malformation (AVM) from an unknown genetic disorder called hereditary hemorrhagic telangiectasia. When David was stable enough to undergo radiosurgery, he did and was then moved onto the neuro trauma unit.
David's road to recovery had just begun. He went through months of grueling therapies, finally regaining his mobility, strength and vision. Shortly after leaving the hospital, David received his acceptance letter to the University of Cincinnati, College of Nursing. His dream of returning to the PICU to work with his nurses and help other critical kids was beginning.
Today, David is completing his BSN and nursing co-op in the same PICU, learning and working alongside some of the same nurses who helped save his life. David shares his stroke survivor story to remind the public that stroke can happen at any age, even in healthy kids and teens. He also reminds people about the importance of knowing F.A.S.T. (Face, Arms, Speech and Time) to recognize and react to the symptoms of stroke.
2021 Stroke Hero Awardees
Caregiver Hero - Mark Matasic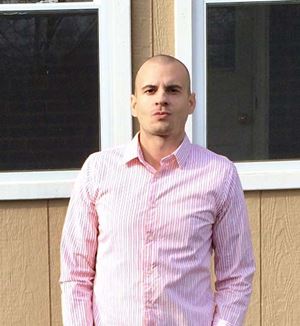 "I'm honored to receive this award and to be recognized by such a prestigious organization. This award is dedicated to my father. My father is the real hero. His strength and courage throughout his battle with locked-in syndrome gave me the strength, courage and inspiration to become an outspoken advocate for better systems of care for stroke patients." Mark Matasic
Watch Mark Matasic's YouTube video
For a year, Mark Matasic provided around-the-clock care for his dad — his best friend — whose severe brain stem stroke left him completely paralyzed and only able to move his eyes.

It was, Mark said, his "labor of love" until his dad died in 2016.

"I cared for him in hospitals, rehabilitation facilities and at home," Mark said.

Mark's experience was also the impetus to become an advocate for improving stroke systems of care in Ohio and to honor his dad, who didn't get lifesaving treatment at the hospital until almost 19 hours after his stroke.

Since connecting with the American Heart Association/American Stroke Association, Mark has testified before state legislators on the need for stroke transport protocols and a stroke registry. He also writes newspaper editorials and articles for AHA newsletters about his father's stroke care and his family's difficulties.

While caring for his dad, Mark said he "emotionally broke down" at times. But family and others supported him and helped him get through it.

"If it's possible, I recommend finding someone that can step in for you from time to time and provide care while you take a break," he said. "You need some time away to avoid burnout."

Mark also suggests caregivers join a support group and learn everything they can from nurses and therapists.

"Ask questions and be a strong advocate for your loved one," he said. "Make sure they are getting the best care possible at all times. Do your research and find out what your options are. Do not be afraid to speak up!"
Group Heroes - American Stroke Foundation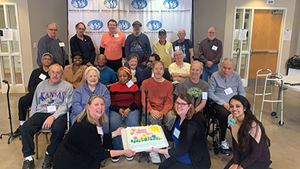 "On behalf of our survivors of stroke and their families, ASF staff and Board of Directors, we graciously accept this group award. This recognition gives us hope and affirmation that by supporting each other we are creating an enhanced quality of life for all of us," Jane Savidge, American Stroke Foundation Executive Director.
Watch the American Stroke Foundation's YouTube video
Just one week after the COVID-19 pandemic closed the American Stroke Foundation's "Next Step" program, the staff pivoted to a virtual experience.
And it's been just as impactful.
Resilient stroke survivors and their care partners have adapted to many abrupt changes — staying engaged by using Zoom, reading daily emails with educational content and participating in therapeutic activities while remaining at home.
The nonprofit organization in Overland, Kansas still offers these services through its "Next Step" program:
Stroke education
Daily physical and cognitive activities and exercises
Daily communication classes
Weekly support groups
Monthly educational webinars
Socialization of "still being together"
The services have continued during the pandemic with support from volunteers and academic programs: the University of Kansas Occupational Therapy Program; Creighton University Occupational Therapy Program; Eastern Michigan University Occupational Therapy Program; South Dakota State University Occupational Therapy Program; Rockhurst University Occupational Therapy Program; Metropolitan Community Colleges; Penn Valley Campus Occupational Therapy Assistant Program; Cleveland University Occupational Therapy Assistant Program; Rockhurst University Speech and Communication Disorders Program; University of Missouri, Kansas City Campus Music Therapy Program; University of Kansas Health Systems; Maggie Rodgers, music therapist at Brookdale Hospice Care; and Don Sears, a retired pastor.
Pediatric Hero - Sarah Weiss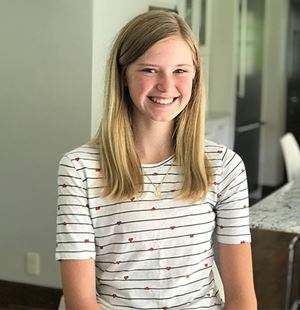 "I am surprised and proud to win the Pediatric Hero award. I hope learning about my journey will help others struggling to recover from a stroke; it isn't easy. I am also excited because the message will allow more people, especially young people, to learn the signs of a stroke," Sarah Weiss.
Sarah Weiss was only 11 when she had a devastating stroke during swim practice.
But it didn't stop the Omaha, Nebraska resident.
Through extensive physical therapy, she's regained most of the use of the right side of her body, overcome reading and communication challenges, and even switched to writing from her right hand to her left.
Sarah has now made it her mission to make others aware of stroke — from her classmates to those in her community. She has designed, printed and distributed bookmarks to teach people the stroke warning signs and how to respond to a stroke F.A.S.T.: Face drooping, Arm weakness, Speech difficulty, Time to call 911.
An ardent advocate for the American Heart Association/American Stroke Association, Sarah also spreads her message through media interviews and shares her story as a stroke survivor at Go Red for Women events and with others her age in support groups across the city.
"I thought I was really healthy and I thought I would never have to worry about something like that," said Sarah, who was active in dance and golf when she had the stroke. "It could happen to anyone. So I feel like everybody should know how to spot a stroke."
One day she plans to be a nurse or a speech therapist. Meanwhile, she's back in the pool.
Support Group Heroes - Penn State Hershey Stroke Support Group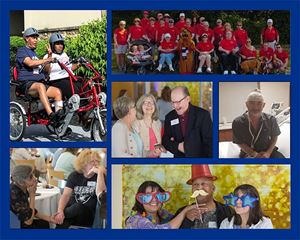 "Winning this award represents recognition of the support and caring that the members provide to each other and the community... an authentic support group," Kathy Morrison, Facilitator.
Watch the Penn State Hershey Stroke Support Group's YouTube video
The Penn State Hershey Stroke Support Group has had a singular purpose for the past 34 years: serving fellow survivors and caregivers.
Partnering with Penn State Health staff in Hershey, Pennsylvania, the group has inspired many and raised awareness about stroke. As a result, their average monthly attendance at meetings has increased from eight to 40 survivors and caregivers.
The group, which adopted the informal title "Stroke Survivors and Thrivers" eight years ago:
Meets separately with survivors and caregivers quarterly for frank discussions and support without burdening their loved ones.
Hands out F.A.S.T. stroke warning signs pocket cards throughout the area.
Participates in community awareness events and screenings and the American Heart Association's annual Heart Walk.
Volunteers for research studies to increase knowledge about stroke, including one member who became the third person in the world to volunteer for a deep brain stimulator study at the Cleveland Clinic.
Another member has spread messages about his stroke journey through poignant essays.
Penn State Health published his booklet of essays that members share with family, friends and other support groups. And recently, another member and his wife started the non-profit Stroke Survivor Foundation to grant stroke survivors' wishes. And all members of the Penn State Hershey Stroke Support Group say they're driven to inspire and educate others that strokes aren't the end of their stories — but another chapter.
Survivor Hero - Judy Crane
"I'm honored to be recognized with this prestigious award! I feel this acknowledgment validates the importance of peer programs to support stroke survivors as they adjust to life after a stroke," Judy Crane.
Since her stroke, Judy Crane has been a passionate activist, mentor and peer for survivors. In 2011, soon after she began serving on the Anne Arundel Medical Center (AAMC) Patient and Family Advisory Council in Annapolis, Maryland, she partnered with the stroke coordinator and nursing leaders to obtain and allocate funding for a peer/mentoring stroke program.
She also works with the center's patient therapy program and other stroke survivors to assign peer mentoring. And she organizes activities such as Work Out Your Words, a program combining speech with movement for stroke survivors. Working with the in-patient stroke unit staff, she helps organize bedside and discharge support.
Meanwhile, she works part-time at the Snyder Center for Aphasia Life Enhancement and coordinates groups for the Young Aphasia Communication Club in Maryland, which she started in 2007.
In 2005, Judy was a 47-year-old mother, wife and medical sales professional when a stroke abruptly interrupted her life. She subsequently had four surgeries related to aortic dissection and stroke.
After a five-week hospital stay, Judy went to rehab before finally returning home with global aphasia as her most prominent deficit.
Now a new grandmother, Judy still actively participates on the AAMC's multi-disciplinary stroke committee. The COVID-19 pandemic hasn't slowed her down either.
She shifted her support groups to Zoom while encouraging members to also use FaceTime, email and telephone calls to connect. Judy, who also shares her story at local gatherings and in-services for medical professionals, said she's driven by the desire to give survivors hope and show that life still goes on—even after a stroke.
Voters' Choice Hero - Michael Keeble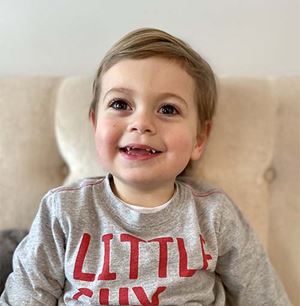 "I tell Michael that I am proud of him every day. This honor shows him that he has a support system behind him that he inspires," Jennifer Keeble, Michael's mom.
Michael Keeble was supposed to have a typical birth on April 30, 2018.

But he didn't.

Michael was having seizures following delivery, so he was rushed to the Children's Hospital of Philadelphia, where he spent more than a week in intensive care. Michael had a stroke.

Since then, the gritty boy from Quakertown, Pennsylvania has fought hard to overcome the effects of his stroke, including seizures and permanent brain damage that caused weakness to the right side of his body.

Michael has endured various therapies to improve his motor skills. And though he likely will continue to struggle to use his right hand and fingers, he walks and eats independently.

As a testament to how he's overcome obstacles, Michael was involved in extracurricular activities such as swim lessons and music class. He also loves playing outside, shoveling snow and going on walks.

His perseverance — and progress — has inspired many, including his mom and dad and especially his little brother, an infant botulism survivor. Besides playing a major role in helping Michael recover from his stroke, Jennifer and Brett Keeble raise awareness and funds for various efforts related to perinatal stroke, which usually occurs between the middle of pregnancy and one month of age.

Even the pandemic hasn't halted the Keebles.

In May 2020, Brett ran 100 miles to educate people about and raise funds for pediatric stroke. They've raised money for and volunteered at the Children's Hospital stroke camp. The couple also held their annual holiday toy drive for children at the hospital.

To raise even more awareness, Jennifer and Brett purchased and distributed bracelets benefiting the Pediatric Stroke Warriors nonprofit.

And to celebrate Michael, the family proudly wears pediatric stroke shirts.


2020 Stroke Hero Awardees
Outstanding Caregiver - Jill Veach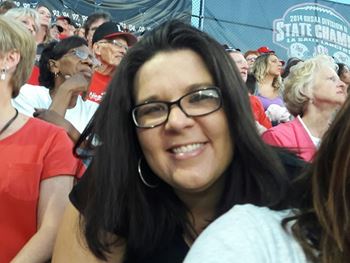 "Prior to our daughter having her stroke at only 8 years old, I didn't even know the signs of a stroke, let alone that they could happen to a healthy child. We will continue to educate people about the signs of a stroke and that they can happen to anyone at any age," Jill Veach.
On what Jill Veach thought would be an ordinary day in July 2017, her daughter, Claudia, suddenly could not walk or talk and had a severe headache, right arm weakness and facial drooping. An ambulance arrived quickly and the paramedic shared his initial diagnosis with Jill: "I believe your daughter is having a stroke." Jill replied, "but she's only eight years old!" He said, "anyone with blood pumping through their veins can have a stroke." Cincinnati Children's Hospital Medical Center quickly confirmed the paramedic's suspicion, and Claudia was diagnosed with Focal Cerebral Arteriopathy, a condition where blood vessel inflammation leads to a narrowing of a major artery in the brain.
When Claudia left the hospital, Jill took on her new role as a stroke survivor's caregiver with tenacity and grace. She balanced administering daily medications and taking Claudia to doctor's appointments and tests with her regular day-to-day demands of family and work. Nearly three years later.
Claudia has made a full recovery, and together, Jill and Claudia are working to raise awareness of pediatric stroke in their community. Jill reconnected with the hospital that treated Claudia asking how she could help raise awareness. This led to participation in the International Pediatric Stroke Study and filming an educational video for the hospital and participating in a news story on Claudia's stroke. Jill has also written a blog for the International Alliance for Pediatric Stroke, is active in the Greater Cincinnati Stroke Consortium and is always looking for opportunities to share the warning signs of stroke.
Jill's determination knows no bounds. She is now inviting friends and family to walk in the American Heart Association's Heart Mini-Marathon & Walk in honor of Claudia as part of the team "Claudia's Crusaders."
Outstanding Group - The Aphasia Choir of Vermont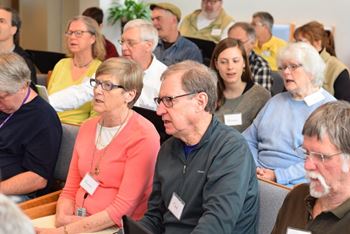 "The choir members are truly amazing, and they inspire me with their positive attitudes, good humor, and tenacity. I can't think of a better way to honor them!" – Karen McFeeters Leary, Director
Watch the Aphasia Choir of Vermont's YouTube video
Making inspiring music together is the Aphasia Choir of Vermont's goal. While helping its members express themselves more freely through singing, the group also educates the community about communication disabilities and provides a supportive community for stroke survivors with aphasia.
Karen McFeeters Leary, a retired speech-language pathologist and singer/songwriter, started the group and has directed it for six years, growing it from 22 members to more than 50. The first aphasia choir in Vermont, the group includes stroke and traumatic brain injury survivors, family members, caregivers, physical therapy assistants, speech-language pathologists and University of Vermont students studying communication sciences. They rehearse for months during the spring to prepare for their annual performance in June for National Aphasia Awareness Month, and they also take time to highlight members' victories and support each other.
The concert attracts more and more people every year, with the 2019 performance entertaining nearly 600 attendees. The music ranges from Broadway hits to Motown classics, including pieces where members play instruments such as kazoos and a one-hand adapted guitar. Choir members also educate the audience about aphasia, including tips for communicating with someone who has aphasia.
The Aphasia Choir of Vermont's members may struggle with aphasia, but when they make music together, they communicate in a beautiful and inspiring way.
Outstanding Support Group - Hazard Stroke and Caregiver Support Group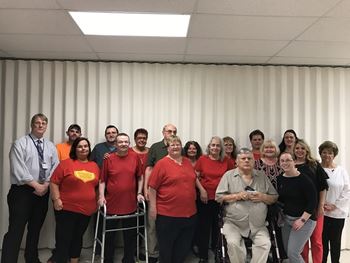 "Our group has worked very hard to make stroke education and awareness a focal point in our rural communities of eastern Kentucky, and I am very honored that our efforts have been recognized by the American Stroke Association," Keisha Hudson, coordinator/leader.
Watch the Hazard Stroke Survivor and Caregiver Support Group's YouTube video
Since 2015, this diverse group of stroke survivors, caregivers, family members and healthcare professionals has been working to increase stroke awareness and provide stroke education to all ages. They have made it their mission to ensure that prevention education is offered and quality services are available for everyone affected by a stroke. Their passion is palpable, and their commitment is strong.
A traditional support group with monthly meetings featuring camaraderie, support and education by local experts, they also actively work to raise stroke awareness in under-resourced rural eastern Kentucky — a region with one of the highest stroke rates in the nation — through outreach efforts, local radio and TV appearances and stroke screening events.
They have worked with city and county officials to establish proclamations for stroke awareness for several years. For American Stroke Month last May, the group educated over 600 elementary, middle and high school students about the signs and symptoms of stroke, stroke prevention and how to become advocates within their communities. In October 2019 they hosted their first stroke lunch and learn for World Stroke Day, where they performed 50 stroke risk screenings and were featured in a local news story. The Hazard Stroke Survivor and Caregiver Support Group works relentlessly to make a positive impact on members' lives and their community.
Outstanding Survivor Hero - Gracie Doran
"Pediatric stroke is one that is not often talked about and I'm glad that I can use the voice that was given back to me to raise awareness and educate about stroke," Gracie Doran.
Ten-year-old Gracie Doran was surfing when she had a stroke caused by a brain stem bleed. Surgery saved her life, but she was in a coma for several days and woke up partially paralyzed. Then she began her recovery journey. In inpatient rehabilitation, Gracie relearned how to eat, speak and walk, relying heavily on the discipline and determination she'd developed as a competitive dancer to help her persevere. After rehab, she continued with years of therapy and had three more brain surgeries. Though she still faces challenges, including loss of the use of her right hand and a speech impediment due to facial paralysis, Gracie doesn't let anything stand in the way of her goals.
In the 10 years since her stroke, Gracie has dedicated herself to helping others and raising awareness as an American Heart Association volunteer and advocate. She speaks at Heart Balls, Go Red luncheons and Go Red STEM events, telling audiences, "I had a stroke, the stroke does not have me." She has been a panelist at the White House Health Care Summit and participated in the You're the Cure Lobby Day on Capitol Hill.
Gracie also started a dance company, the Rising Stars, for children with disabilities. They've been dancing for seven seasons and are an all-inclusive group, allowing siblings to participate as well. Gracie is now in college working toward a master's degree in social justice and leadership. She hopes to go to law school and pursue a career as an advocate for stroke and people with disabilities.
Voters' Choice - Mark Kincaid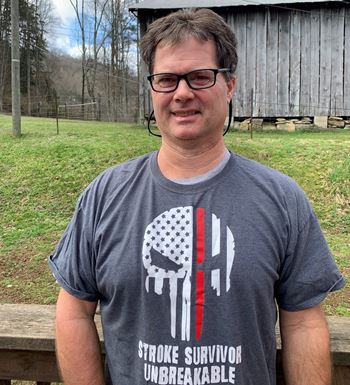 Mark is very honored and grateful for this award voted on by his peers. His testimony continues daily and he gives all the glory to God and his amazing support system in his family and friends.
Watch Mark Kincaid's YouTube video
The above quote was a collaborative effort from Mark and his wife, Tonya, since he still struggles with aphasia and apraxia.
Over a decade ago, Mark Kincaid experienced a catastrophic ischemic stroke at age 42 due to undiagnosed high blood pressure. Doctors predicted that Mark might not survive surgery to treat the stroke, and if he did, he would live the rest of his days in a vegetative state.
But Mark defied the predictions as soon as he woke up from surgery. After weeks of intensive inpatient therapy, he began regaining some of his cognitive and physical abilities, and after three months in hospitals, he was finally able to go home.
Mark continued working hard on his recovery, almost always doing double what was recommended. By playing brain games and doing speech therapy activities, Mark continued to improve his cognitive and communication skills, although he still struggles with expressive aphasia and apraxia to this day. His stroke heavily impacted the right side of his body, so his therapy included using a leg brace and electric stimulation units for his leg and arm.
Mark joined his local stroke support group and has been an active member for years. He regularly participates in stroke education activities in schools, helps provide stroke awareness education at local events and works with a rehabilitation center to help patients learn to cope with the aftermath of a stroke. Mark also helps educate graduate students at Eastern Kentucky University on the stroke survivor experience and works to achieve local and national recognition for Stroke Awareness Month and World Stroke Day.
Mark's undeniable fighting spirit helps make him a great role model for stroke survivors.
Read Mark's story: Given a grim prognosis, stroke survivor proved doctors wrong