How much sugar is too much?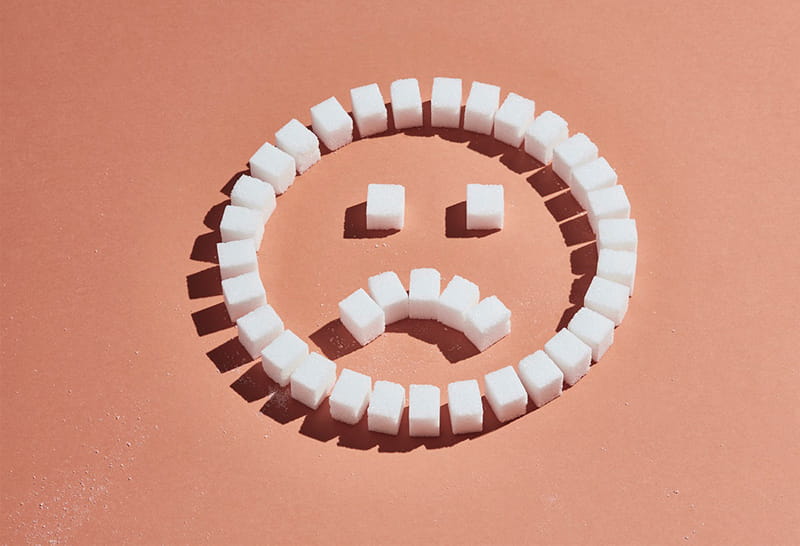 As modern grocery shoppers, we try to be engaged and knowledgeable about nutrition. From salt to sugar, the movement is on to regain control of what we put on the table. But there's a lot of confusing information to wade through. Studies show that 80% of shoppers come across conflicting nutritional data and 59% doubt the choices they're making for their families. What consumers aren't confused about, though, is the need for a healthy change.
American adults consume an average of 17 teaspoons of added sugar every day, more than 2-3 times the recommended amount for men and women respectively. This adds up to around 60 pounds of added sugar consumed annually – that's six, 10-pound bowling balls, folks! The numbers are even worse for children and young adults aged 2 –19 years who consume 16 teaspoons of added sugar per day. American kids consume 66 grams per day, equaling over 53 pounds of added sugar per year. Where's all this added sugar coming from?
Beverages are the leading category source of added sugars (47% of all added sugars):
soft drinks – 25%
fruit drinks – 11%
sport/energy drinks – 3%
coffee/tea – 7%
And, as you might guess, snacks and sweets are the next biggest contributor of added sugars at 31%.
How does the body react to so much sugar?
So, what's a smart shopper to do? It's tempting to look to alternative sugars as a magical solution. Products made with honey, maple syrup, coconut sugar or turbinado sugar, high fructose corn syrup, corn syrup, and dextrose, for example, are perceived as healthier choices. Don't be fooled. Your body sure isn't! Too much sugar is too much, no matter the source.
It all comes down to how fast the sugars get absorbed. For example, your body spends more time digesting an apple because of the fiber content, so the natural sugar absorbs more slowly. On the flip side, the added sugar in soda arrives all at once in your system like a sugar bomb. All that extra sugar gets converted to calories much more quickly. Not so good for your system!
If you're looking for no calories, your best option might be a plant-based sweetener like stevia or monk fruit. These sweeteners are "generally recognized as safe" based on published research, a conclusion which has been reviewed by the Food and Drug Administration (FDA).
AHA Sugar Recommendation
To keep all of this in perspective, it's helpful to remember the American Heart Association's recommendations for sugar intake.
Men should consume no more than 9 teaspoons (36 grams or 150 calories) of added sugar per day.
For women, the number is lower: 6 teaspoons (25 grams or 100 calories) per day. Consider that one 12-ounce can of soda contains 8 teaspoons (32 grams) of added sugar! There goes your whole day's allotment in one slurp.
The good news is that the added-sugar message is breaking through, and many American adults crave a change. In fact, research suggests that 77 percent of Americans are striving for less sugar in their diets. And 7 in 10 consumers are willing to give up a favorite sugary product in favor of finding a healthier alternative. The willingness is there. For now, your best defense is education.
Food manufacturers are required to list the amount of added sugars on the Nutrition Facts label by mid 2021 or earlier depending on the size of the company. A recent analysis found that this labeling could potentially prevent nearly 1 million cases of cardiovascular disease and type 2 diabetes over the next two decades. Listing the total amount of added sugars means that consumers will no longer have to search through the many different aliases for added sugars to try and determine how much added sugar a food or drink contains.
So, read those labels carefully and realize that added sugar is added sugar, no matter what sneaky alias it's using!
---