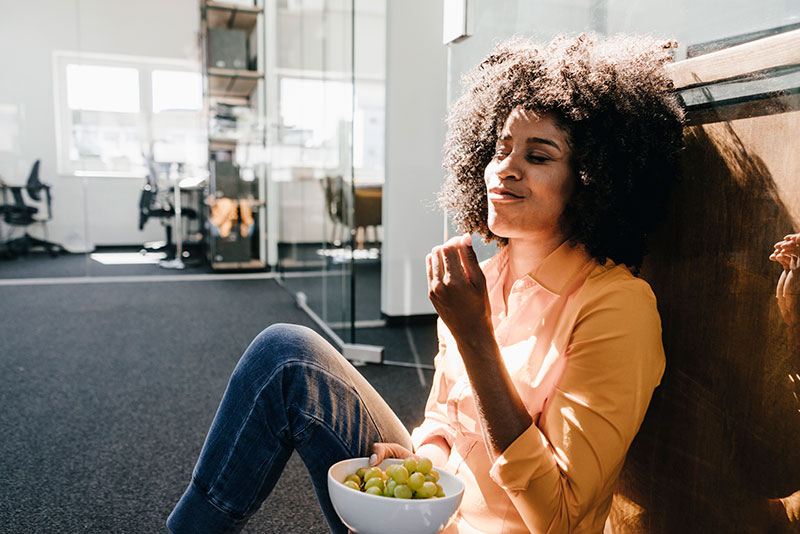 Most of us do it. Some of us sneak it. Some of us even have attacks over it. Yes, snacking! If done in moderation and by making healthier choices, snacking can fit into a healthy dietary pattern.
Here are some snack ideas to add to your grocery list:
Munchies that crunch
Apples sliced with a tablespoon of low-sodium peanut butter.
Pears dipped in fat-free/low-fat cottage cheese.
Vegetables paired with hummus or tzatziki sauce, such as:

Carrot and celery sticks.
Bell pepper slices.
Zucchini or cucumber rounds.
Broccoli and cauliflower florets.
Cherry or grape tomatoes.

Popcorn (air-popped or made with a nontropical vegetable oil).
Rice cakes and whole-grain crackers.
Unsalted nuts and seeds.
Rethink your drink
If you drink regular soda or energy drinks, look at the amount of added sugar on the Nutrition Facts label. Sugar drinks easily can add excess calories and pounds. Instead, try:
Plain or sparkling water. Add citrus or cucumber slices, mint or other herbs for flavor.
Fat-free/low-fat dairy milk, plain soy milk or unsweetened oat or nut milk.
Unsweetened tea or coffee.
100% fruit juice.
Low-sodium tomato or mixed-vegetable juice.
Other simple, healthy snacks
Whole-grain toast with low-sodium peanut butter or other nut butter.
Fat-free/low-fat cheese.
Fat-free/low-fat plain with fruit.
Fruit and veggie smoothie.
Whole-grain crackers with canned very low sodium tuna or low-sodium salmon.
Canned fruit (packed in its own juice, water or light syrup).
Baked or raw apples sprinkled with cinnamon.
Raisins, dates, figs and other unsweetened dried fruits.
Frozen banana.
Frozen grapes.
Fresh fruit salad flavored with fresh herbs, such as mint, or fresh gingerroot.
For packaged snacks, be sure to read the Nutrition Facts label. Look at the serving size to determine how many calories, added sugars and sodium are included.
---