Walking for a Healthy Heart Brochure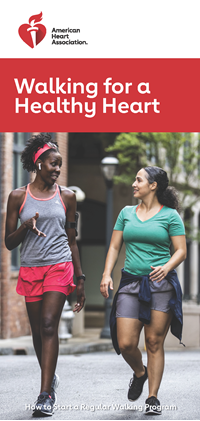 Published by: American Heart Association
Product Code: 50-1661
This is an upbeat brochure on the benefits of walking and the ways people can make physical fitness part of their lives. It stresses that you don't have to be an athlete to appreciate the benefits of regular physical activity. Includes a 12-step walking program designed to increase cardiovascular health.
If you are interested in receiving a physical activity packet containing this brochure, please complete our product order form. Requests are limited to residents of the United States and to no more than one packet and two brochures per household.
If you are interested in placing an order, receiving print samples or viewing online e-samples, visit our distributor, Krames. Registration is required to request samples and order online.
---