Healing hearts. Inspiring minds.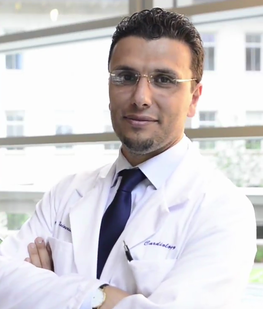 As the eldest son of a Kurdish family that fled persecution in Syria, Dr. Heval Mohamed Kelli knows struggle. After living in German refugee camps for six years, his family immigrated to the United States two weeks after 9/11 and settled in one of the Atlanta area 's poorest communities.
"We moved to Clarkston — I was 17 and a high school senior," he said. "My dad, who'd been a lawyer in Syria, had heart disease and couldn't work. I got a job at a local restaurant to support my parents and younger brother."
For 30 to 40 hours a week, Heval washed dishes at the Mediterranean Grill. Many customers were students from nearby Emory University, and seeing them stoked his desire to go to college and become a doctor. But the absence of role models made that seem a distant dream.
"No doctors lived in Clarkston," he said. "The only time medical professionals came to my neighborhood was when someone got shot or had a heart attack. How could a kid like me become a doctor?"
The answer came when his brother, who had earned an academic scholarship to a private high school, told a classmate of Heval's ambitions. The friend's father was Dr. Omar Lattouf, a cardiothoracic surgeon and professor at Emory. He offered to be Heval's mentor, and that act of altruism transformed his life.
Today, Heval is a cardiology fellow at Emory and co-founder of Young Physicians Initiative (YPI), which provides career guidance to students at underserved high schools and at colleges that lack medical programs. Participants learn theory, study medical cases and shadow doctors. Sponsored by U-beyond Mentorship – which Dr. Lattouf founded – YPI also hosts Doctor for a Day events.
"I started with one medical student at one high school in 2016, and now we are in four high schools and four colleges in Atlanta, serving 80 to 100 students," Heval said. "Over 70% are female and over 60% are minorities. We'll work with anyone to expand around the country, especially underserved and rural areas."
As he reflects on his path to medicine, Heval quotes a Kurdish saying: "Whoever taught you the letters, you owe them a book." Translation: Show gratitude by giving back.
"I want to help the community, no matter the differences," he said. "Medicine, like music, is universal — a language all its own."
---