COVID-19 Ventilator Reskilling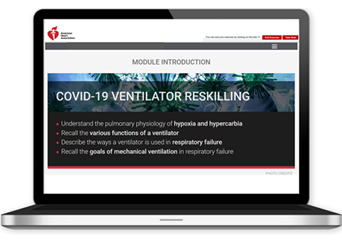 With the high demand for ventilator management in the acute care setting due to COVID-19, health care providers may be tasked with managing complex patients with minimal understanding of mechanical ventilation or ventilators.
This self-directed, adaptive eLearning course helps health care providers in the acute care setting improve knowledge and competence in mechanical ventilation skills.
The adaptive design of this course focuses on information participants need most:
Participants can identify their skill level at the beginning of the course
Course continuously measures participants' level of knowledge based on knowledge checks and adjusts content to focus on information needed most
Who should take this course?
This course is designed for health care providers including
Physicians
Nurses
Respiratory Therapists
Physician Assistants
Nurse Practitioners
What does this course teach?
The course educates participants in
Respiratory Physiology
Basic Functions of a Ventilator
Ventilator Use in Respiratory Failure
Goals of Care in Respiratory Failure
Ready to take a COVID19 Ventilator Reskilling course?
The AHA offers this elearning course for online completion. You can purchase this course on ShopCPR to get started.
Course Completion Card
Upon successful completion of this course, participants receive a course completion certificate.
---