Fellows Research Day - Pittsburgh Heart Ball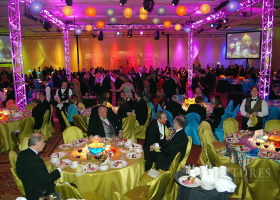 The 2020 Pittsburgh Heart Ball will take place on Saturday, February 29, 2020 at the Pittsburgh Wyndham Grand Hotel. As over 800 of our guests experienced last year, this is an exciting and entertaining evening, including marvelous dining, dancing and taking part in the extraordinary live and silent auctions.

As one of Pittsburgh's premiere social and fundraising events, the Pittsburgh Heart Ball is the American Heart Association - Allegheny Division's largest fundraising event. Seventy five percent of contributions support research, school-site programs and public and professional education programs in this region.

Currently, the American Heart Association is funding 37 research projects totaling more than $8.5 million in the Pittsburgh area. The funding from the Heart Ball directly supports the American Heart Association's mission of "Building healthier lives, free of cardiovascular diseases and stroke." This affair also marks the presentation of the Peter J. Safar Pulse of Pittsburgh Award. A private reception will be held from 5:30 pm – 6:30 pm honoring our honoree's work. All Fellows Research Day winners and their guest are cordially invited to join us.
The Pittsburgh Heart Ball tentative agenda will be:
5:30 pm Pulse of Pittsburgh Reception
6:30 pm Registration Opens – viewing of auctions items begins
8:00 pm Welcome/Pulse of Pittsburgh presentation
8:30 pm Dinner served
10:00 pm Dancing begins
Midnight Goodnight to Guests
---