Cincinnati Girl Scout Patch Program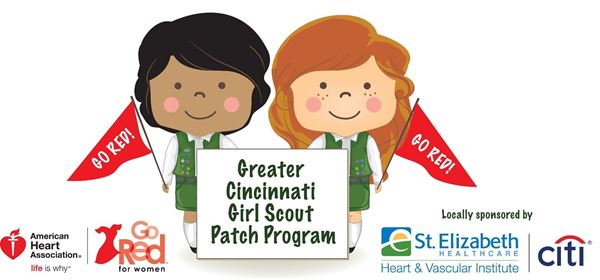 JOIN US AND EARN THE GO RED PATCH!

Go Red Girl Scout Patch Program

* Digital Workshop Experience *
What: St. Elizabeth Healthcare, Citi and the American Heart Association will host a free and FUN Go Red Girl Scout Patch Workshop that will allow scouts to earn their patch virtually! We hosted one in October and received incredible feedback from the scouts, troop leaders and parents – sign up today!
When: Saturday, February 27, 2021 (Juniors, Cadettes, Seniors and Ambassadors)
Time: 10am – 11am
Where: ZOOM
Sponsors: St. Elizabeth Healthcare, Edgewood and Citi
How: Register your troop by contacting Jenny Hobbs at the American Heart Association at 513.699.4240 or email jenny.hobbs@heart.org.

Or earn patch on your own. Email Jenny.Hobbs@heart.org for more information.
---