Nancy Brown
Chief Executive Officer, American Heart Association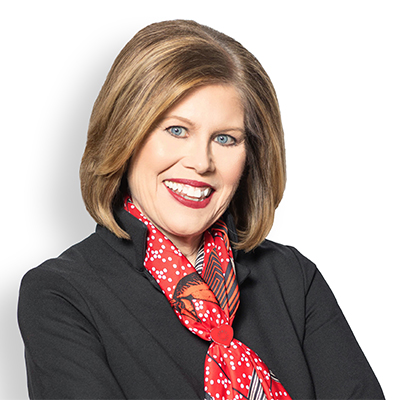 Nancy Brown is Chief Executive Officer of the American Heart Association (AHA), an organization guided by an unwavering mission: To be a relentless force for a world of longer, healthier lives.
Under Nancy's leadership as CEO since 2008, the AHA has become a global authority on cardiovascular and brain health as well as overall health and well-being. Forging powerful partnerships – together with 40 million volunteers, supporters and staff – Nancy champions equitable health for all and is committed to innovation at the intersection of science, technology and public health on behalf of patients everywhere.
Highlights include:
Responding to the Pandemic
Led a multipronged strategic response to the COVID-19 pandemic, accelerating research, advocacy, education, patient data registries, tools and resources for heroes on the frontlines and those sheltering at home.
AHA's strategic relationship with Lawrence Livermore National Laboratory leveraged technologies created by the AHA Center for Accelerated Drug Discovery to expand global understanding of the protein structure of COVID-19 and accelerate potential therapeutics.
Reimagining Research
Launched One Brave Idea™, an $85 million research and innovation enterprise to end coronary heart disease, co-founded with Verily, with significant support from AstraZeneca and pillar support from Quest Diagnostics.
Identified breakthroughs in brain health through the AHA/Allen Initiative in Brain Health and Cognitive Impairment.
Established 13 Strategically Focused Research Networks in critical health topics such as obesity, children's health, vascular disease and disparities, to bring together leading experts and investigators to advance scientific discoveries aligned with AHA's mission.
Designed Research Goes Red, a collaboration between AHA's Go Red for Women® movement and Verily's Project Baseline, to inspire women to contribute to next-generation health research.
Ensuring Longer, Healthier Lives for Patients
Expanded AHA's leadership in resuscitation science, providing education and training for 22+ million people in 100+ countries annually.
Delivered best-in-class quality improvement programs and registries, present in over 2,400 U.S. hospitals, to accelerate implementation of scientific guidelines for improving clinical practice and patient outcomes.
Launched the Value in Healthcare Initiative with the Duke- Margolis Center for Health Policy to inspire more accessible, affordable and equitable systems of care.
Formed Cardeation Capital in partnership with Aphelion Capital, UPMC Enterprises, and Philips to invest in innovative healthcare products, services, and technologies.
Transforming Communities
Over 40 years of advocacy, influenced policies and legislation to increase federal research funding, promote better health and access to care, expand Medicaid coverage, curtail sugary drinks and tobacco/e-cigarette consumption and require CPR training in schools.
Launched Voices for Healthy Kids to drive equitable policies that make the places kids live, learn and play healthier.
Established the AHA Social Impact Fund, Bernard J. Tyson Impact Fund and BrightTorch Ventures, investing in locally-led solutions to health disparities in underrepresented communities.
Created the AHA CEO Roundtable, a collaborative of nearly 50 Fortune 500 CEOs dedicated to advancing equitable health and well-being for employees and communities through evidence-based solutions.
External Board Roles
Alliance for a Healthier Generation - Co-Founder and Member, Board of Directors
Campaign for Tobacco-Free Kids - Member, Board of Directors
Coalition to Transform Advanced Care - Member, Board of Directors
National Health Council - Past Chairman and Member, Board of Directors
Research! America - Member, Board of Directors and Executive Committee
Truth Initiative - Vice Chairman and Member, Board of Directors
World Economic Forum Leadership Roles
Health & Healthcare Governors Community - Immediate Past Co-Chairman and Member
World Economic Forum Centre for the Fourth Industrial Revolution - Founding Partner and Member, Global Advisory Board
Global Health Equity Network - Co-Chairman
Global Coalition for Value in Healthcare - Member, Executive Board
Advisory Board and External Leadership Roles
COVID Collaborative - Member, National Advisory Council
Leadership18 - Member, Executive Committee
Verily Project Baseline Advisory Board - Member
Connect With Nancy