Volunteer Profile: About Khalida Soomro, M.D., M.B.B.S., FACC, FAPSC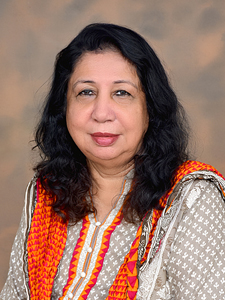 As the first female cardiologist in Pakistan, I've been involved in the field for 32 years. Since 1984, I have been on the faculty in the Cardiology Department at Dow University of Health Sciences, Karachi, serving as professor and chairperson. For 15 years, I was the top cardiologist at Dow, one of the oldest and premier medical institutions in Pakistan.
I earned my M.B.B.S. in 1979 at Liaquat Medical College, Sindh, Pakistan; a diploma in cardiology course (an intermediate degree) from the National Institute of Cardiovascular Diseases, Karachi and Karachi University, Pakistan; and an M.D. in medicine and cardiology.
I have authored over 50 scientific articles for various medical journals in Pakistan and served on the editorial board and as editor of the main official medical journal in the country, the Pakistan Heart Journal. I'm also editor of the cardiology chapter for Medical Digest.
I have been a local coordinator/researcher for international studies such as the INTER HEART STUDY, GIK study and Intrepid study, and have participated in and presented papers at several international conferences.
Furthermore, I'm the first female president of the Pakistan Cardiac Society and current chairperson of its Women with Heart Diseases Scientific Council. I've also served as an officer in professional bodies such as the Pakistan Hypertension League, Asia Pacific Society of Cardiology and the Sindh Graduates Association.
I have been recognized for my services in Pakistan's health sector. In 2002, the governor of the province of Sindh honored me with the Pride of Performance Award, and in 2017 the president of Pakistan awarded me the Tamgha-i-Imtiaz (Medal of Distinction).
My passion has also driven me to coordinate Go Red for Women activities in Pakistan.
What events have you worked on?
First, let me give you some indication of the larger context. Pakistan is a low-middle-income developing country with about 215 million people — 65% of the U.S. population. With rampant poverty and all its deprivations, Pakistan has a low literacy rate, particularly among women, and a weak health system focused mostly on communicable disease control and maternal and child health issues.
Therefore, although the government recognizes the importance of cardiovascular disease, it is not a high priority. Lack of awareness about hypertension or its associated ailments is another point of concern, especially among females residing in peripheral areas. Against this backdrop, I have been endeavoring to bring about mass awareness concerning these issues through all the resources at my disposal.
Thus far, I have organized two workshops on basic life support for nurses in the Government Girls College Karachi and in the Karachi Seventh Day Adventist Hospital. I have gathered data from different remote localities in Karachi, a large city with a population of over 15 million, on coronary artery disease risk factors in women and common types of heart diseases. I have been using robust media awareness programs on radio and television, particularly in vernacular women to reach the rural populace.
During 2019, I also organized symposia/awareness programs on women with heart disease during pregnancy through Go Red in collaboration with OB/GYN departments at the Shaheed Mohtarma Benazir Bhutto Medical University Larkana; Liaquat University of Medical and Health Sciences Hyderabad; People's Medical University for Women Nawabshah; Mohtarma Benazir Bhutto College Lyari Karachi; and Hashmani Clinic Karachi.
Other activities include:
Symposia through Go Red at the Seventh Day Adventist Hospital Karachi
Fashion show/awareness program and a "Know Your Number" medical camp at the Women's College Shahrah-e-Quaideen Karachi
Sessions in 2019 at the Annual Conference of Pakistan Hypertension League, the Annual Conference of Cardiology at Bhurban and the 49th Cardiocon Annual Conference in Islamabad. All these sessions had large audiences.
Red Dress Day celebrations in 2020 that created awareness at the Aga Khan University Hospital Karachi, the Karachi University and the Lady Reading Hospital Peshawar
Medical camp for data collection in Lady Reading Hospital Peshawar
Awareness sessions in the Bolan Medical College Quetta and Indus Medical College, Tando Mohammad Khan
Screening camps, stalls and Go Red meetings that included electronic and print media for Go Red awareness programs
What should AHA staff communicate externally about your important work in Pakistan?
It's important to realize that mass awareness programs assume much greater significance in Pakistan in view of the low literacy, gender inequity and lack of awareness on health issues, particularly on non-communicable diseases. So far, we have mostly targeted health personnel. But we intend to extend our programs to communities as well.
Thus far, these have been restricted to electronic media in the locally spoken languages of Sindhi and Urdu. As one of the topmost cardiologists in Pakistan and the foremost female to spearhead Go Red for Women activities, I have leverage to make inroads among the scientific community, decision makers and public regarding advocacy for heart disease prevention and control in the more vulnerable segment of women. I can also network with other like-minded organizations in the public and private health sectors to form a wider consortium that can take on robust advocacy across the length and breadth of the country's provinces, regions and territories.
How does your work/events impact our mission internationally?
First, as I mentioned, Pakistan is a huge country with the fifth-highest population in the world after China, India, the United States and Indonesia. Secondly, very little work has been done in preventive cardiology, and any activity conducted in this scenario assumes great significance.
To achieve our objectives, it's also imperative to address the barriers caused by poverty and other social determinants of health such as low female literacy and gender inequalities. Thirdly, Pakistan has had a good relationship with the United States since we assumed independence in 1947. If the American Heart Association collaborates with us, it will help make a significant dent in the morbidity and mortality due to heart disease, particularly in women.
We are excited to share with you a recent webinar with Pakistan Cardiac Society featuring committee members Drs. Annabelle Volgman and Laxmi Mehta. With over 350 participants, the webinar was a collaboration of our International Go Red program discussing the impact and nuances of COVID-19 and cardiovascular disease in women. This is the first of what we hope to be a series of webinars that will continue to engage and share with our global colleagues on heart disease and stroke in women.
---