High Blood Pressure and Stroke Infographic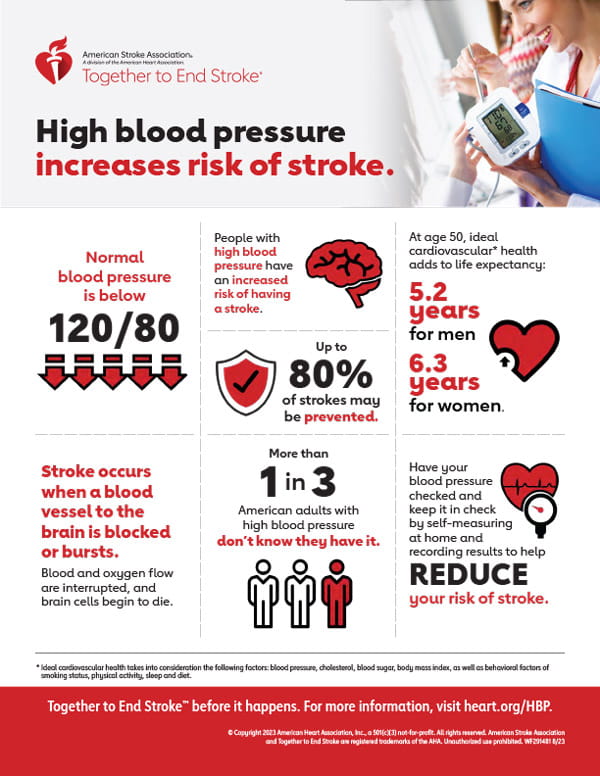 High blood pressure increases risk of stroke.
American Stroke Association, a division of the American Heart Association | Together to End Stroke®
Normal blood pressure is below 120/80.
People with high blood pressure have an increased risk of for having a stroke.
At age 50, ideal cardiovascular* health adds to life expectancy: 5.2 years for men and 6.3 years for women.
Up to 80% of strokes may be prevented.
Stroke occurs when a blood vessel to the brain is blocked or bursts. Blood and oxygen flow are interrupted, and brain cells begin to die.
More than 1 in 3 American adults with high blood pressure don't know they have it.
Have your blood pressure checked and keep it in check by self-measuring at home and recording results to help reduce your risk of stroke.
*Ideal cardiovascular health takes into consideration the following factors: blood pressure, cholesterol, blood sugar, body mass index, as well as behavioral factors of smoking status, physical activity, sleep and diet.
---
Together to End Stroke™ before it happens. For more information, visit heart.org/HBP.
© Copyright 2023 American Heart Association, Inc., a 501(c)(3) not-for-profit. All rights reserved. American Stroke Association and Together to End Stroke are registered trademarks of the AHA. Unauthorized use prohibited. 8/23