---
Guidelines urge new approach to treating worst strokes
By Melissa Weber, American Heart Association News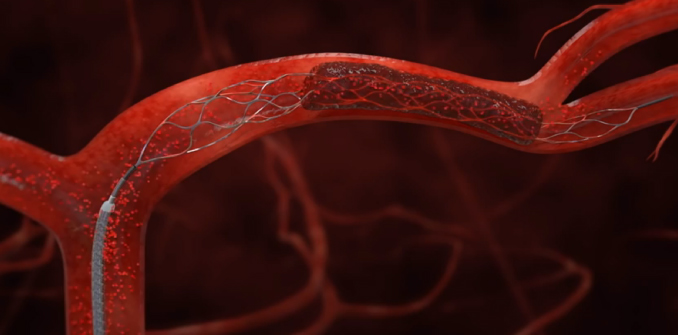 Hospitals nationwide may soon change how they treat the most disabling strokes after new guidelines released Monday recommend using tiny devices to snag large clots from a blocked artery within the brain.
The clot-removal devices are wire cages called stent retrievers, or "stentrievers," and the American Heart Association is giving them its strongest recommendation after a string of recent studies found they improve the odds that certain patients will survive and function normally again.
"Everything is different than it was a year ago," said William Powers, M.D., who led the panel that wrote the new guidelines.
Five studies, all published in the New England Journal of Medicine in the past six months, offer the first evidence in 20 years that a new treatment can help people who are having a stroke, the world's No. 2 cause of death and a leading cause of disability. The mainstay of treatment has long been tissue plasminogen activator, or tPA — a clot-busting drug approved by the Food and Drug Administration in 1996 that must be given intravenously within 4.5 hours to be effective. But for people with blood clots in larger arteries, tPA often does not dissolve them completely.
The procedure, called mechanical thrombectomy, should be done within six hours of acute stroke symptoms, and only after the patient receives tPA, the guidelines said. To remove the clot, doctors thread a catheter through an artery in the groin up to the blocked artery in the brain. The stent opens and grabs the clot, allowing doctors to remove the stent with the trapped clot. Special suction tubes may also be used.
Stent retrievers are already being used at hospitals across the United States, including all 90 comprehensive stroke centers and some of the more than 1,000 primary stroke centers certified by the AHA/American Stroke Association and the Joint Commission, a nonprofit that accredits hospitals.
The FDA cleared two stent-retrieval devices in 2012: Solitaire, made by Minneapolis-based Medtronic, and Trevo, made by Stryker Corporation of Kalamazoo, Michigan. These newer clot-snagging stents are safer and more effective than older devices that resembled a corkscrew. Even so, the procedure does not work for every stroke patient, and the results can vary, said Powers, a professor and chair of the department of neurology at the University of North Carolina at Chapel Hill.
For some patients, the results are dramatic. Two days before Christmas in 2012, Donald Sadoway and his wife were having lunch with friends when someone proposed a toast and he didn't respond.
"I just stared at the glass," said Sadoway, 65, a chemistry professor at Massachusetts Institute of Technology who earlier that year had been named one of Time's 100 most influential people.
Sadoway couldn't speak, and then his right side collapsed. An ambulance arrived within minutes and took Sadoway to nearby Massachusetts General Hospital.
Sadoway received tPA 16 minutes after stroke symptoms started. Within the hour, doctors were pulling the 4-millimeter clot from his brain.
"No more than two hours after the procedure, I'm sitting up in recovery and talking to my kids," said Sadoway, who has made a complete recovery except for some minor problems with fine motor skills.
Between 12,000 and 13,000 thrombectomies were performed last year in the United States, according to estimates from Medtronic and Stryker. The companies expect up to 60,000 acute stroke patients each year will ultimately receive the procedure.
Although that is just a fraction of the more than 690,000 Americans who have a clot-caused stroke each year, it is those larger clots that are often the most deadly and disabling, said Lee Schwamm, M.D., executive vice chair of neurology and director of stroke services at Massachusetts General Hospital who was not involved in writing the new guidelines.
"Those patients are the ones with the lion's share of the disability related to stroke," said Schwamm, who is also an AHA volunteer. The new guidelines now provide "a rationale and justification" for the system of stroke care delivery to change to make the procedure more widely available, he said.
Stroke services will need to be reorganized, said Colin Derdeyn, M.D., an interventional neuroradiologist who directs the Stroke and Cerebrovascular Center at Washington University School of Medicine in St. Louis. An integrated system will need to be developed in which smaller community hospitals give tPA, quickly identify those patients with large blood clots who might benefit from the treatment and then transfer them to a center that can do it, he said.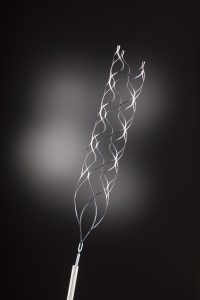 Solitaire is a retrievable stent used to treat some strokes.
"That's going to be the biggest challenge that comes out of all this," said Derdeyn, who helped write the new guidelines.
Some stroke centers are already seeing an increase in referrals. At UNC, doctors would do a thrombectomy once every month or two. Now, they're doing at least one a week, Powers said. More procedures are also being done at Derdeyn's center.
Stroke cost the nation $71.6 billion in related medical expenses in 2012, a price tag that's expected to triple by 2030, according to the AHA. And although the procedure is expensive, costing at least $10,000 for the stent retriever and equipment, the cost savings are huge, Derdeyn said.
"The lifetime costs of someone who is moderately or severely disabled are enormous. You recover just one in 10 patients and you've probably paid for it in spades," he said.
Medicare and Medicaid cover thrombectomy for stroke patients, as do most private insurers, Derdeyn said. For those that don't, the new guidelines may persuade them to, he said.
It is not known whether stent retrievers help acute stroke patients who seek treatment more than six hours after symptoms start, or who are not given tPA first.
The time-sensitive treatment relies on people calling 911 as soon as they notice facial drooping, arm weakness or speech difficulty, some of the telltale warning signs of stroke, Powers said.
"The most important thing is to get more people to the hospital fast enough to get tPA," he said. "Once that's done, the question we should all now be asking is, will the patient benefit from this additional treatment."
Photos (from top) courtesy of Stryker, Donald Sadoway and Medtronic
Editor's Note: This story was written when the time limit on mechanical clot removal was six hours. New guidelines(link opens in new window) released in January 2018 allow some carefully selected patients to receive mechanical thrombectomy up to 24 hours after stroke symptoms begin.
Editor's note: On Nov. 9, 2020, the Food and Drug Administration issued a recall for the Trevo XP ProVue Retriever due to the risk that the device's core wire may break or separate during device retraction. Contact your doctor with questions.
---