---
After friend's fatal heart attack, Chicago construction executive is building healthier lives
By American Heart Association News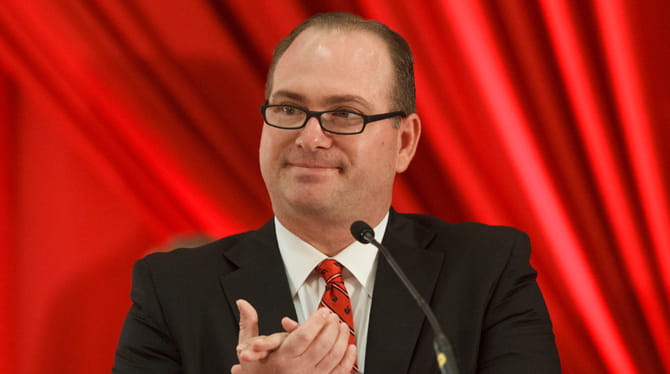 The last time Chicago construction executive Jim Hill spoke to his friend and colleague Bob Krier, everything seemed just fine.
After all, it was Bob and Andrea Krier's 31st anniversary. It was two days before Thanksgiving. There were plenty of reasons for the couple to be home enjoying a special celebration.
But 90 minutes after Hill talked to Bob, at 8 p.m., Hill got a call from Andrea that he was dead.
Bob had a heart attack. His death at age 54 left family members, friends and colleagues in deep grief. It also left them confused. Bob was a relatively healthy guy. "We all wore Fitbits," as Hill recalled. Eventually, the grief transformed into an idea to stop others from suffering such a loss.
With Hill's passion and personal influence paving the way, Hard Hats with Heart started in 2015 as a way to celebrate lives lost to heart disease — "and those lives we were going to save," Hill said.
"It was about giving families a second chance," said Hill, who was recently honored with a Meritorious Achievement award from the American Heart Association for his lifesaving efforts. "It feels like we're giving people an opportunity to take a second bite of the apple."
Hard Hats with Heart trains construction workers and their families in Hands-Only CPR. Hill also has taken his message to the carpenters' union, resulting in the sale of CPR kiosk sponsorships — the first in the nation in his hometown of Chicago, the second in San Francisco.
Hill has learned that their efforts are paying off — in the form of lives saved. That includes a construction apprentice saving a sibling with a cardiac issue.
Hill's company, The Hill Group, of which he is now president, is the largest trade contractor in Illinois and advocates for AEDs on job sites.
Hard Hats with Heart also encourages folks to get on the healthy eating bandwagon, and for four years, they've participated in the AHA's Heart Walk, which raises funds to fight heart disease and stroke.
"We're trying to make sure we practice what we preach," Hill said, noting that the construction industry is "about being strong and proud."
"As a middle-age man, one of the things you don't want to talk about is mortality," he said. "But everyone has been touched by heart disease, which is why it's so easy to keep the drumbeat going."
Andrea Krier, for one, is grateful for the training offered by Hard Hats with Heart.
She wishes she could have done more for Bob that night nearly five years ago, and wonders whether things might have turned out differently if she knew CPR.
"I did not know how to help him during what turned out to be the biggest moment he needed help," she said. "Instead I was only able to call the paramedics and watch over him as he died."
But Andrea is buoyed by the fact that her husband left a legacy of sharing and giving.
"Hard Hats for Heart will save another life – I'm sure of it," she said.
If you have questions or comments about this story, please email [email protected].

---