---
Lowering blood pressure requires more than one 'miracle' food
By American Heart Association News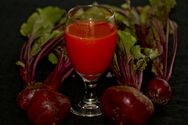 Faster than a speeding blender. Able to lower blood pressure with a single smoothie. Look! Up in the farmers market. It's kale. It's beetroot. It's superfood!
Not exactly.
The news has been filled recently with so-called blood-pressure-lowering miracle foods, including: tomato sauce, tuna and tequila. Some of these foods have been shown in studies to lower blood pressure if consumed daily, although it's important to remember that no food or drink can be a magic wand by itself. That means sedentary couch potatoes can't eat salty, high-fat foods daily and expect to make it all better with a beetroot, kale, tequila concoction. Keeping blood pressure in check involves a healthy diet, regular exercise , and for some people -- prescription medication.
"I don't believe in one, singular 'miracle' food," said Rachel K. Johnson, Ph.D., M.P.H., R.D., professor of nutrition and professor of medicine at the University of Vermont. Instead, she advises keeping extremely nutritious foods in stock and eating well the vast majority of the time. "There is no one food that you should eat every day," Johnson said. "My philosophy is to get most of my calories from the foods that are most beneficial to my health."
Keeping high blood pressure, also called hypertension, at bay is crucial because this disease silently stretches and damages arteries making the heart work harder, but less effectively. This can lead to heart disease, stroke and problems with other organs.
Although Johnson doesn't buy into whatever the cure-all food of the month is, she does recommend eating some foods often because they are high in necessary nutrients, while being low in those things that are bad for our bodies and blood pressure, such as sodium, saturated fat and trans fat. Here is what Johnson keeps in her cupboard and refrigerator:
Bananas — They are high in potassium which helps blunt the effect of high sodium.
Sweet potatoes — Also, rich in potassium, along with beta carotene and vitamin C.
Nonfat or lowfat yogurt —Rich in calcium and vitamin D and protein.
Avocadoes — They have a lot of heart-healthy fat.
Beans— High in fiber, they help lower LDL cholesterol (the detrimental cholesterol).
Oats — High in fiber, it helps raise the HDL, the beneficial cholesterol.
Kale — High in folic acid and fiber.
Nuts —They help lower LDL.
Salmon—Rich in omega 3 fatty acids, which is a beneficial, heart-healthy fat.
These foods are all consistent with the dietary pattern recommended in the cardiovascular prevention guidelines released in November 2013 by the American Heart Association and the American College of Cardiology.
While miracle foods seem to promise to serve as high blood pressure's kryptonite, there isn't a quick fix to good health. And if there was, "you'd get really tired of eating that same food every day," Johnson said.
---