---
AHA: E-cigarettes threaten to addict next generation of smokers; regulation, further study needed
By American Heart Association News

While much is still unknown about the rapidly growing electronic cigarette industry, e-cigarettes are dangerous because they target young people, can keep people hooked on nicotine, and threaten to "re-normalize" tobacco use, according to the American Heart Association's first policy statement on these products.

The American Heart Association – which over the years has actively advocated against tobacco use because of its devastating effects on health – released its position and recommendations Monday, based on an analysis of the limited scientific research currently available on e-cigarettes.

The battery-powered e-cigarettes that contain nicotine are tobacco products and should be subject to all laws that apply to these products, according to recommendations in the policy statement. The association also calls for strong new regulations to prevent access, sales and marketing of e-cigarettes to youth, and for more research into the product's health impact.

"Over the last 50 years, 20 million Americans died because of tobacco. We are fiercely committed to preventing the tobacco industry from addicting another generation of smokers," said Nancy Brown, CEO of the American Heart Association. "Recent studies raise concerns that e-cigarettes may be a gateway to traditional tobacco products for the nation's youth, and could renormalize smoking in our society."

The policy statement examines several aspects of e-cigarettes, including some analysis that might initially seem surprising. For example, currently available data suggests that e-cigarettes appear to be less harmful than traditional cigarettes. And in some cases the product could help people quit smoking. However, those observations are based on a limited pool of medical research without long-term results, experts warn.

"People need to know that e-cigarettes are unregulated and there are many variables that we don't know about them," said Aruni Bhatnagar, Ph.D., a professor of medicine at the University of Louisville in Kentucky who led the 10 researchers and physicians who wrote the policy statement.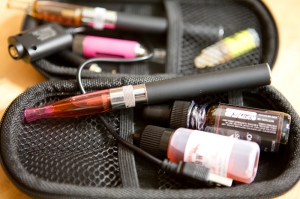 Cigarettes are the leading preventable cause of death, killing nearly half a million Americans a year and leaving 16 million others suffering from smoking-related illness.AHA: E-cigarettes threaten to addict next generation of smokers; regulation, further study needed

Yet, e-cigarettes, with their aggressive and unregulated marketing efforts, could erode some people's beliefs in the harmful effects of smoking, the paper's authors warned.

"Nicotine is a dangerous and highly addictive chemical no matter what form it takes – conventional cigarettes or some other tobacco product," said American Heart Association President Elliott Antman, M.D. "Every life that has been lost to tobacco addiction could have been prevented. We must protect future generations from any potential smokescreens in the tobacco product landscape that will cause us to lose precious ground in the fight to make our nation 100 percent tobacco-free.

Manufacturers present e-cigarettes as "cool and sexy and acceptable, which is a problem because you're increasing addiction," Bhatnagar said.

Companies also use terms like "vaping" rather than smoking to gain public acceptance and try to break the connection between e-cigarettes and traditional, "combustible" cigarettes, he added.

E-cigarettes were created in China and first sold in 2003. Since then sales have rapidly increased, with more than 465 brands and 7,760 flavors now available online and in retail outlets. By 2017, sales margins for e-cigarettes are expected to increase to about $10 billion and surpass margins for conventional cigarettes.

Regulation and research have scrambled to keep pace with that growth.

In April the Food and Drug Administration proposed rules banning the sale of e-cigarettes to people under the age of 18 and subjecting the $2 billion industry to federal regulation for the first time. Such rules had been long sought by the AHA and other organizations.

The FDA's proposal fell short of what was hoped for by the AHA and other public health advocates. They believe e-cigarettes should be regulated under the same laws as other tobacco products and prohibited from being marketed or sold to young people. The proposal, they said, did not go far enough in limiting online sales, advertising and flavored products, all tactics used to make e-cigarettes appealing to young people.

Liquid nicotine used by e-cigarettes comes in many flavors like bubble gum, caramel, chocolate, fruit and mint, all attractive to young people, and many brands use colorful, candy-like packaging.

"That's an unfortunate trend, to make them palatable and attractive to children," said Bhatnagar.

Currently, e-cigarettes are advertised online, on television, radio and in print media -- even though broadcast ads for combustible cigarettes have been banned since 1971. Studies show that between 2011 and 2013, TV ads for e-cigarettes have reached 24 million youths.

A survey of students in grades 6 through 12 found that by 2012, 1.78 million high school and middle school students in the U.S. had tried e-cigarettes, and 76. 3 percent of e-cigarette users said they also smoked conventional cigarettes.

As for helping people quit smoking, the usefulness of e-cigarettes as an aid is not fully understood. And the use of e-cigarettes in this way is best considered with caution and in consultation with a healthcare provider, and deadlines for quitting e-cigarettes is recommended.

"If someone refuses to quit, we're not opposed to them switching from conventional to e-cigarettes," Bhatnagar said. "Don't use them indefinitely. Set a quit date for quitting conventional, e-cigarettes and everything else. We don't think that will be the long-term or useful way to look at it because e-cigarettes may continue and fuel nicotine addiction. Nicotine is not innocuous — it's known to be harmful and have cardiovascular effects."

Studies show that nicotine causes a short-term increase in blood pressure, heart rate and blood flow from the heart. It also causes the arteries to narrow.

"We consider exposure to nicotine as part of smoking. We don't want separate definitions for combustible and e-cigarettes," he said.

Although experts expect that exhaled e-cigarette vapor may be less toxic than secondhand smoke from combustible cigarettes, the devices still expose people to other potentially toxic chemicals, Bhatnagar said.

"There's some indication that when people smoke e-cigarettes that others may be exposed to nicotine," he said.

In addition, because e-cigarettes aren't regulated, manufacturers may not disclose all the ingredients used by the device or nicotine liquid, so there's no way to know the effect of those ingredients, Bhatnagar said.

Much more research is needed, according to the policy statement. But that research has been hampered by the constantly changing design of e-cigarettes and the use of different additives.

"We must increase the pace of research and understand the full range of health consequences before we allow this Trojan horse of nicotine back into society," Brown said.

Since the first Surgeon General's report on the dangers of tobacco use 50 years ago, the AHA and other public health organizations have advocated against tobacco products. The unregulated use of e-cigarettes could erode decades of work creating smoking cessation and smoke-free laws, the report states.

Photographs courtesy of Amie Vanderford.
---