Faces of Heart and Stroke
Thank you to Providence Health Care for your support of the Faces of Heart and Stroke campaign in Spokane.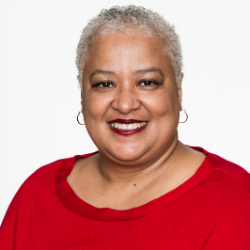 Yolanda Everette is one of eight children and all were born with a heart murmur. Five siblings outgrew their heart murmur when they reached adulthood, but for Yolanda and two siblings, their heart murmurs persisted. One of Yolanda's children also has a heart murmur.

Yolanda was hospitalized for a sinus infection and it was then they also discovered she'd need open heart surgery to replace her aortic valve. She was just 53 years old and it was suspected that the valve may have never grown properly.

Due to both her heart murmur and her open-heart surgery, Yolanda pays special attention to her heart and encourages members of her family to do the same. Yolanda shares, "we're a close-knit family, but our heart history has made us even closer. "
Christine Ulrichsen has always been attentive to her heart health and monitored her important health numbers since developing diabetes during a pregnancy.

One day Christine just wasn't feeling well. She was experiencing a tightness in her chest and a feeling of a kink in her back. The problem didn't correct itself and once at the hospital, Christine learned she had experienced a heart attack.

Upon discharge from the hospital Christine participated in cardiac rehab and visited a dietitian to help support her heart health. Christine encourages others to, "pay attention to your numbers and just because they look good, don't let your guard down. Continue to make healthy choices. If something does happen, do the follow up work and follow the plan that's recommended for you."
J
ames Smith is a former basketball player who experienced good health his entire life. When working from home one day, James suddenly felt ill and then passed out. He knew something was wrong.
At the emergency room, they suspected he may be having a heart attack and installed a stent. The following day the medical team shared they thought the stent should be performing better and ordered more tests to explore further. It was revealed James had a blood clot in his lung and he had in fact, experienced small strokes.
After many days, James recovered and shares, "This can happen to anyone. Listen to your body, it tells you when something is going on." He also encourages other survivors with the following message, "There is hope and you need to do what you are supposed to do. Take your medicine, eat properly and exercise. I am making the changes I need to make to be an example to others and show it can be done."
Heart disease runs in Diane Bastin's family. She lost her father and a brother far too soon.
For years, Diane has taken steps to manage her personal risk factors and has encouraged her family and others to do the same.

In 2008, Diane's medical provider suggested she have a treadmill test and she was shocked to learn that one artery was 99% blocked and another was blocked at 90%. She hadn't experienced any symptoms. Diane underwent bypass surgery and recovered.

Diane was scheduled for another medical procedure in 2019 and learned that she again had blockages that needed intervention. It was a second unwanted surprise. Today Diane maintains an active lifestyle and advises others to "get your health in order and follow up on anything you feel could be wrong. The symptoms for the men in my family were more severe, mine more subtle, so it's important to pay attention."
---