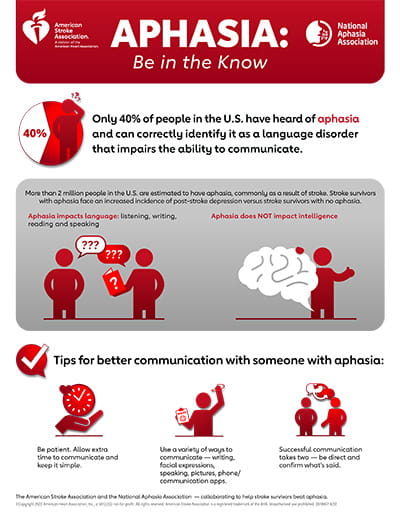 Download the printable PDF: English | Español
Only 40% of people in the U.S. have heard of aphasia and can correctly identify it as a language disorder that impairs the ability to communicate.
More than 2 million people in the U.S. are estimated to have aphasia, commonly as a result of stroke. Stroke survivors with aphasia face an increased incidence of post-stroke depression versus stroke survivors with no aphasia.
Aphasia does impact language: listening, writing, reading and speaking
Aphasia does NOT impact intelligence
Tips for better communication with someone with aphasia:
Be patient. Allow extra time to communicate and keep it simple.
Use a variety of ways to communicate — writing, facial expressions, speaking, pictures, phone/communication apps.
Successful communication takes two — be direct and confirm what's said.

The American Stroke Association and the National Aphasia Association — collaborating to help stroke survivors beat aphasia.
©Copyright 2022 American Heart Association, Inc., a 501(c)(3) not-for-profit. All rights reserved. American Stroke Association is a registered trademark of the AHA. Unauthorized use prohibited. DS19937 9/22