Strokes and Brain Health Infographic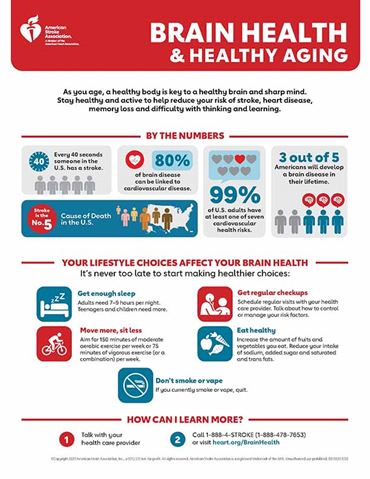 Brain Health and Healthy Aging
As you age, a healthy body is key to a healthy brain and sharp mind. Stay healthy and active to help reduce your risk of STROKE, heart disease, memory loss and difficulty with thinking and learning.
By The Numbers
Every 40 seconds someone in the U.S. has a stroke 80% of brain disease can be linked to cardiovascular disease
Stroke is the No.5 Cause of Death in the U.S.
99% of U.S. adults have at least one of seven cardiovascular health risks
3 in 5 Americans will develop a brain disease in their lifetime.
Your lifestyle choices affect your brain health.
It's never too late to start making healthier choices.
Get enough sleep Adults need 7-9 hours per night.
Teenagers and children need more.
Get regular check-ups
Schedule regular visits with your health care provider.
Talk about how to control or manage your risk factors.
Move more, sit less
Aim for 150 minutes of moderate aerobic exercise or 75 minutes of vigorous exercise (or a combination) per week.
Eat Healthy Increase the amount of fruits and vegetables you eat.
Reduce your intake of sodium, added sugar, and saturated and trans fats.
Don't smoke or vape If you currently smoke or vape, quit.
How Can I Learn More?
Talk with your health care provider
Call 1-888-4-STROKE (1-888-478-7653)
© Copyright 2020 American Heart Association, Inc, a 501(c)(3) not-for-profit. All rights reserved. American Stroke Association is a registered trademark for the AHA. Unauthorized use prohibited.