American Heart Association
Manejo del estrés
Join Healthy for Good and get tips to stress less.
Controle el estrés y controle su salud
El estrés es inevitable, especialmente en estos días. Si bien es posible que se sienta demasiado ocupado como para aliviar el estrés, puede decidir recuperar su tiempo personal, un momento a la vez. Reduzca el estrés para tener una versión más saludable de usted.
Videos para ayudarla a reducir el estrés
Respire aliviada
Las acciones rutinarias, como los correos electrónicos de trabajo y las listas de tareas, pueden desencadenar accidentalmente nuestra respuesta de luchar o huir. Los expertos afirman que esta técnica respiratoria es la herramienta MÁS RÁPIDA para detener el estrés y la ansiedad.

Encuentre un momento de alivio del estrés
Tiempo para un descanso verde. ¿No puede salir? Disfrute de observar las aves y relájese. Aprender a controlar su estrés puede beneficiar su salud.

La gratitud es una buena medicina
Una práctica habitual de gratitud puede hacer que esté más saludable y conducir a un mejor estado de ánimo, a dormir mejor, a una presión arterial más baja y una mejor función inmunológica. Empiece hoy mismo a practicar el hábito de la gratitud.

Tómese un momento para reducir su estrés
Sven usa su melena perfecta para inspirar relajación. Concéntrese ahora. Troy desea reducir su estrés... a través del poder de la ternura.

5, 4, 3, 2, 1 CALM
Los niños y adolescentes están más estresados que nunca. Dele a sus hijos el regalo de la calma con este ejercicio de 2 minutos.
¿cómo afecta el estrés al cuerpo?
El estrés puede tener efectos duraderos en su salud y bienestar. Estos efectos sobre la salud afectan desproporcionadamente a algunos grupos, por ejemplo, las mujeres tienen más del doble de probabilidades de ser diagnosticadas con depresión en comparación con los hombres.
Estrés, salud mental y su corazón
El estrés puede tener efectos sorprendentes en la salud del corazón y la salud mental. Las implicaciones para la salud mental son importantes, especialmente para algunos grupos. ¿Sabía que solo uno de cada tres afroamericanos que necesitan tratamiento de salud mental recibe este tratamiento?
Science meets self-care on the Live Fierce / Atrévete a Vivir podcasts
Somos mujeres. Fuertes. Decididas. Feroces. Estos dos pódcasts nos unen para defender nuestra salud. This fun and dynamic series features podcasts in English and Spanish. They're hosted by American Heart Association Executive VP of Marketing and Communications Katrina McGhee – who is also a longtime professional coach -- and Lili Gil Valletta, co-founder and CEO of the cultural intelligence firms CIEN + and Culturintel.
You'll be inspired as you explore ways to lean into your strengths, grow and prioritize self-care for your head and heart. Available wherever you get your podcasts.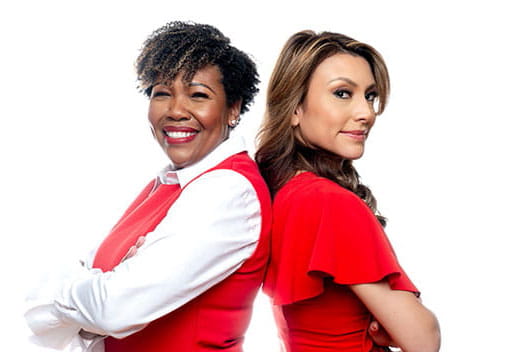 Siéntase bien al hacer el bien
Sí, dar a la American Heart Association puede ayudar a salvar vidas en relación con enfermedades cardíacas y accidentes cerebrovasculares. También puede hacer que se sienta bien y reducir su estrés.
Hojas sobre consejos para la gestión del estrés
Obtenga consejos para reducir el estrés
Únase a Healthy for GoodTM para obtener consejos para desarrollar hábitos saludables respaldados por la ciencia que pueden ayudarlo en momentos estresantes.
Y, por tiempo limitado, obtenga nuestro libro digital de recetas Fall Family Foods gratis.