---
Clot-removing devices provide better outcomes for stroke survivors
By Melissa Weber, American Heart Association News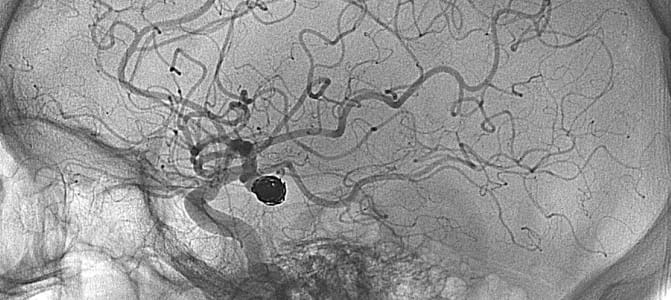 Strokes caused by large blood clots in the brain are less likely to result in disability or death if the blockage is removed in the crucial early hours, according to reaffirming new research widely celebrated Wednesday.
Doctors quickly lauded the findings as instantly changing the way certain stroke sufferers are treated. The reason is because the results are not new, but validating: Dutch researchers in October had reached the same conclusion for the first time in a trial known as MR CLEAN.
Three new studies reported at the American Stroke Association's International Stroke Conference reinforced those results(link opens in new window) from the Netherlands. The trials had been halted early because their results were so positive. Clot-grabbing devices used alongside a standard drug that dissolves clots, researchers said, can greatly improve the outcomes for people having the worst and most disabling strokes.
"This is a watershed moment in the management of acute stroke," said Lee Schwamm, M.D., an American Heart Association volunteer and director of acute stroke services at Massachusetts General Hospital who was not involved in the studies. "Stroke is now a treatable disease in its earliest hours, and we can offer hope and promise to patients that early treatment can lead to dramatic reductions in disability and death."
Each year, more than 690,000 Americans have strokes caused by blood clots blocking vessels in the brain, called ischemic stroke. The standard treatment is a clot-dissolving drug called tPA. But it must be given intravenously within 4.5 hours to be effective. For people with large clots it only works about a third of the time.
Less sophisticated devices tested previously produced disappointing results in clinical trials. But the new studies tested more modern devices such as a retrievable stent, a tiny wire cage attached to a catheter that is threaded through an artery in the groin to the blocked artery in the brain. The stent opens and traps the clot, allowing doctors to extract the clot and reopen the artery nearly every time.
Among the new research is a Canadian study known as ESCAPE that involved 315 stroke patients. Most were given the clot-busting medicine tPA, and about half of them were also treated with a clot removal device.
Three months after their strokes, 53 percent of patients whose treatment included clot removal were functionally independent and able to take care of themselves compared with about 29 percent given tPA alone. The treatment also improved the odds of survival. In the clot-removal group, about 90 percent of patients were still alive after three months compared with 81 percent in the tPA-alone group. The results(link opens in new window) were published simultaneously in the New England Journal of Medicine.
Results were similar in a smaller Australian study called EXTEND-IA, also published(link opens in new window) simultaneously in the New England Journal of Medicine: 71 percent of stroke patients given both treatments were functionally independent after three months compared with 40 percent of those given tPA alone.
Bruce Campbell, M.D., a neurologist at the Royal Melbourne Hospital, led the Australian study and said clinical guidelines will now change.
"It's a difference for patients between having paralysis down one side and not being able to talk compared to getting home and back to all their usual activities," Campbell said.
Another study, dubbed SWIFT PRIME, involved 196 stroke patients in the United States and Europe. Researchers found that 60 percent given both treatments achieved functional independence three months later compared with about 36 percent given tPA alone. There were also fewer deaths among patients who had their clots removed: 9.2 percent versus 12.4 percent.
The next step will be to make sure stroke patients are taken to hospitals where specialists are on-hand to perform the clot-removing procedure, said Jeffrey Saver, M.D., a director at the UCLA Stroke Center and lead investigator of the SWIFT PRIME study. "We need to change the medical system," he said.
Saver added that about 60,000 American stroke patients each year may be eligible for the new therapy. In all three studies, the clot was removed from the blocked artery within six to 12 hours after stroke symptoms started. Researchers used simple imaging to quickly assess whether a stroke patient had a large clot.
The studies also found that the newer clot-snaring devices are much safer than older versions, which too often caused uncontrolled bleeding in the brain.
Schwamm said the findings give people an even more convincing reason to call 911 as soon as they notice arm weakness, speech difficulty or facial drooping — the telltale signs of a stroke.
"When I first started in neurology, when you had a stroke, you came into the hospital, you got admitted to a room and then we went about trying to figure out why it happened," said Schwamm. "There was really no focus on treating the stroke itself. This is the dawn of a new era."
Image courtesy of Covidien
---